Solana Share Price Forecast December 2021 – Time to Buy SOL?
Please note that we are not authorised to provide any investment advice. The content on this page is for information purposes only.
Solana Share Price Forecast December 2021 – Time to Buy SOL?
Shares of public blockchain platform Solana (CRYPTO: SOL) are in the green today, currently trading at $171.01 at the time of writing. Launched back in 2017, Solana started 2021 at $1.50. Since then, it has surged by more than 12000%, becoming the world's 5th biggest cryptocurrency by market cap.  However, investors are asking whether much potential is left for the cryptocurrency in 2022.
Solana – Technical Analysis
Solana has a market cap of $ $87,488,613,674 at the time of writing, with a total circulating supply of 309,484,103.84 SOL.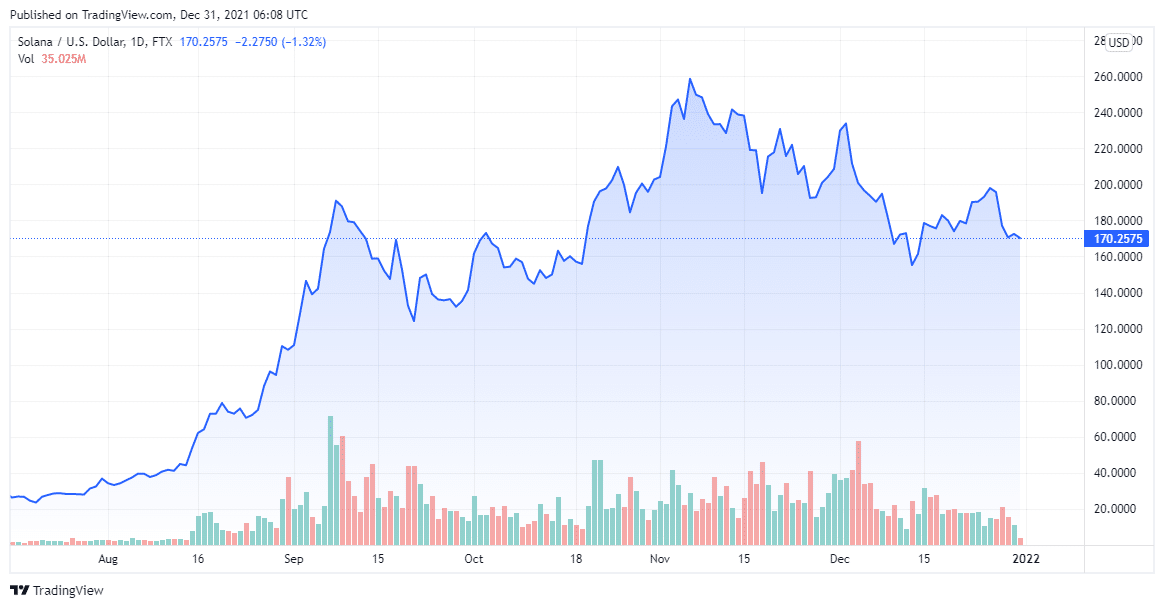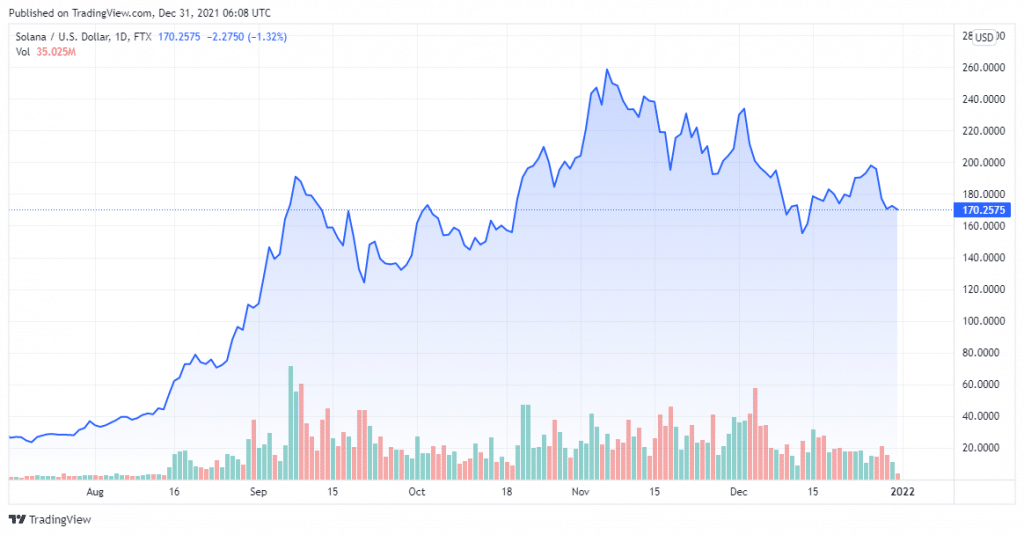 Oscillators such as Relative Strength Index (14)(41.4985), Stochastic %K (14, 3, 3)(8.1888), Commodity Channel Index (20)(−66.8425),  Average Directional Index (14)(18.3863),  Awesome Oscillator(−5.6744) are neutral. Moving averages such as Exponential Moving Average (10)(179.3876), Simple Moving Average (10)(183.5853), Exponential Moving Average (20)(182.4065),  Simple Moving Average (20)(178.6503) and Exponential Moving Average (30)(185.5784) are indicating a sell action.
68% of all retail investor accounts lose money when trading CFDs with this provider.
Recent Developments
Solana is a complete cryptocurrency package which hosts hundreds of decentralized applications (dApps). It has also become a major player in the NFT market. Solana is known for its speed low transaction costs, and energy efficiency and is capable of handling 50,000 transactions per second. Its average transaction fee is a fraction of a cent. It implements a proof-of-history method that marks data to be processed with a timestamp.
Solana has been described by Bloomberg journalist Joanna Ossinge as the biggest rival to Ethereum. Solana went offline on 14th September, after a surge of transactions caused the network to fork, and different validators had different views on the state of the network. The network was restored on th September. The project gained more mainstream media attention when former First Lady of the United States Melania Trump announced plans to use the platform to launch a Non-fungible token (NFT).
Solana has developed more than 400 projects built on its blockchain. While it's much less than the 2,900 built on Ethereum, the project has soared in popularity in the NFT market. Solana has a powerful backer in Alexis Ohanian, the Reddit co-founder. He has invested $100 million in Solana through his venture capital fund, Seven Seven Six, to develop decentralized social media on a blockchain-based internet.
What makes Solana different is that it allows multiple development languages to program, making it simpler to use, and also making it easy to communicate with other cryptocurrency platforms. Contrary to other projects, Solana does away with sharding, or side chains, which are an important part of how other cryptocurrencies are scaling their networks. It allows all of the dApps to communicate with each other, providing composability, or the ability to build projects on top of other projects.
Should You Buy SOL Crypto?
Many people compare Solana with Ethereum. Both cryptocurrencies have demonstrated their power in the dApps space. Deciding between the two depends on the trader's investment style. Investors who are more cautious or conservative will find Ethereum more suited. On the other hand, traders who have a more aggressive stance will find solace in a new project like Solana.
On top of that Solana is the leader in the NFT space. It has become the third-biggest blockchain by NFT sales volume over the past month. Solana's path in real-world uses like dApps and NFTs has just gotten started and is expected to grow even more.  Based on this, you can invest in SOL at the moment.
Buy Crypto at eToro from just $10 Now!