Snapchat Stock Down 6% in September – Time to Buy SNAP Stock?
The price of Snapchat stock is down 6% so far in September after the company announced that it entered an agreement with a selected group of holders of its 2025 Convertible Senior Notes to redeem $302.4 million in principal in exchange for a total of 14.01 million shares.
The sale of some of these shares may have prompted the decline in the stock price and trading volumes appear to be supporting this view as they have remained well above the 10-day average during most of this month's sessions.
Could this decline be an opportunity for late buyers to buy SNAP stock at a lower price? In the following article, I'll analyze the latest developments concerning the company while also assessing its fundamentals and price action to possibly answer that question.
67% of all retail investor accounts lose money when trading CFDs with this provider.
Snapchat Stock – Technical Analysis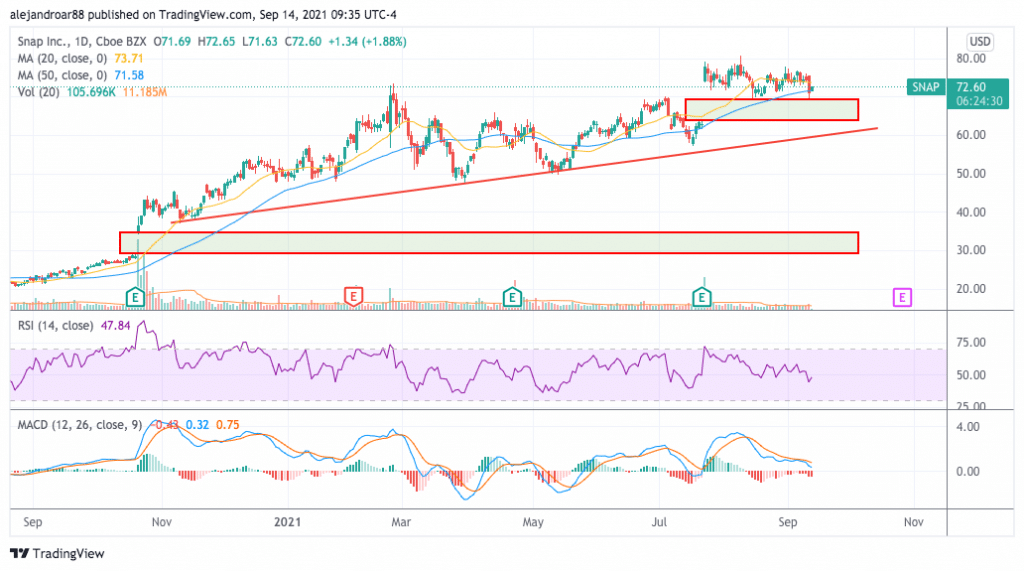 Back on 1 September when the conversion was announced, SNAP stock went down 2.6% during a high-volume trading session. Meanwhile, yesterday's session was also quite volatile for the stock as SNAP settled 4.4% lower at $71.3 per share after shedding as much as 6.2% at some point in the day.
For now, the bullish gap the price action left behind after the company reported its latest quarterly results remains a key support to watch for SNAP stock as investors were buoyed then after the firm shattered analysts estimates for nearly every relevant metric.
However, momentum oscillators are pointing to a bearish outlook as the Relative Strength Index (RSI) has just posted a lower low even as the price has not declined to a lower post-earnings level while the MACD has failed to climb above the signal line and remains on a downtrend. This decline is also being accompanied by steadily increasing negative momentum readings.
Moving forward, as long as the bullish gap remains unfilled, the outlook for Snapchat shares remains bullish on the back of the company's latest upbeat quarterly report.
Analysts' ratings currently favor this view as 29 out of 38 analysts covering the stock are rating the stock a buy with the consensus price target for the next 12 months currently standing at $87 per share according to data from Seeking Alpha.
Snapchat Stock – Fundamental Analysis
Revenues of Snapchat have been increasing at a fast pace in the past few years, moving from $404 million to $2.5 billion from 2016 to 2020 at a compounded annual growth rate (CAGR) of 57.7%.
During that same period, the number of daily active users has moved from 158 million to a total of 293 million while average revenues per user (ARPU) have been progressively climbing to between $2.7 and $3.4 in the past few quarters.
Meanwhile, during the first six months of 2021, the firm managed to swing to a positive adjusted EBITDA of $115.7 million compared to a negative $176 million figure reported during the first semester of 2020.
Moreover, for the third quarter of the year, its adjusted EBITDA is expected to land at $120 million on revenues of $1.09 billion which means that SNAP could post a full-year adjusted EBITDA of nearly $400 million.
Moving forward, if Snapchat continues to grow its daily active users at a rate of around 25% per year we could see its DAUs landing at around 331 million by the end of this year. If we take that number and multiply it by an ARPU of $3, that would result in revenues of approximately $4.4 billion for the year.
Using this forecast, each active user is being valued at around $342 based on the company's current market cap of $118.5 billion. This valuation is nearly 5 times higher than that of a similar platform like Pinterest (PINS), which is trading at a multiple of $77 per monthly active user (MAU) despite the firm being expected to generate nearly two-thirds of Snapchat's revenues.
From multiple standpoints, Snapchat's valuation seems stretched at the moment. Even though the platform has displayed a robust past performance and has promising growth prospects, the price per user seems high and that creates room for downside risk.
Buy SNAP Stock at eToro with 0% Commission Now!