Snapchat Stock Down 21% in January – Time to Buy SNAP Stock?
Please note that we are not authorised to provide any investment advice. The content on this page is for information purposes only.
The price of Snapchat stock has declined 21% so far this month as tech sector issues continue to suffer from a spike in US Treasury yields and an overall risk-off attitude from market participants.
Just yesterday, SNAP experienced a 10% single-day decline after analyst John Blackledge from Cowen downgrade the company to market-perform, down from a previous outperform rating, citing that changes in Apple's operating system, which now allow users to opt-out of being tracked by applications for advertising purposes, could weigh on the firm's performance down the road.
According to the analyst, these "near-term headwinds" are making the current valuation look "a bit rich".
The analyst also cited a survey applied to 54 US ad buyers who identified "noticeable declines in return on investment" and other negative effects of this change in Apple's iOS in the effectiveness of their campaigns.
The downbeat tone of this note from Cowen is adding up to other negative remarks from analysts that have followed the company's latest disappointing quarterly report.
According to data from MarketBeat, JP Morgan, Piper Sandler, Morgan Stanley, Bank of America, Credit Suisse, and many other firms lowered their price targets for SNAP stock following the release of the firm's October 2021 earnings report.
Back then, the company missed analysts' revenue estimates by nearly 3% for the first time since the pandemic started. The consensus price target since then has declined from around $79 to $74 per share.
What could be expected from this tech stock following this pronounced downtrend? In this article, I'll be assessing the price action and fundamentals of SNAP stock to outline plausible scenarios for the future.
67% of all retail investor accounts lose money when trading CFDs with this provider.
Snapchat Stock – Technical Analysis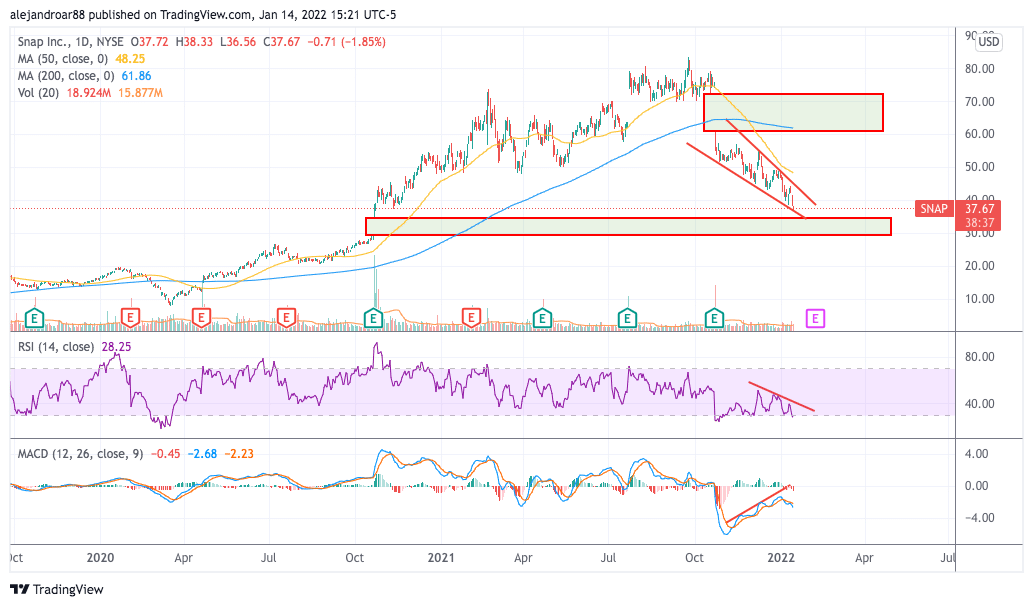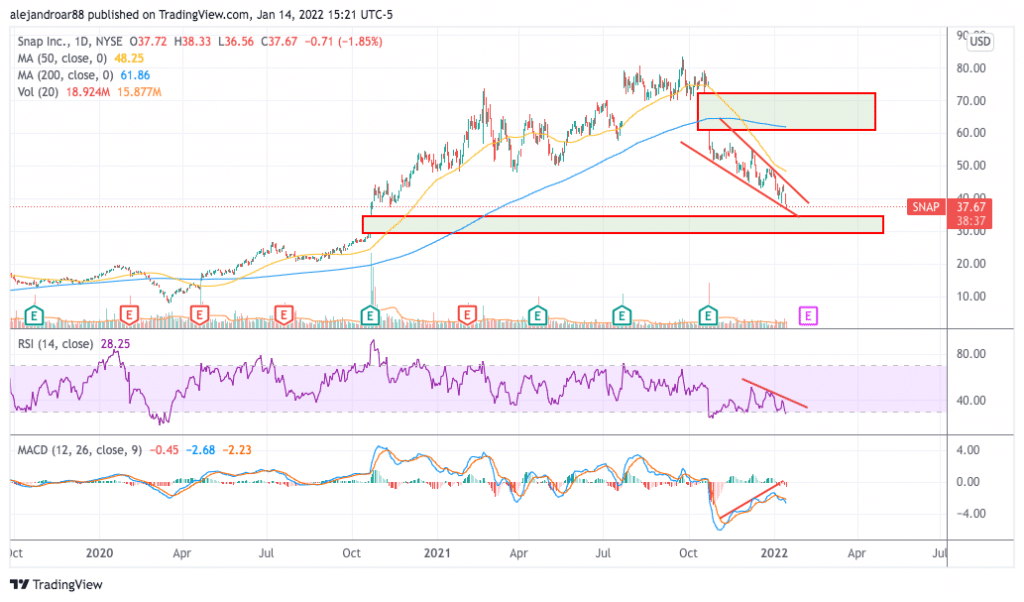 Snapchat stock has been on a clear downtrend since the company published its quarterly report covering the third quarter of 2021.
This sustained drop has pushed the price near the October 2020 bullish price gap that emerged once the market realized that Snapchat's user growth and other operating metrics were accelerating as a result of the pandemic.
The price of SNAP stock remains below its short-term and mid-term moving averages and momentum oscillators are sending mixed signals as the Relative Strength Index (RSI)is on a downtrend while the MACD has made multiple higher highs in the past few weeks.
The outlook for Snapchat stock based on these readings is bearish as there are no signs that the price action is reversing its current trend. It seems plausible that market participants will aim to close that price gap in the following weeks and that results in a 21.1% downside risk based on today's price of $37.4 per share.
Snapchat Stock – Fundamental Analysis
Snapchat is the typical growth story of the tech sector. Revenues have been growing at a fast pace moving from $405 million back in 2016 to $2.5 billion last year and $3.73 billion in the past 12 months at an impressive compounded annual growth rate (CAGR) of 74%.
Meanwhile, the company has been trimming its negative GAAP operating margins from 129% back in 2016 to 34% in 2020 and 20.5% in the past twelve months.
This shows that the company is progressively moving to become a cash-flow and earnings-positive enterprise.
However, analysts appear to believe that revenue growth has been decelerating, perhaps as the company may struggle to live up to the tough comparables that emerged as a result of the pandemic.
Moreover, the changes that Apple (AAPL) introduced in its latest iOS update – which allow users to opt-out of being tracked by apps – appear to be affecting the business model of firms that depend on such data to optimize the delivery of their adverts.
On a positive note, Snapchat has generated positive operating cash flows for the first time this year with free cash flows ending the first nine months of 2021 at $62 million.
For 2022, analysts are expecting to see the firm's top-line results growing at rates ranging from 25% to 50%. Based on the mid-point of those estimates, Snapchat is currently being valued at 11 times its forecasted revenues.
Meanwhile, the firm ended this period with $1.97 billion in cash reserves and had total assets of $7.1 billion including $1.5 billion in goodwill. Its long-term, which is comprised of convertible senior notes, stood at $2.25 billion.
All things considered, even though the firm may start to be cash-flow positive from now on, its cash-flow generation capacity relative to its revenues is still quite small.
At 11x its sales, the firm's current valuation does seem stretched, especially if one considers the potential impact that this change in Apple's privacy configurations could have on the company's future top-line growth.
With this in mind, negative volatility could continue and the downside risk from a technical standpoint seems rather elevated.
Buy SNAP Stock at eToro with 0% Commission Now!