Shiba Inu Price Up by 14.37% – Time to Buy SHIB Coin?
Please note that we are not authorised to provide any investment advice. The content on this page is for information purposes only.
Many investors have been rushing to buy SHIB following the asset's impressive rally.
However, it is important to understand the technical and fundamental performance of the meme coin in the last few weeks before investing in the digital asset.
SHIB: Aiming To Be More Than A Joke Currency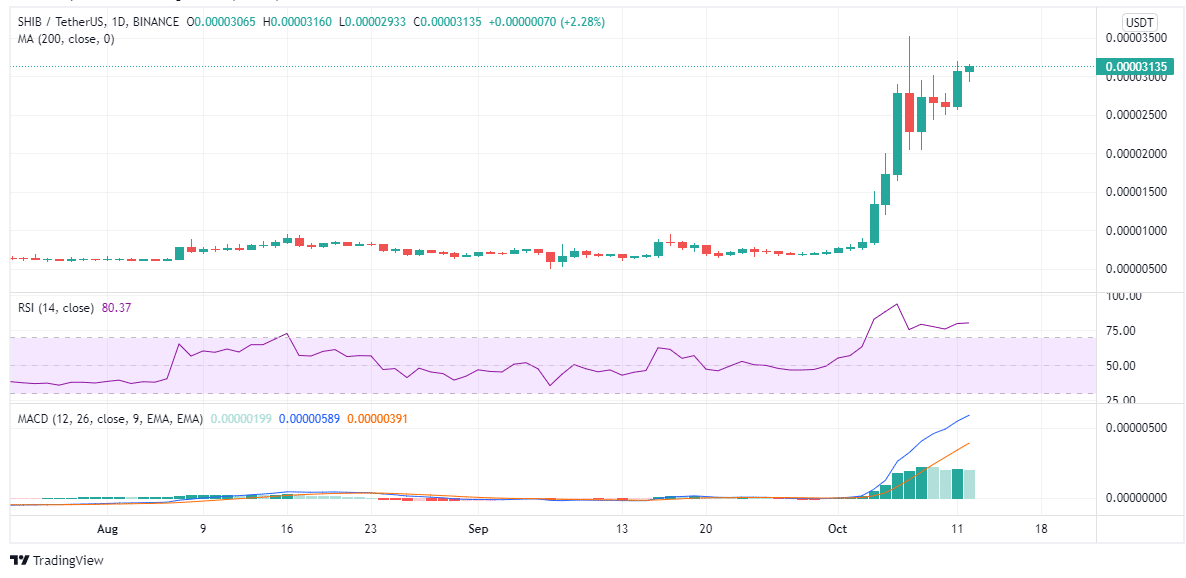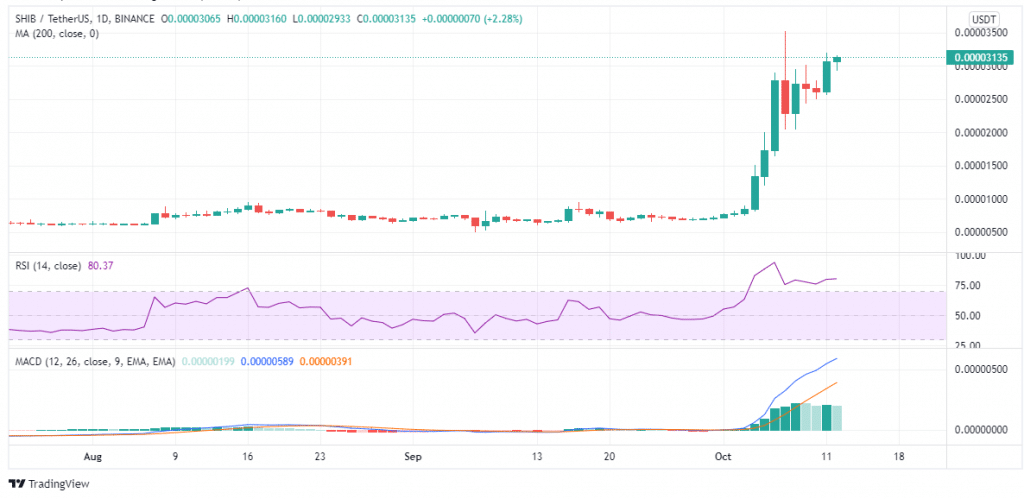 Shiba Inu, the popular Dogecoin killer, has posted impressive returns lately, and today's 14.37% is a continued testament to the asset's growing popularity. SHIB stands at $0.00003131 after making a weekly increase of over 200%.
The meme coin boasts $3.1 billion in a fully diluted market cap following a 14.95% increase in the last 24 hours. 24-hour trading volume is also green, with SHIB averaging $6.9 billion, reflecting a 48.98% increase today alone.
Borrowing an alias from Dogecoin, Shiba Inu has been able to fend off other Dogecoin wannabes and establish itself as a potential rival for the crypto meme king throne. The digital asset gained investors' attention following a 21,000% increase in early May. Like Dogecoin, Shiba Inu has also basked following the support of Tesla and SpaceX boss Elon Musk who recently caused a 40% surge in the asset's value.
Meanwhile, SHIB is not expected to hold this high price peg for long as the second most valuable crypto asset ETH has not shed off the bears even as the crypto market rallies. Crypto bellwether Bitcoin has continued to carry the nascent space on its shoulders. A continued bullish push could see SHIB continue its upward march to a new record value.
SHIB's Technical And Fundamental Analysis
SHIB's performances in the past few weeks have been outstanding. Despite not hitting a cent in value, the DOGE copycat has posted massive growth more than Dogecoin, which has largely underperformed and fallen down the crypto ranks.
SHIB hit a 24-hour high of $0.00003201 in the early hours of today. The digital asset's gains have largely picked up in October after suffering through a dismal three months of bearish control.
SHIB is posting double-digit gains and is trading above the 20-day moving average (MA) support price of $0.00001537 as the crypto market braces itself for a major tailwind.
The relative strength index (RSI) figure of 75.26 shows that more investors are out to buy SHIB. The moving average convergence and divergence (MACD) indicator confirm this with the green trendline leading the charge, indicating a strong buying position.
The fundamentals of the Shiba Inu protocol indicates that the digital asset is one of the top performers in the meme community so far. It recently announced an integration with payment solutions NowPayments with SHIB, BONE, and LEASH joining the list of supported digital currencies.
In addition, centralised exchanges Bitpanda and WhiteBIT have also added support for SHIB trading on their platforms. This will see SHIB holders able to trade their assets against stablecoin USDT, BTC, and ETH.
Plugging into the non-fungible token (NFT) frenzy, the ShibaSwap decentralised exchange (DEX) platform is expected to host the upcoming Shiboshi NFT game. ShibaSwap will enable users to swap their tokens for SHIB, BONE or LEASHt o access the gaming platform.
Strong fundamentals have largely been the principal factor in SHIB's rally, and this could be a great opportunity to buy SHIB for the long term.
Buy SHIB at eToro from just $50 Now!