Shiba Inu Price Up 12.97% – Time to Buy SHIB Coin?
Please note that we are not authorised to provide any investment advice. The content on this page is for information purposes only.
Meme protocol Shiba Inu has maintained a bullish momentum in the last 24 hours as several investors race to buy SHIB. This article looks into the meme token's meteoric rise and the fundamentals behind it.
SHIB's Price Analysis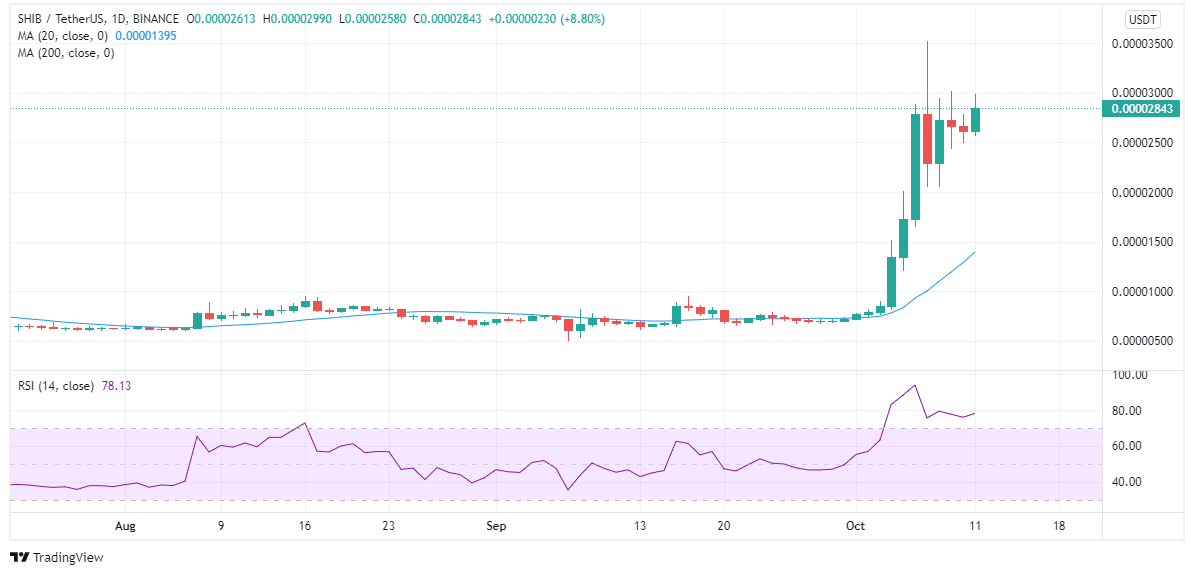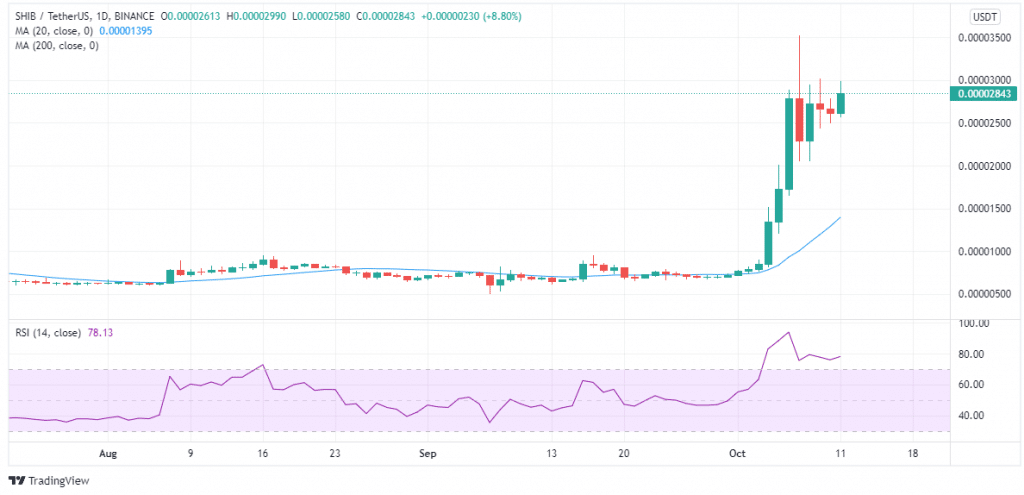 Shiba Inu is up 12.97% in the last 24 hours and trades at $0.00002843. Weekly gains have also skyrocketed, with the meme coin up 207.46% in the previous week. In the aspect of market valuation, SHIB occupies the 18th position, with a valuation of over $29.2 billion, up 14.17% in the last 24 hours. SHIB's 24-hour trading volume sits at $4.6 billion, up 6.06%.
The asset is one of the coins that had a good run in the meme token sub-sector, with only Dogeoin having the largest market share in the space. The dog-themed cryptocurrency shot to prominence following a 21,000% gain in one week after facing stiff competition from other DOGE wannabes.
This helped propel SHIB from its November 2020 low of $0.000000000056 to $0.00003791 on May 10, 2021. SHIB's price gain has since tailed off with the current price peg of $0.00002843, removing 22.9% off its record high.
With the crypto market now rounding a corner, meme coin lovers are back in the market, and the digital asset's remarkable one-day rally has seen several investors buy SHIB.
SHIB: Technical and Fundamental Analysis
SHIB's 24-hour rally shows a growing market interest in the asset. The change in market tone started in the first week of October as SHIB powered above the $0.00000739 price peg to tap out at $0.00003524 on October 7. Although it has shed a chunk of its gains, several investors are still keen to buy SHIB.
At press time, Shiba Inu is trading above the 20-day moving average (MA) support price of $0.00001385, with more bullish potential reflected in the longer-term 200-day MA price of $0.00002768. Turning to the moving average convergence and divergence (MACD) indicator, this bullish momentum is confirmed with the green trendline leading the charge to investor purchases.
The relative strength index (RSI) shows that SHIB is trading in the overbought region, with the oscillator showing a 78.80 buying strength.
Looking at its fundamentals, the Shiba Inu development team has been largely working to break away from the joke (or useless) cryptocurrency narrative. This has largely led to the deployment of the ShibaSwap, a decentralised exchange (DEX) platform that will facilitate liquidity pools, staking and atomic swaps.
Aside from Dogecoin, Shiba Inu is the next top meme coin, and this has seen it get listed on several centralised exchanges. The latest is with popular crypto platform Bitpanda.
According to an October 9 tweet, SHIB is now supported on the platform. Also, WhiteBIT is expected to support SHIB trading in the coming days. Following on its remarkable record, the Dogecoin copycat announced a partnership with payment processing gateway NowPayments. This will see users able to spend their SHIB tokens, as well as LEASH and BONE. SHIB will be initially supported with a percentage of the digital asset burned on each transaction.
Recording another major milestone, the SHIB community has been growing ever since. According to data from Ethereum blockchain explorer, Etherscan, there are currently over $720,000 SHIB holders at the moment.
Buy SHIB at eToro from just $50 Now!