Scottish Mortgage Investment Trust Share Price Forecast July 2021 – Time to Buy SMT?
Shares of publicly traded investment fund Scottish Mortgage( LSE: SMT) are in the news lately after its share price recently topped. The shares have been experiencing an impressive rally starting from 13th May just after it released its financial results for 2021. The company has earned most of its £9.21 billion profits from gains in the value of its holdings.
Scottish Mortgage Investment Trust PLC – Technical Analysis
Shares of Scottish Mortgage Investment Trust PLC are up by 5.8%, bolstered by an impressive comeback rally since mid-May. The company has made a share price return of 9.8% after struggling in February and March this year. At the time of writing, SMT shares are at £1291 with a downtrend of -1.03%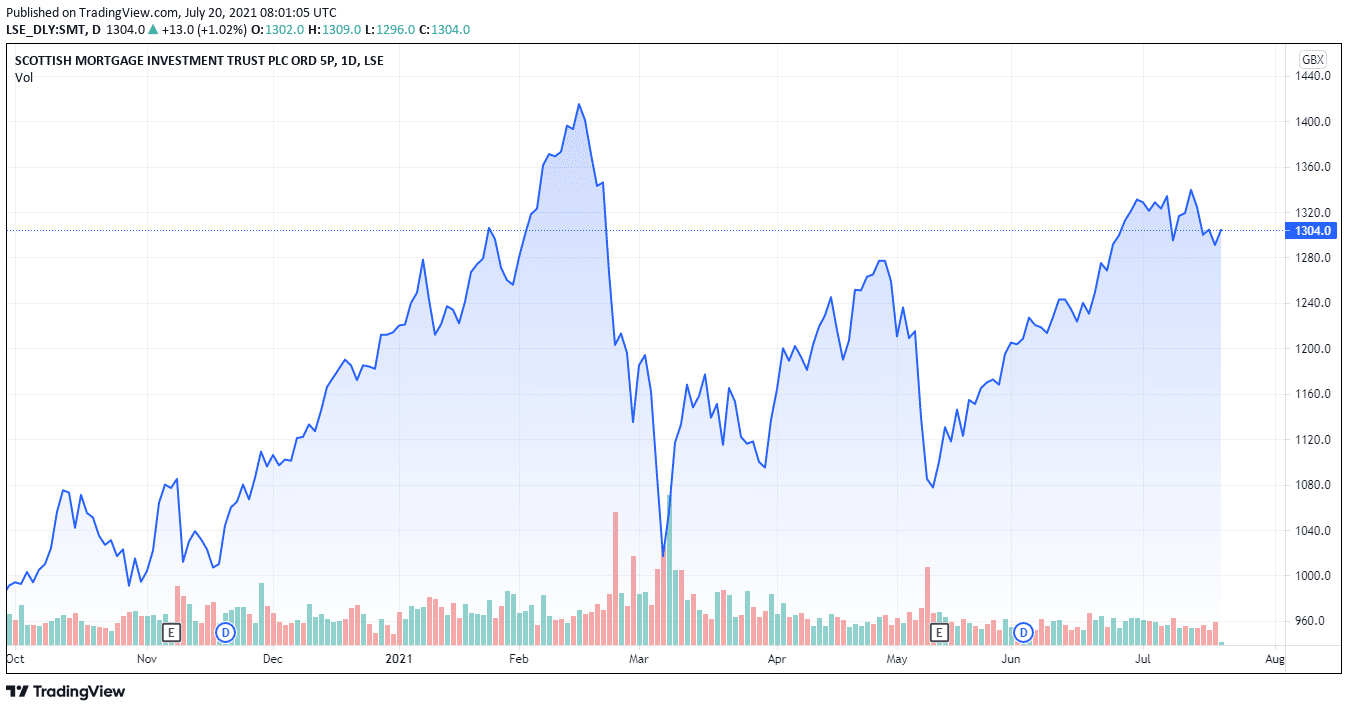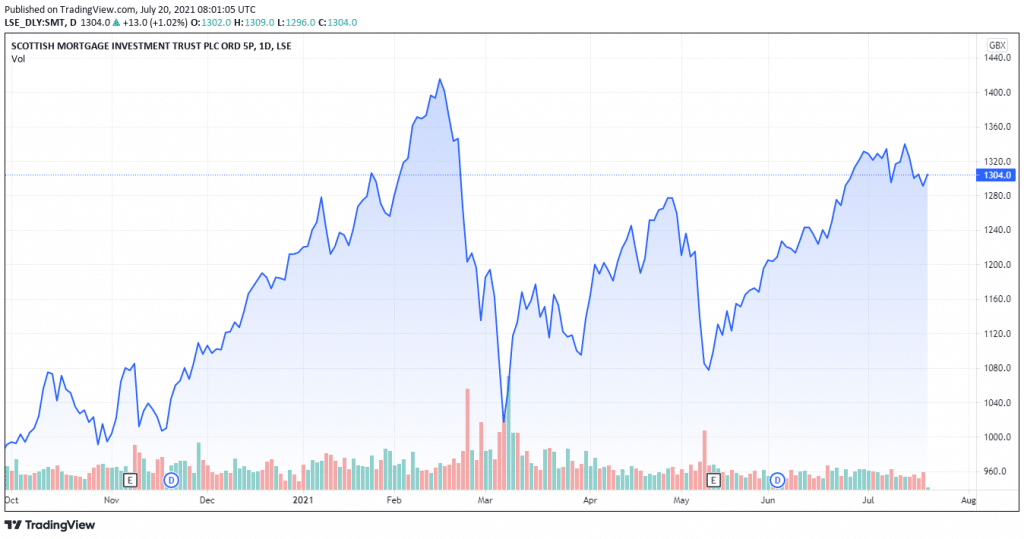 Moving over to the technical side of things, oscillators for Scottish Mortgage Investment Trust PLC such as Stochastic RSI Fast (3, 3, 14, 14)(1.7), Williams Percent Range (14)(−25.6), Bull Bear Power(−40.3), and Ultimate Oscillator (7, 14, 28)(70.0) are pointing towards neutral. Moving averages such as Exponential Moving Average (100)(4.18), Simple Moving Average (100)(3.46), Exponential Moving Average (200)(3.05) and Simple Moving Average (200)(2.6) are pointing towards a buy action.
67% of all retail investor accounts lose money when trading CFDs with this provider.
Recent Developments
Scottish Mortgage Investment Trust PLC is set to get a new manager by April next year after the resignation of long time fund manager James Anderson. Investors are concerned about his co-manager, Tom Slater, taking over this post. The fund's impressive recovery during February to March proves that it is well-positioned to handle crashes of similar nature in the future.
The fund is probably best known for buying heavily and subsequently slashing its stake in Elon Musk's TESLA. The company made a £72 million investment in Blockchain.com, which amounts to less than 0.5% of its entire £17.5 billion holdings.
Should You Buy SMT Shares?
SMT shares have recently recouped all their earlier losses as investors came in, driving its prices to their current highs. The company has been purchasing some of its shares back, which is favourable for its share price as it limits the number of available shares available in the market, resulting in prices increasing.
Investors have to consider SMT's exposure to volatile stocks like NIO, which comprises 3.2% of the fund's total holdings. NIO has lost half of its value between February and May this year, which may be one of the sole reasons why investors may want to steer clear of SMT.
Buy Scottish Mortgage Investment Trust Shares at CedarFX, the World's #1 trading platform!