Royal Dutch Shell Share Price Forecast September 2021 – Time to Buy RSDB?
Each and every investor has their unique perspective when they have to assess a particular investment opportunity. Value investing has become one of the most rewarding approaches to find a share with the potential to grow and maximise one's chances to make a profit. But along the way, some individuals who do not have much experience with value investing, end up undervaluing an opportunity. Royal Dutch Shell is one such share that often gets undervalued by investors who fail to grasp its underlying aspects. In the following, we will discuss why Royal Dutch Shell should not be ignored.
Royal Dutch Shell – Technical Analysis
Investors can find Royal Dutch Shell shares listed on the London Stock Exchange under the ticker code RDSB. On September 13th RDSB closed at £1,456.6 adding 31.8 points with an uptrend of 2.23%. According to the financial overview, the total market capitalisation of this multinational oil and gas company has reached £110.2 billion with a gross profit of 6.97 billion. The net debt is currently £47.7 billion while the total assets held by the company is £288 billion.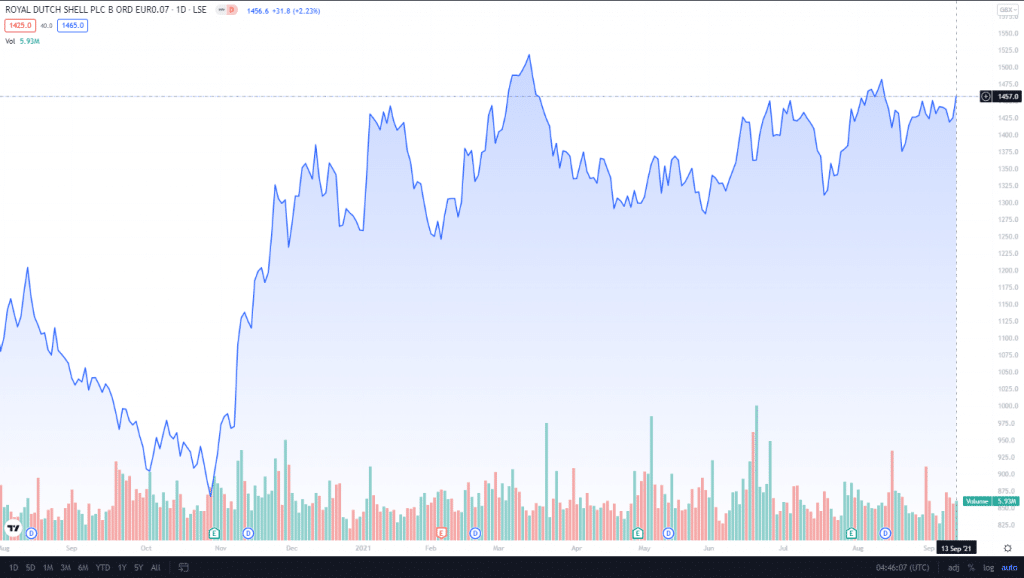 From a technical perspective, RDSB has a good reason to be in the strong buy zone because a total of 17 different technical indicators including moving averages as well as oscillators are in the favour of buying RDSB at the moment. Whether it is the RSI (57.2), SMA (1438.4), MACD (6.7), or EMA (1439.8) all are building a potentially strong buy zone for the Netherlands-based oil and gas company's share.
67% of all retail investor accounts lose money when trading CFDs with this provider.
Recent Developments
The 1907-founded company is known to operate in 4 different segments are Corporate, Integrated gas, Upstream, Oil Products, and Chemicals. Royal Dutch Shell is headquartered in The Hague. Oil demand since the mid of 2021 has been on a constant rise.
According to news, Shell has been affected by Ida. Most of the U.S. drillers have been shut down due to the ferocious hurricane but the Royal Dutch Shell is ready to restart the oil pipelines of the U.S. Gulf Coast to revive the paused production. It seems to be a matter of weeks for the pipelines to begin operation, according to a person familiar with the plan but Shell has declined to comment on the situation.
Since Ida changed its course to move towards Louisiana, the production site that handles millions of barrels of oil per day will be restored but that does not mean that the output will follow. Ever since the Ida hurricane interrupted the crude production across the U.S., Shell declared that several of its active contracts are being assessed for damages except their West Delta-143 offshore facility which would stay offline. The company has recently signed an agreement with Kongsberg Digital to improve delivery operations and performance through digital solutions.
Reasons to Buy RSDB Shares?
Shell company is one of the major energy multinational companies that are as influential in the U.S. region as it is in Europe. As mentioned earlier, Royal Dutch Shell participates in various energy aspects starting from oil production to refining and even marketing strategies.
Though Shell has been one of the underperformers within the industry during the first half of 2021 the renewed attempts look promising for the future. The company has been a constant in many expert market trader's portfolios for a long time due to its number of traditional, tried-and-true figures.
Buy RSDB Stock at eToro for just $50 Now!