Record-Breaking Day for Bitcoin Miners as Daily Earnings Hit $44 Million
Please note that we are not authorised to provide any investment advice. The content on this page is for information purposes only.
Bitcoin miners have achieved an unprecedented annual all-time high (ATH) of an astonishing $44 million, signaling a positive trajectory for the broader crypto industry. This recent resurgence follows a sharp decline attributed to unclear regulations and a bear market.
6.25 BTC Acquired for Each Successful Block Creation
According to Blockchain.com graphical data insight, daily Bitcoin mining rewards reached an unprecedented high of $44 million on November 12, marking the first occurrence in 2023 since April 2022.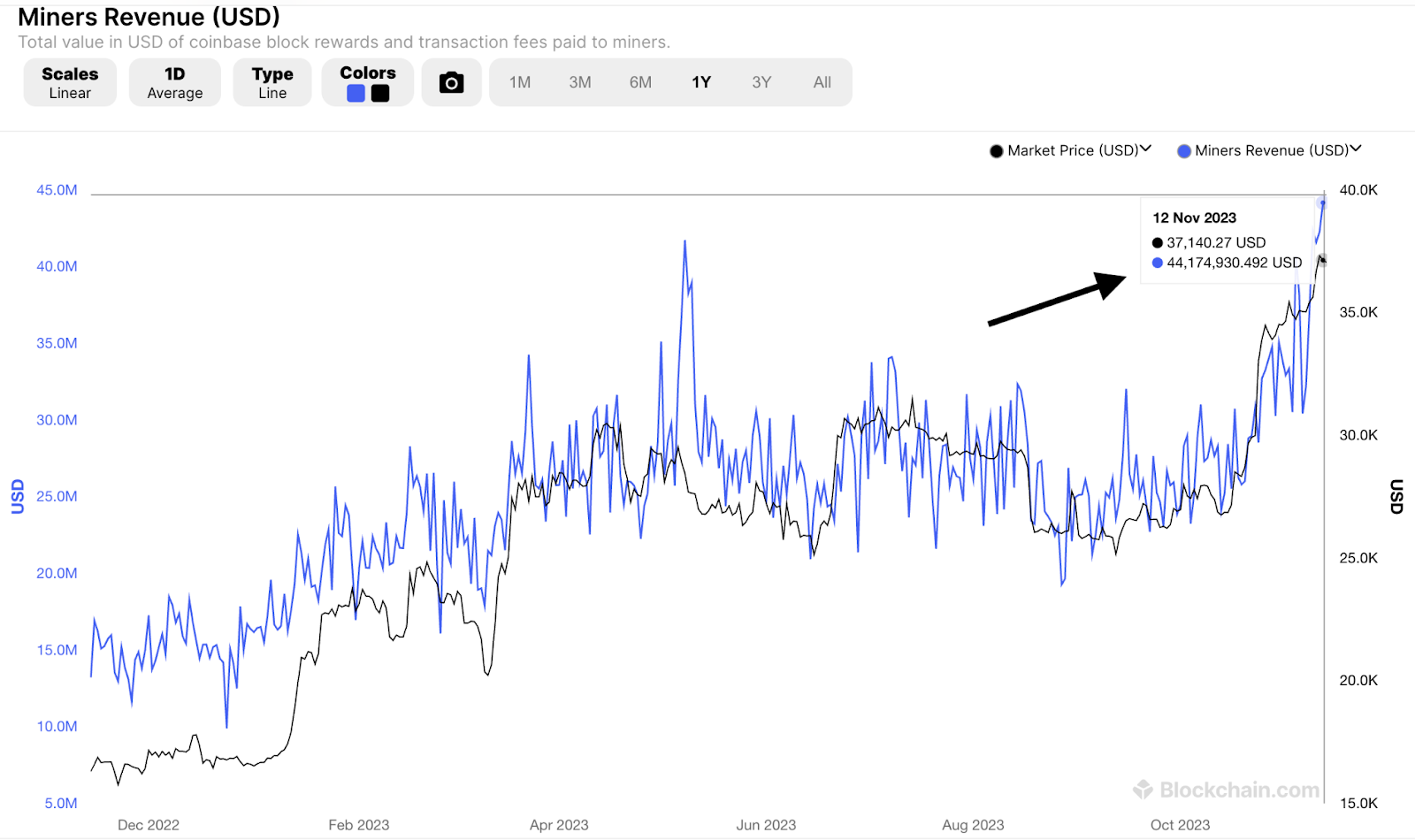 Before achieving this milestone, several factors led to a global decline in the Bitcoin mining industry between April 2022 and November 2023, impacting investor confidence and the seamless execution of transactions.
These factors include regulatory uncertainties, the bear market, and negative events affecting the overall ecosystem.
Notable mentions include the crash of the controversial stablecoin venture Terra, which erased over $200 billion in value in a single day, and the liquidation of the FTX investment firm alongside its subsidiary, Alameda Research.
Press Release pic.twitter.com/rgxq3QSBqm

— FTX (@FTX_Official) November 11, 2022
This is also closely followed by ever-changing US Federal Rates and regulations in the mining industry.
These controversies triggered a market meltdown, casting doubts on the future of Bitcoin and other altcoins, along with their investment appeal.
However, 2023 saw a reversal of the negative market trend as digital assets began recovering from a significant decline. This turnaround positively impacted the crypto-mining industry, leading to an upward trajectory in miners' revenue.
Marathon's Q3 Earnings Release is here:
– Revenue of $97.8M, due to 467% increase in #Bitcoin production and higher BTC prices.
– Adjusted EBITDA improves to $43.7M.
– 8% increase in hash rate; expanding with hydro-powered ventures in Paraguay.
– Long-term debt reduced by 56%,…

— Marathon Digital Holdings (NASDAQ: MARA) (@MarathonDH) November 8, 2023
The increased interest from investors and traders in Bitcoin contributed to enhanced rewards for miners, as exemplified by Marathon Digital Holdings, which reported a remarkable 670% year-over-year increase in revenue for the third quarter of 2023.
The Growth of Bitcoin Mining Scales Amidst Upcoming Halving
The Bitcoin market is gearing up for its fourth halving event scheduled for April 2024, where the rate of new Bitcoin creation and earnings for miners will be halved.
156 days until the #Bitcoin halving! pic.twitter.com/osaMpLSlb3

— WhalesBsc (@WhalesBsc) November 13, 2023
Despite the impending reduction in Bitcoin rewards, the mining industry maintains an optimistic outlook.
The emergence of new technologies within the crypto space, like Bitcoin Non-Fungible Tokens (NFTs), popularly known as Ordinals, has shown significant promise.
A February 13 report from Glassnode, a prominent crypto analytics platform, revealed a historic shift. For the first time in its 14-year history, a portion of network activity is being utilized for purposes beyond P2P BTC transfers.
This development created a profit landscape that saw miners earn nearly $600,000 in two months. Apart from the uptick in Bitcoin network usage, Ordinals brought 44 million new active users with non-zero BTC balances to the network.
Similar innovations like Ordinals are expected to create additional demand for miner services. This could involve new technologies, protocols, or applications that enhance the blockchain network's efficiency, security, or functionality, thereby driving a sustained need for mining services.
Meanwhile, a September 20 Bitcoin Miner Market Analysis report from Market Report World, a reputable analysis platform, forecasted a bullish growth trajectory from 2023 to 2030.
The platform iterated that a prominent trend in the Bitcoin Miner market is expected to create increased demand for environmentally sustainable products.
The rise of technology such as artificial intelligence (AI), machine learning, and blockchain will be harnessed to create products for efficient mining.