Ravencoin Price Up By 10.64% – Time To Buy RVN?
Ravencoin is among a trio of Bitcoin forks that seeks to break large mining rigs and operation monopolies. It makes it easy for anyone to mine RVN with a standard GPU. Ravencoin has seen huge demand since it went public in 2017, and several investors want to buy RVN.
The digital token has made much recovery and is trading over 10% higher.
This article dives deep into what the Ravencoin protocol is all about and why you should buy RVN now.
Ravencoin: ASIC Resistant Blockchain Platform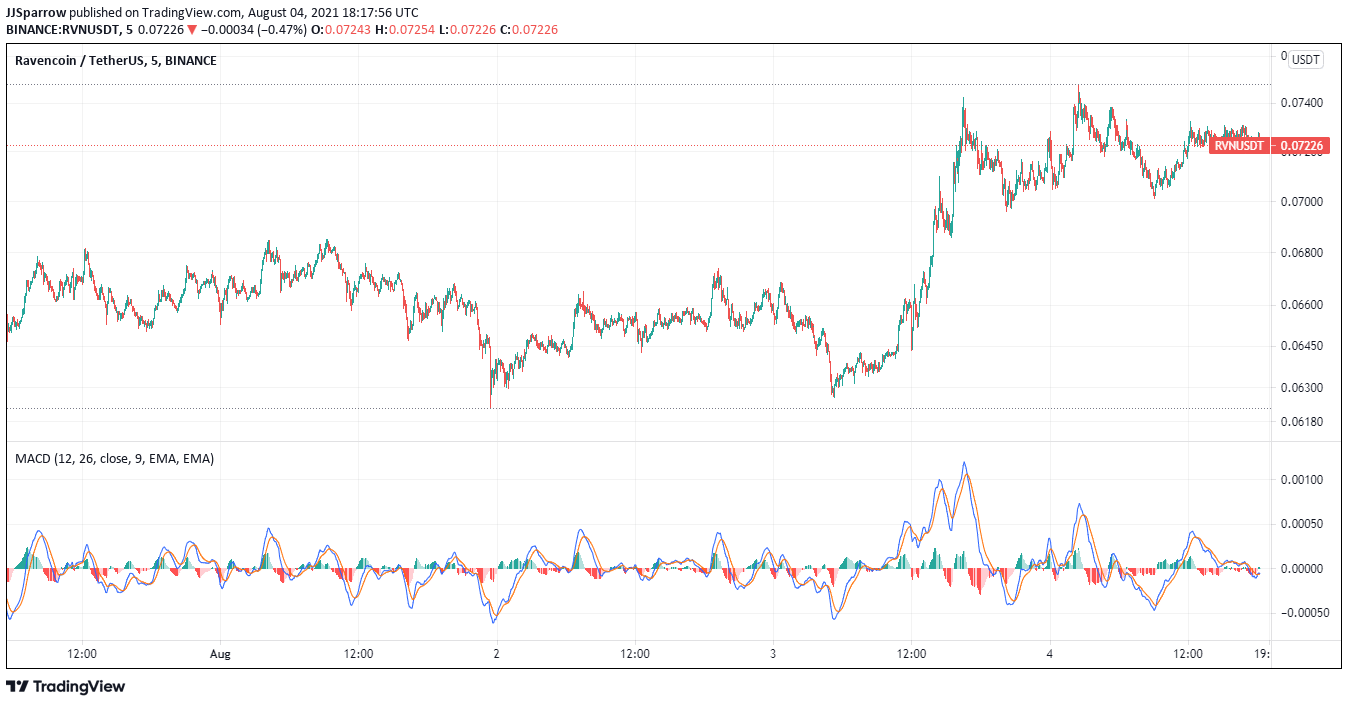 Although a Bitcoin fork, Ravencoin has a different mission. Launched in 2017 following Bitcoin's remarkable rise to global prominence,
Ravencoin enables users to hold assets digitally and transfer them easily among transacting parties. These assets range from real-world physical objects to commodities like gold and silver.
Ravencoin is a peer-to-peer (P2P) blockchain platform that seeks to break the monopoly of large mining operations and specialized equipment.
This has seen the crypto protocol opt for the use of a newly developed x16rv2 algorithm. According to the Ravencoin team, this algorithm works much like other proof-of-work (PoW) algorithms, but it is built in a way that dissuades centralized mining prompted by application-specific integrated circuits (ASIC), which the Bitcoin network uses.
The x16rv2 algorithm uses 16 different hashing algorithms and randomly delegates validation of transactions to any one of them. These random picks make it difficult for ASIC machines to mine on the Ravencoin protocol. This way, anyone can mine Ravencoin without worrying about being sidelined by powerful ASIC mining rigs.
Like Bitcoin, Ravencoin is deflationary, although its numbers are much higher. Only 21 billion RVNs will ever be in circulation. It also has a shorter block finality time frame of just 1 minute to Bitcoin's 10.
RVN is the digital token used to power the Bitcoin fork network. Ravencoin has plans to add more functionality to its blockchain. This will see it enable integrated messaging, voting, and staking rewards.
67% of all retail investor accounts lose money when trading CFDs with this provider.
RVN Price Breaking Through Market Fog
RVN is among a fringe group of cryptocurrencies called alternative currencies (altcoins). This has seen its price action vastly impacted by Bitcoin price movement.
Since making its grand entrance in 2018, RVN has experienced wild price swings. At a point, it traded at $0.07352 in 2019 but plummeted, closing the year at less than its record growth. The bearish trend continued through most of 2020, and RVN hit a 52-week low of $0.01257 on Dec. 31.
However, the Bitcoin hard fork caught some tailwind in 2021, shooting to $0.228 on Feb. 2021. A few months later, this price action was retested when RVN surged to an all-time high of $0.2359 on Apr. 14. However, it soon suffered a setback and dipped to $0.13, only making a rally to $0.1842 on May 1.
The May crypto market crash coincided with RVN's continued depletion and the digital asset traded below the radar dipping to $0.0491 in Jun. 22.
RVN has since picked up steam this month and is up 10.64% in the last 24 hours. At press time, it is trading at $0.07239. This could be a great time to buy RVN before it makes another major rally.
RVN Technical And Fundamental Analysis
RVN's technical support is strong, showing the digital asset is preparing for more upside. It stands heads-over-shoulder at the 20-day moving average (MA) support price of $0.06033, pointing to a bullish market. Its relative strength index (RSI) currently stands dangerously close to the overbought level at 68.91. This high RSI shows that several investors want to buy RVN.
Market analysts are also bullish on the token, with Digital Coin putting its one-year forecast at $0.10929. Wallet Investor puts its mark much higher and puts its one-year estimates at $0.127. Its five-year forecast is at a whopping $0.373.
Ravencoin's digital asset custodian capabilities have attracted much interest. Hydra Chain Technologies, a real estate developer, recently launched its tokenized single-family houses on the Ravencoin blockchain platform. The Wisconsin-based real estate companies hope to provide liquidity and fractionalized ownership to real estate investors globally.