RAPT Stock Forecast and Price Prediction June 2021 – Time to Buy RAPT Stock?
Please note that we are not authorised to provide any investment advice. The content on this page is for information purposes only.
Rapt Therapeutics (RAPT) stock rose over 115% yesterday and is trading higher in US premarket price action today also. What's the forecast for the stock in 2021 and is it a good stock to buy in June 2021?
Rapt Therapeutics is a clinical-stage biopharmaceutical company working on advancing the treatment for cancer and inflammation. The company has discovered and advanced two unique drug candidates, FLX475 and RPT193 for cancer and inflammation. It also has several other targets under development but these are in the discovery stage.
Why did RAPT stock spike?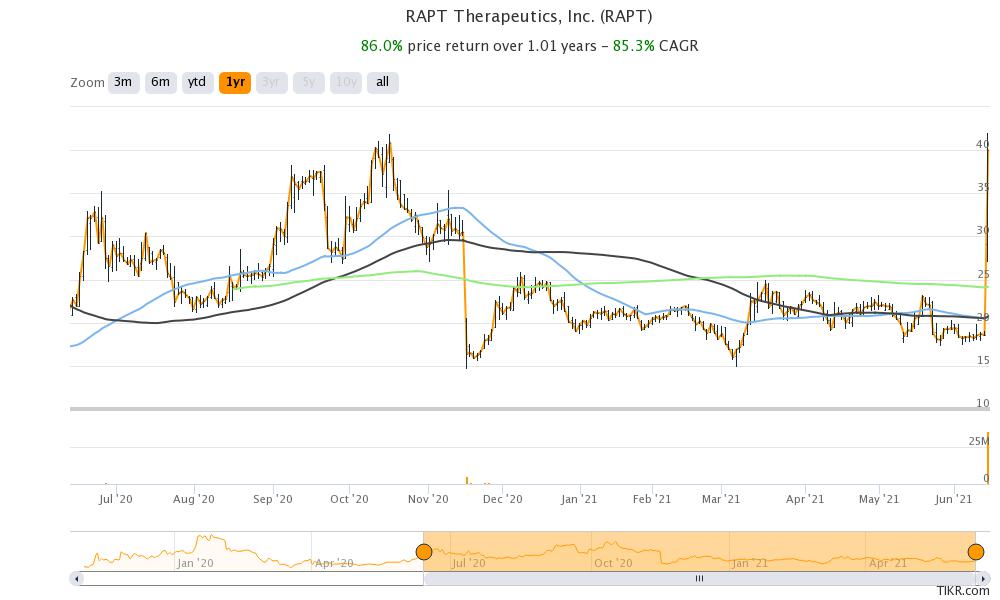 RAPT stock spiked yesterday after it released positive trial results for its Phase 1b clinical trial of RPT193. The results showed a 36.3% improvement in EASI (Eczema Area and Severity Index) score from baseline for the patients who were treated with RPT193. In contrast, there was a 17% improvement of patients in the placebo group.
"These data strongly support the potential of RPT193 as a safe, once-daily, oral treatment for patients with atopic dermatitis which would be an attractive therapeutic alternative ahead of injectable drugs," said Brian Wong, M.D., Ph.D., President, and CEO of RAPT. He added, "We look forward to advancing RPT193 to a Phase 2b trial in atopic dermatitis and a Phase 2a trial in asthma."
Clinical stage biopharma companies tend to react sharply to the trial results. RAPT stock jumped sharply as markets gave a thumbs up to the trial results.
Looking to buy RAPT? Invest now at eToro!
75% of all retail investor accounts lose money when trading CFDs with this provider.
Technical analysis
RAPT stock was trading flat for the year before the trial findings were released. The company went public in 2019 and priced the IPO at $12 per share. It made its all-time high in January 2020. However, as the US stock markets crashed in the first quarter of 2020, the stock fell to almost the IPO price level.
Since then, the stock has bounced back. It has crossed above the 200-day SMA (simple moving average) which it could not break since December 2020. The stock crossing above the key resistance level is a bullish technical indicator.
Capital raise
Clinical stage biopharma companies burn a lot of cash towards research and development and clinical trials. Usually, these companies announce a capital raise just after announcing a positive clinical trial. This way they can capitalize on the stock's rise and also raise the much-needed capital to bridge their cash burn. Generally, stocks tend to fall after the announcement of capital raises as it leads to dilution.
RAPT announced an underwritten public offering of its shares to raise $125 million. The company expects to give the underwriters a 30-day option to purchase an additional $18.75 million of its shares. The pricing has not yet be announced but it could be at a discount to the current market price which is the norm.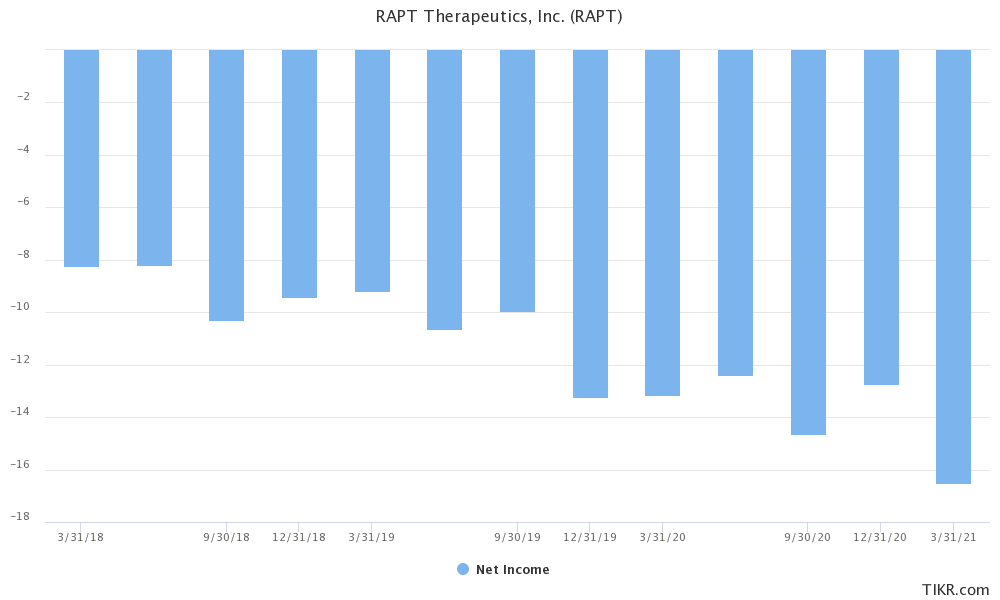 RAPT earnings
RAPT had cash and cash equivalents of $98.4 million at the end of the first quarter of 2021. In the quarter, it posted a net loss of $16.5 million which was higher than the $13.1 million that it had reported in the corresponding quarter in 2020.
During the quarter, it reported general and administrative expenses of $4 million as compared to $3.3 million in the first quarter of 2020. The company attributed higher expenses to an increase in stock-based compensation.
The company's research and development expenses also increased from $10.7 million to $13.8 million over the period. According to RAPT, "this increase was primarily due to increased clinical trial costs for FLX475 and RPT193, increased personnel costs and stock-based compensation expense and an increase in facilities costs, offset by a decrease in laboratory supplies spend."
RAPT stock forecast
Wall Street analysts are bullish on RAPT stock and all five analysts surveyed by MarketBeat rate them as a buy or some equivalent. The stock's target price is $56.40 which is a premium of 41% over current prices.
After RAPT released positive trial results, several analysts raised their target prices. Wells Fargo more than doubled its target price from $30 to $65 and assigned an overweight rating. Roth Capital also upgraded the stock from a positive to buy and increased the target price from $38 to $72. Cantor Fitzgerald also boosted RAPT's target price from $51 to $71.
Is RAPT stock a good buy
Clinical stage biopharma companies can be risky to invest in as they are a play on the underlying product under development. The encouraging trial results are positive for RAPT stock and show the advancement on the under-trial products.
Given the strong and growing demand for cancer care and the positive trial results, RAPT stock could be a good buy even now.
Looking to buy RAPT? Invest now at eToro!
75% of all retail investor accounts lose money when trading CFDs with this provider.