Plug Power Share Price Forecast November 2021 – Time to Buy PLUG?
Shares of clean energy company Plug Power (NASDAQ : PLUG) are in the green today after closing at $42.91 as of November 24th (19:59 EST). The shares popped on Wednesday, increasing by 1.8% after the company bagged another significant order after announcing growth plans for Europe. The company is very proactive when it comes to investments, which has got investors excited.
Plug Power – Technical Analysis
According to the financial statement released by Plug Power, the market cap of the company is at $24.731 billion with total assets worth $5.74 billion. Revenue for 2020 was at -$93.24 million compared to $229.97 million in 2019.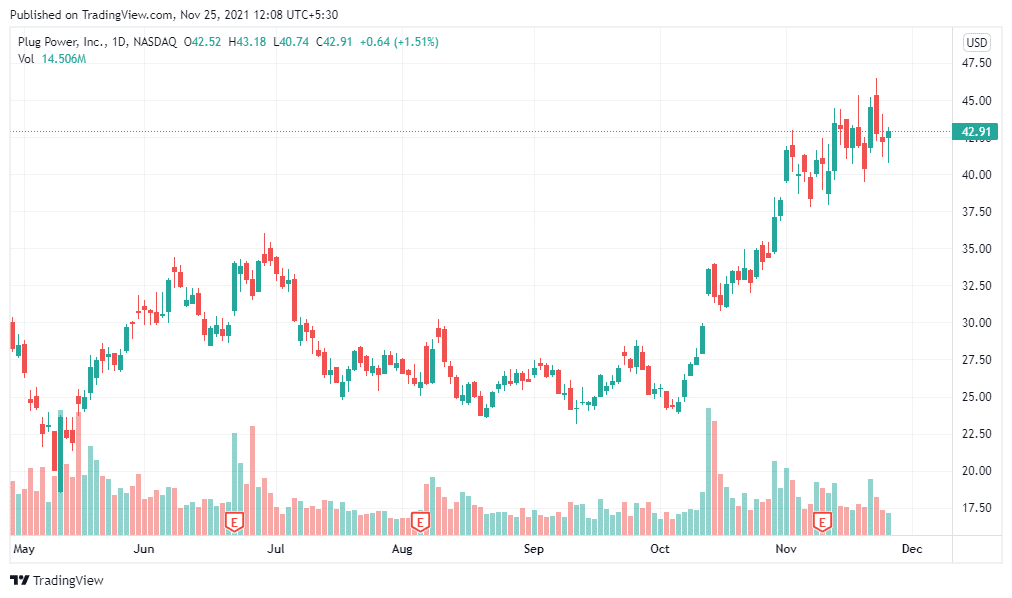 Moving averages such as Exponential Moving Average (10)(42.18), Simple Moving Average (10)(42.65), Exponential Moving Average (20)(40.47), Simple Moving Average (20)(41.26) and Exponential Moving Average (30)(38.64) are all indicating a buy action. On the other hand, oscillators for Plug Power, such as Relative Strength Index (14)(60.50),  Stochastic %K (14, 3, 3)(56.05), Commodity Channel Index (20)(72.90),  Average Directional Index (14)(35.88) and Awesome Oscillator(5.24) are neutral.
68% of all retail investor accounts lose money when trading CFDs with this provider.
Recent Developments
Plug Power has made immense strides in green hydrogen investment in recent years. It opened the first and largest green hydrogen and fuel cell gigafactory in the state in Rochester, New York. It has also struck partnerships with Airbus and Phillips 66 and announced an initiative to build green hydrogen plants in Europe. Plug Power also announced a joint venture with South Korea-based SK Group. Its other efforts include a collaboration with Renault and HYVIA to develop a fuel cell-powered van prototype.
Yesterday, Plug Power revealed that it had ordered a 100-megawatt (MW) electrolyzer from Abu Dhabi-headquartered chemicals giant Fertiglobe. This will be used for green hydrogen production as feedstock to be used in an Egypt-based ammonia production plant. As the world's largest seaborne exporter of urea and ammonia combined, Fertiglobe chose Plug Power for its leadership and expertise in electrolysis technology.
The order is a pretty big one considering that the company outlined a goal of selling over 100 MW in electrolyzer sales by 2022, as announced during its annual analyst day held in mid-October.  Electrolyzers can either be used for industrial uses like food hydrogenation and semiconductor fabrication or to produce fuel for power stationary fuel-cell systems. Plug Power has also confirmed that it will set up its European HQ in the Port of Duisburg, North Rhine-Westphalia, Germany, which is the world's largest inland port. With this latest development at the Port of Duisburg, Plug Power will now have the opportunity to tap markets in Belgium, Rotterdam, Antwerp, and the Netherlands.
Plug Power has also acquired Applied Cryo Technologies, a leading provider of technology for the transportation, storage, and distribution of liquefied hydrogen and other cryogenic gases. With this development, Plug Power will gain significant capabilities, expertise, and technologies including a liquid hydrogen delivery network and fleet, which will allow the company to expand its green hydrogen ecosystem.
Should You Buy PLUG Shares?
Plug Power has projected annual sales worth $3 billion for 2025, while also raising its outlook for 2022. PLUG shares are currently trading at an EV/NTM revenue of 26.7x which suggests that there's a considerable amount of growth premium embedded into their current valuation. As most of Plug Power's solutions are on the commercial side, the move to the retail side shouldn't be too much of a hassle. Considering this, you can pick up PLUG shares at the moment.
Buy PLUG at eToro with 0% Commission Now!