Pinterest Share Forecast January 2022 – Time to Buy PINS?
Please note that we are not authorised to provide any investment advice. The content on this page is for information purposes only.
Shares of image sharing and social media service Pinterest (NYSE: PINS) are in the green today, after closing at $34.43 as of January 12th (22:57 EST). PINS shares surged at the pandemic onset when billions of people were spending nearly all their time at home. But right now, with the economy reopening, users are now spending less time engaging with the Pinterest app. As a result. The shares fell by 44.8% in 2021 and have kept falling so far in 2022. This may provide an opportunity for long-term investors.
Pinterest  – Technical Analysis
According to the financial statement provided by Pinterest, the company's market cap currently sits at $22.175 billion with total assets worth $3.153 billion. Revenue for 2020 was at $1.69 billion with a profit margin of -7.58% compared to $1.14 billion in 2019.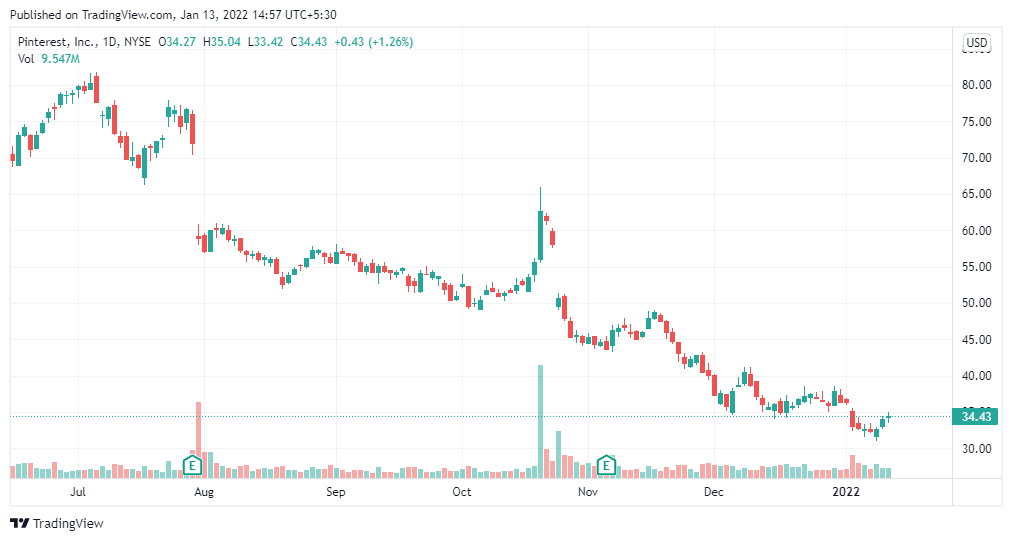 Oscillators such as Relative Strength Index (14)(42.06),  Stochastic %K (14, 3, 3)(35.41), Commodity Channel Index (20)(−39.15),  Average Directional Index (14)(27.49) and Awesome Oscillator(−3.77) are neutral. Moving averages such as Exponential Moving Average (20)(35.40),  Simple Moving Average (20)(35.35),  Exponential Moving Average (30(36.75),  Simple Moving Average (30)(36.08) and Exponential Moving Average (50)(39.53) are indicating a sell action.
68% of all retail investor accounts lose money when trading CFDs with this provider.
Recent Developments
Pinterest's app offers a compelling user base of 444 million monthly active users, which is down by 24 million from the peak two quarters ago but still up by 2 million from the same time last year. The company spent an estimated $763 billion on global advertising in 2021. This represented a 2.5% increase from the previous year. To compare, the company's 2020 revenue was $1.7 billion.
Pinterest is concentrating on profitability and free cash flow in its fiscal year 2021. The company already lost over $1.5 billion on the bottom line from 2017 to 2020. However, it registered a $141.7 million in net income in the nine months ended September 30th, up from a loss of $336 million during the same time last year. Pinterest demonstrated economies of scale as revenue increases while expenses remain relatively grounded. In other words, it costs the company the same whether 100 million people use its app or 500 million people.
Pinterest's cash flow from operations increased to $541 million in the nine months ended Sept. 30. This is an increase from a loss of $72 million in the same time the year before. This also proves the company does not need outside capital to fund the business to sustain itself.
Should You Buy PINS Shares?
Various factors have caused Pinterest management to forecast revenue growth in the high teens for the fourth quarter. But this is still lower than the near 50% rate of growth the company has logged in each of its last three years. Investors got a little nervous and crashed the stock when the deceleration in revenue growth and losses in MAU was made public.
Pinterest shares have continuously slid lower, hitting new 52-week lows every other week since the deal with Paypal fell through.  Estimated revenue for FY 2021 is expected to be around $2.6 billion based on Pinterest's nine-month 2021 results and management's guidance. The company's profitability is also strong as evidenced by the increase in EBITDA margins from 21% in the prior-year period to 32%.
The steep decline of PINS shares presents an opportunity for investors to buy the stock on the cheap. The shares are cheap both from a sales and a potential future profitability perspective. But investors should be paying attention to MAUs which may constantly be fluctuating going forward. This would in turn result in volatile earnings for investors. That being said, you can buy the shares at this moment for the long term.
Buy PINS Stock at eToro from just $50 Now!