PayPal Holdings Share Price Forecast November 2021 – Time to Buy PYPL?
Shares of e-payments pioneer PayPal Holdings (NASDAQ: PYPL) is in the red today, after closing at $188.05 on November 23rd (19:59 EST). While PayPal is valued more than a quarter-trillion dollars, costing 50 times earnings and almost 50 times free cash flow, its shares are still priced like a fast-growing company that only grew 13% in sales in the last quarter.
PayPal Holdings – Technical Analysis
According to the financial statement released by PayPal Holdings, the market cap of the company is at $220.946 billion with an asset valuation of $74.534 billion. Revenue for 2020 was at $21.43 billion with a profit margin of 19.60% compared to $17.53 billion in 2019.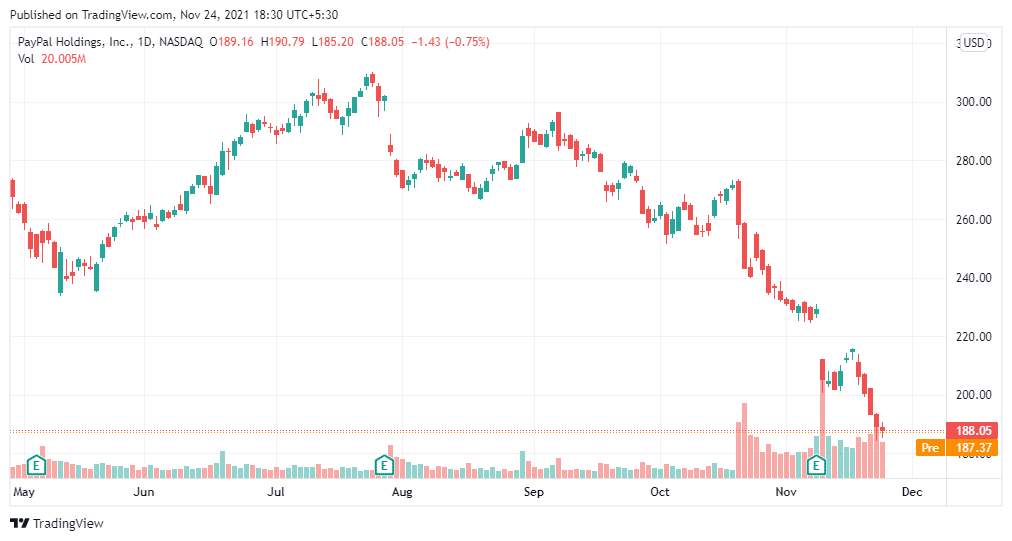 Oscillators for PayPal Holdings such as Stochastic RSI Fast (3, 3, 14, 14)(24.13), Williams Percent Range (14)(−92.08),  Bull Bear Power(−36.13) and Ultimate Oscillator (7, 14, 28)(36.46) are neutral. On the other hand, moving averages such as Exponential Moving Average (10)(202.17),  Simple Moving Average (10)(202.11), Exponential Moving Average (20)(214.17),  Simple Moving Average (20)(215.27) and Exponential Moving Average (30)(223.61) are indicating a sell action.
68% of all retail investor accounts lose money when trading CFDs with this provider.
Recent Developments
The recent share price drop can be attributed to investment banker Bernstein cutting Paypal's rating from outperform (i.e., buy) to market perform (i.e., don't buy). He also cut its price target by more than 15%, ending up with $220 per share. As reported by StreetInsider.com, Bernstein worries that PayPal is at risk of being disrupted by Big "eComm" companies as well as rival payment companies. For instance, eComm giants such as Amazon and Shopify are gaining more clout in terms of being able to negotiate favourable rates with payment services like PayPal. On the other hand, buy now pay later models employed by the likes of Apple Pay and Shop Pay are threats to PayPal's dominance. It is now becoming common for shoppers to save their credit card information with a reputed and secure e-commerce company for easy payment. Under such circumstances, they aren't even considering the PayPal option.
PayPal's revenue growth potential was stifled for most of the past three years due to the loss of eBay to Adyen. However, it has shown signs of growing on its own, as evidenced by its recent partnership with Amazon.  The partnership will enable Amazon to accept Venmo payments in 2022. Venmo is a P2P payments leader with almost 80 million customers. Partnerships with the likes of Amazon will help it tackle competition from its rivals like Square's Cash App.  PayPal has also launched its "Pay in 4″ BNPL service last year to tackle the growing threat o BNPL services. It has also agreed to acquire Paidy, a Japanese BNPL platform for $2.7 billion.
Should You Buy PYPL Shares?
As the world goes cashless, PayPal is positioned to remain one of the world's largest digital payment platforms for the foreseeable future. While it faces tough year-over-year comparisons from the pandemic and some near-term headwinds, it still possesses the traits of a sound long-term investment. When it comes to revenue, PayPal expects it to rise about 18% to $25.3 billion for the full year. It also expects active accounts to grow at 14% to reach over 430 million. The management, during its latest conference call also reiterated the long-term goals.
Compared to its peers, PayPal is consistently profitable, trading 35 times forward earnings and nine times this year's sales. These evaluations are relative to its revenue growth goals which are a CAGR of 22% from 2020 to 2025. Considering this, PYPL can be a good growth stock for years to come.
Buy PYPL at eToro with 0% Commission Now!