PancakeSwap Price Up 2.03% – Time to Buy PancakeSwap Coin?
PancakeSwap price has been holding quite steady, especially with the exchange continuing to soar and compete with some of the best-decentralized exchanges out there.
Now that the market seems to be on a healthy momentum, coins are rising in price across the board. The PancakeSwap price is also seeing big gains. So, is the time right to buy CAKE? We'll look into the coin below to know.
PancakeSwap: A Revolutionary Decentralized Exchange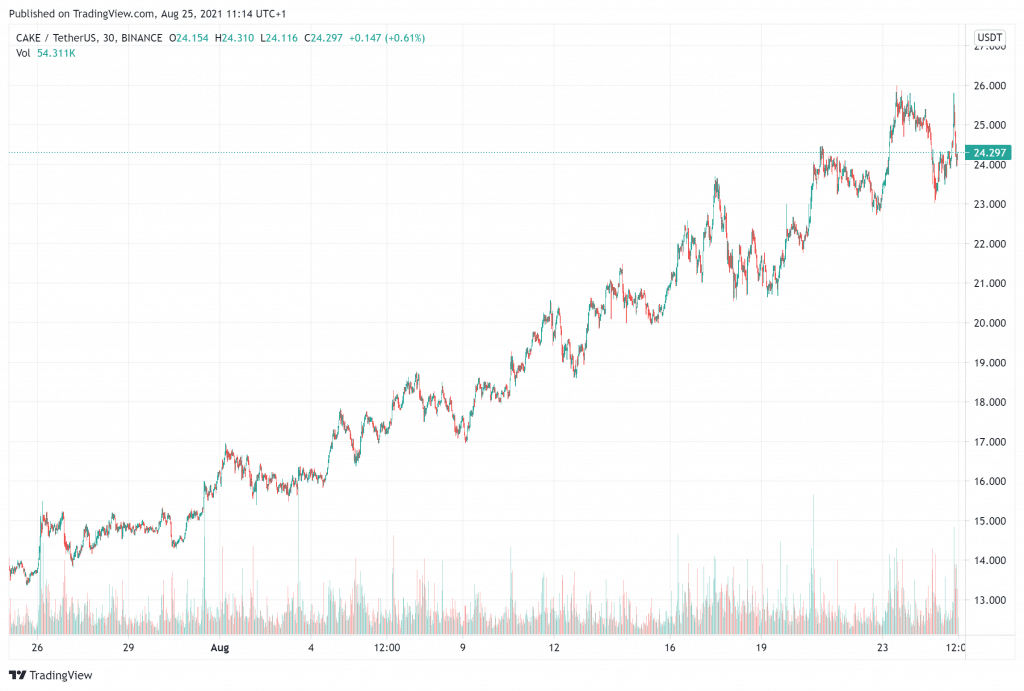 PancakeSwap is a decentralized exchange (DEX) that was built on the Binance Smart Chain. It is by far the most popular exchange on the blockchain platform, and it has seen significant growth in the past few months thanks to several factors – including a broad user base, high liquidity, and extensive trading options.
The PancakeSwap platform was designed to allow users to trade Binance Coin (BNB) and other BEP-20 tokens securely without going through any centralized service or losing control of their private keys. It is an automated market maker, so there are no order books. Everything operates on smart contracts.
PancakeSwap users draw liquidity from several liquidity pools, which rebalance when a trade is complete. The liquidity is contributed by liquidity providers, who add equal values of both sides in a liquidity pool.
As a decentralized application (dApp), PancakeSwap can generally be accessed through a Web3-supported wallet. Once connected to the Binance Smart Chain, the wallets can be used to interact with PancakeSwap smart contracts.
PancakeSwap was launched in September 2020, and the exchange has seen significant growth since then. Now, PancakeSwap operates as an ecosystem of decentralized finance (DeFi) tools, all built on its native token – CAKE.
Traders can buy CAKE for different purposes, including yield farming, staking, governance, and participating in the PancakeSwap Lottery.
With so many uses, it's understandable that the PancakeSwap price will be on an upsurge.
CAKE: Price Movements in 2021
Like many other coins, the PancakeSwap price has been on a rollercoaster ride all year. CAKE started 2021 trading at $16.23, and the asset's price soon jumped to $44.23 by April 30.
The upsurge primarily came from increased attention to the DeFi space. Decentralized exchanges were seeing increasing adoption as well, and the industry's total volume locked very nearly crossed the $100 billion mark.
But, it wasn't to last forever. The PancakeSwap price had actually started dropping before May's downturn came, with the slump hitting it at the $40,43 mark on May 10. In the next 10 days, the PancakeSwap price had dropped to $9.675 – a 78 percent drop from its all-time high.
CAKE spent the next two months in the doldrums. Up until August, the highest point here the PancakeSwap price got to was $21.30. The asset dropped once more to $9.6, but it didn't stay so long under sub-$10 levels.
Following the market selloff that happened in late July, CAKE has been on an upsurge. The asset's one-month chart data shows that its price has jumped from $13.67 to $24.29 – a healthy 77.6 percent increase.
With a current price of $24.29, CAKE is up 2.03 percent in the past day and up 14 percent in the past week.
CAKE: Technical and Fundamental Analysis
CAKE is currently holding pretty strong fundamentally. The asset is currently trading above its 20-day moving average (MA) of $21.37, as well as its 100-day MA of $16.66. This shows that CAKE is still looking to capture more upsides.
Also, CAKE has a relative strength index (RSI) of 70.18, showing that it is still overbought. The market might be correcting, so there's a possibility of the metric dropping. If you're looking to buy the asset, that is where you want to get in.
Last week, data from DeFi Llama showed that PancakeSwap had surpassed Uniswap in total volume locked, hitting $5.76 billion compared to Uniswap's $5.02 billion. The numbers have since changed to $6.19 billion and $4.60 billion respectively.
Buy CAKE at eToro from just $50 Now!