Palantir Stock Down 12% in July – Time to Buy PLTR?
Please note that we are not authorised to provide any investment advice. The content on this page is for information purposes only.
The price of Palantir stock is down 12% so far in July while the stock is currently shedding 5.5% of its value this morning at $23.3 per share.
No negative material changes to the company's performance or fundamentals appear to be influencing the stock price at the moment, yet the chart seems to show that the price action has found resistance at the $28 level for a second time this year.
Could this be a good time to consider buying this artificial intelligence company or are shares of Palantir heading lower after this latest price rejection? Join me in the following article on Palantir stock to take a closer look at the stock's technical setup and fundamentals to see what might come next.
Palantir (PLTR) – technical analysis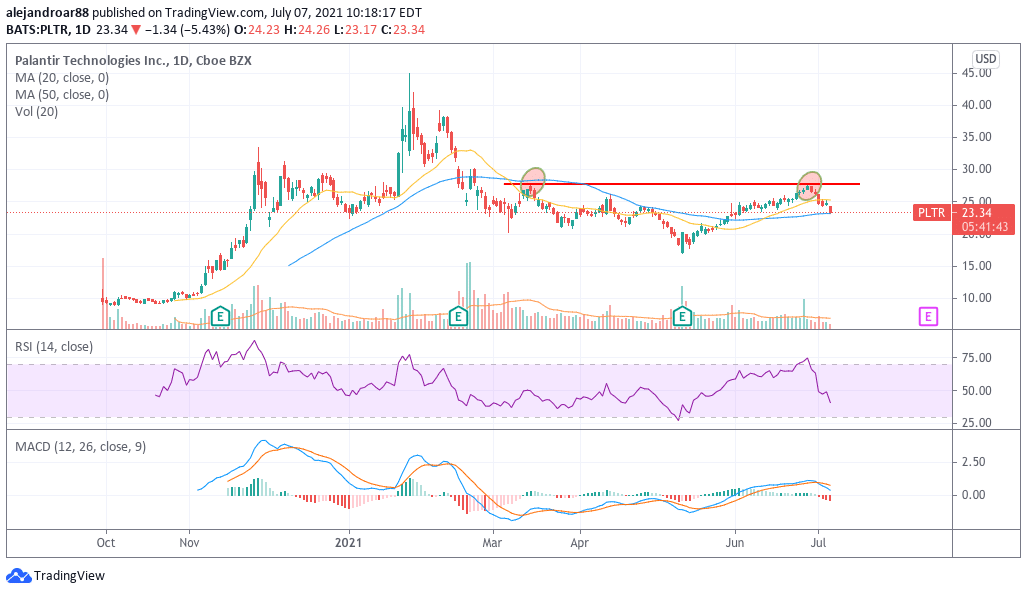 The price action seen by PLTR stock shows that the market participants rejected the $28 level for a second time this year, which resulted in the formation of a double-top pattern – a traditionally bearish setup that often leads to a correction in the share price.
So far, this pattern has been confirmed by the 15.6% decline that followed the rejection of this resistance. Meanwhile, the MACD has already sent a sell signal while heading to negative momentum territory while the RSI has moved below the 50 level – further indications of the bearish momentum that the stock is currently experiencing.
However, short-term moving averages for Palantir have not gone south just yet, which means that the stock could find support for now at the 50-day moving average at $23.2 per share.
Volumes have not been particularly high and that reinforces the view that, although sellers are winning the hand, the pace at which Palantir shares are being sold does not indicate that a sell-off is taking place.
Interestingly, negative sentiment toward the stock within the popular Reddit messaging forum WallStreetBets seems to have coincided with the price rejection. Comment volume rose to its highest level in the past 30 days on 30 June but most of the comments toward Palantir were negative based on data provided by meme-stock tracker Swaggy Stocks.
Based on these readings, the outlook for Palantir remains bearish. However, if the stock bounces off its 50-day moving average in the following sessions, chances are that there could be a retest of the $28 resistance shortly.
67% of all retail investor accounts lose money when trading CFDs with this provider.
Palantir – fundamental analysis
On the fundamental front, data from TradingView shows that Palantir's revenues have moved up from $595.4 million in 2018 to $1.09 billion last year at a 35.3% CAGR. However, during that same period, operating losses have surpassed the firm's revenues while net losses have grown from $580 million in 2018 to $1.17 billion by the end of last year.
By the end of the first quarter of 2021, the firm had long-term debt of approximately $420 million and cash reserves of $2.34 billion. Although this war chest is fully covering the firm's long-term financial commitments at the moment, Palantir's sustained net losses continue to threaten its solvency and may force the firm to keep raising capital to remain in operation.
Meanwhile, Palantir's annual filing shows that the firm's cash burn has been accelerating, with net cash used by operating activities ending last year at $296 million, up more than $250 million from the figure reported in 2018.
Although the firm seems to have more than enough reserves to cover multiple years of elevated losses, Palantir has not yet provided any indications that it plans to trim its operating expenditures to a point that its revenue growth starts producing profits to shareholders.
On the other hand, Palantir has engaged in almost six different SPAC deals this year by participating in the private placements required to gather the funding needed to take the sponsored companies public.
According to the firm's latest quarterly report, four investments were made up until 11 May this year, amounting to $91 million. This include subscription agreements for Rotor Acquisition Corp, Montes Archimedes Acquisition Corp, and GX Acquisition Corp.
At the current market capitalization of $46 billion, Palantir is being valued at 31 times its forecasted sales for 2021 as compiled by Seeking Alpha – a multiple that seems hard to justify based on the firm's historical revenue growth and poor fundamentals.
Buy Stocks at eToro, the World's #1 trading platform!