Nokia Stock Price Forecast June 2021 – Good Time to Buy NOK Stock?
Please note that we are not authorised to provide any investment advice. The content on this page is for information purposes only.
With a year-to-date return of almost 40%, Nokia (NOK) stock is outperforming the Nasdaq Index in 2021. The stock made a 52-week high of $9.79 but is now down almost 45% from the levels. What's the forecast for Nokia stock in June 2021 and is it a good time to buy NOK stock after the massive drawdown from the 52-week highs?
Nokia stock was targeted by the Reddit group WallStreetBets. Retail traders on the subreddit have successfully triggered a short squeeze in stocks like AMC Entertainment and GameStop. These stocks have earned their status as meme stocks as retail traders successfully took on Wall Street hedge funds. However, like most other meme stocks, NOK has also tumbled from the 52-week highs.
Buy Nokia Stock at eToro, the World's #1 trading platform!
Nokia Stock technical analysis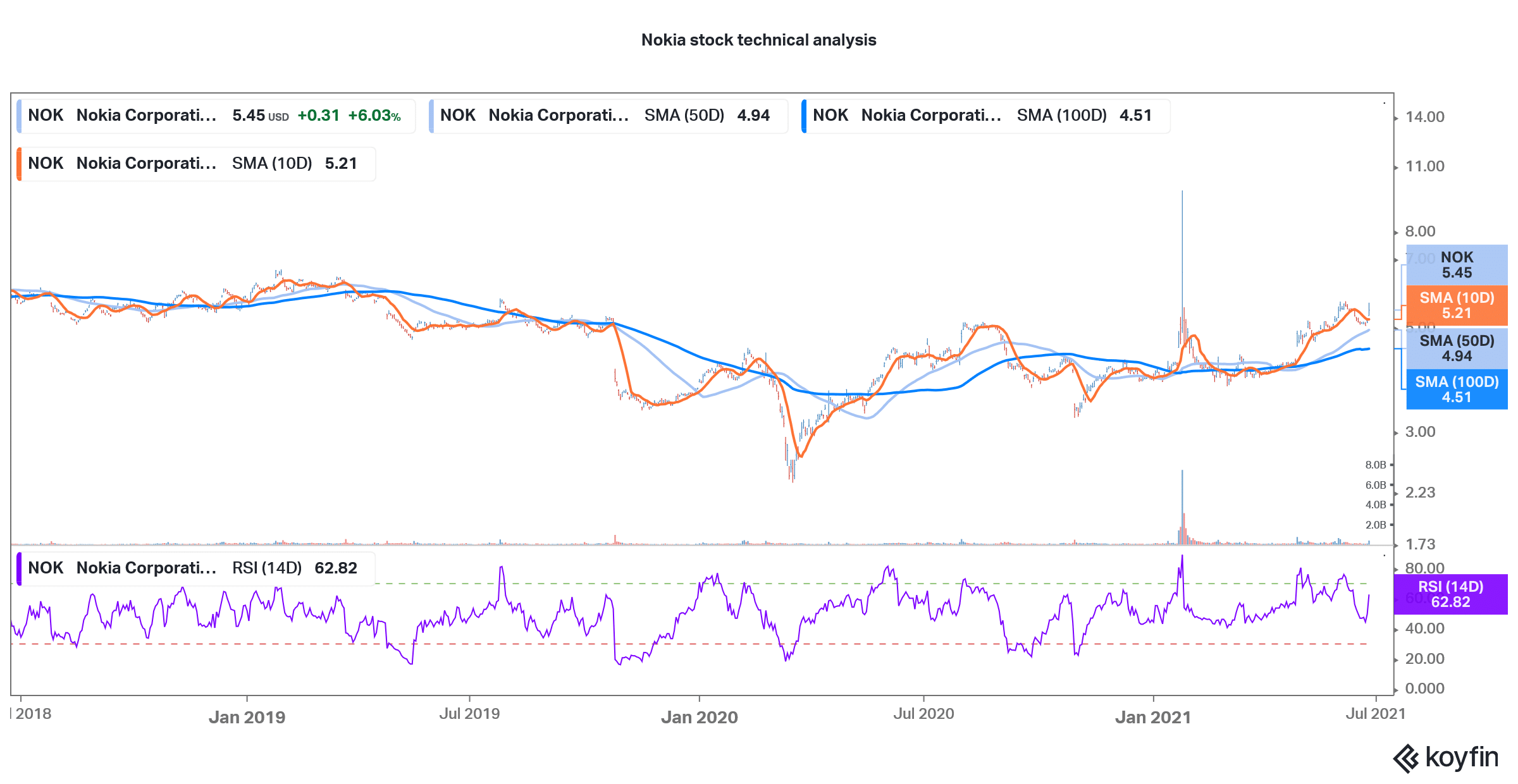 Nokia stock is looking bullish on the chart. The stock is trading above the 10-day, 50-day, and 100-day SMA (simple moving average) which is a bullish sign. The stock has found strong support at the 50-day SMA which is currently at $4.94. However, after the spike over the last week, NOK stock is getting near the oversold territory with a 14-day RSI (relative strength index) of 62.8. RSI values above 70 signal overbought positions.
67% of all retail investor accounts lose money when trading CFDs with this provider.
NOK Stock Forecast
Usually, Wall Street analysts have shied away from meme stocks many of which are trading way above their fundamental value. However, Wall Street and Reddit traders don't have a much divergent view when it comes to Nokia stock. According to the data compiled by CNN Business, NOK stock has a median target price of $5.69 which is a premium of 4.5% over current prices. Its highest target price of $7.45 implies an upside of 36.7% over the next 12 months while its lowest target price of $3.51 is a discount of 35.6% over current prices.
Goldman Sachs turns bullish on Nokia stock
Of the 31 analysts covering Nokia stock, 17 have a buy or equivalent rating while 12 rates them as a hold. Two analysts rate NOK stock as a sell. Last week, Goldman Sachs issued a bullish note on Nokia stock. The brokerage upgraded NOK stock from a neutral to buy citing "better" 5G spending and said that the company will "regain their place as a key tech enabler for cellular connectivity."
"The changes are largely driven by our more positive view on market growth and scope for market share gains in wireless (especially in 2022 onwards), which flow through to improved EBIT margin forecasts given operating leverage," said Goldman Sachs analyst Alexander Duval. He upwardly revised the company's revenues and EBITDA forecast for 2021-2023 and raised the stock's target price from $4.90 to $6.50.
Earlier this month, Liberum Capital also upgraded Nokia stock from a hold to buy. Liberum analyst Janardan Menon believes that the company's guidance looks conservative and he sees its turnaround continuing into 2022 as well.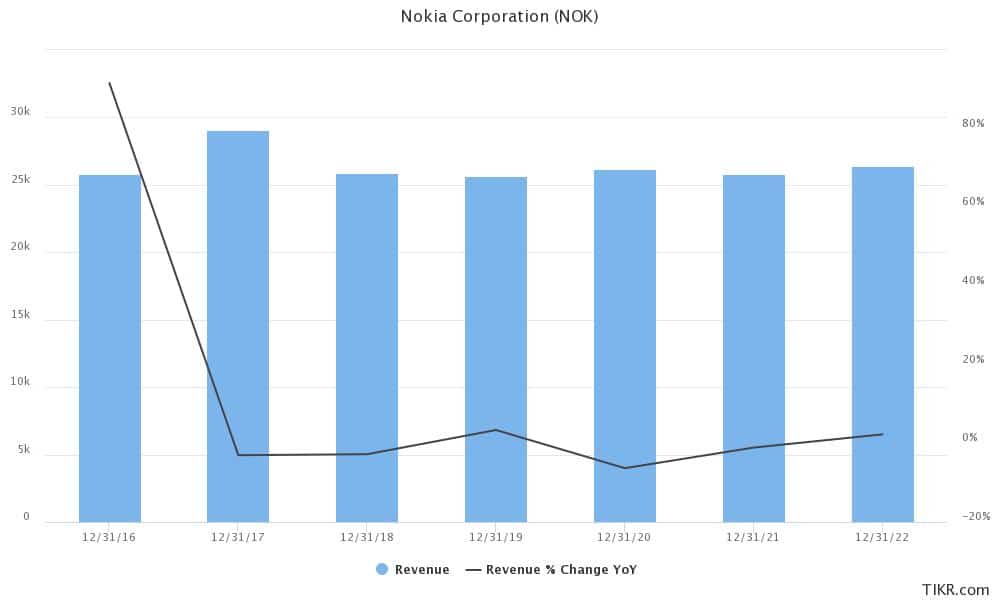 NOK guidance
During their first quarter of 2021 earnings call, Nokia said that it expects to post revenues between €20.6- €21.8  billion in the full year 2021 on a currency-neutral basis. The company expects its comparable operating margin to be between 7-10% in the year and is hopeful of posting positive free cash flows for 2021.
Nokia Stock Price long term forecast
Nokia also provided long-term forecasts and said that in 2023 it expects to grow its topline faster than the market growth. The company expects its comparable operating margins to rise to 10-13% by the year and expects to post better free cash flows over the time frame.
Nokia has been losing market share
Nokia has been losing market share to Ericsson as well as Huawei. However, given the continued clampdown on Chinese 5G companies by the US, companies like Nokia could end up gaining market share in the future. The Trump administration had warned allies against allowing Chinese 5G companies for telecom gear. However, unlike the Trump administration whose policies led to alienation among several traditional US allies, the Biden administration is trying to take allies together and forge a global alliance against China.
NOK working on transformation
Nokia is working on a transformation to improve its profitability. "Nokia is repositioning itself to deliver sustainable, profitable growth, adapting our business to lead in an increasingly digitalized world. We have a clear and detailed plan for how we will reset the business, accelerate competitiveness and scale up our lead in the markets we choose to play in. This plan will enable us to deliver double-digit comparable operating margins in 2023," said Pekka Lundmark, President, and CEO of Nokia.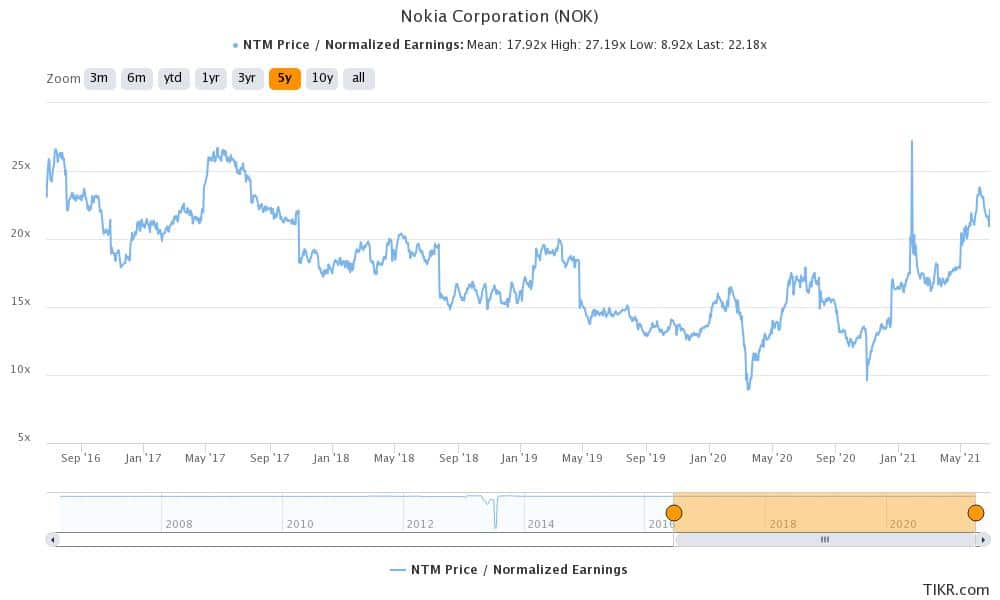 Nokia stock valuation
NOK stock trades at an NTM (next-12 months) PE of 22.2x which is higher than the 16.5x that the multiple has averaged over the last year. Looking at the long-term picture, Nokia's forward PE has averaged 15.7x and 17.9x over the last three and five years respectively.
While the current valuation multiples are higher than the historical average, markets are optimistic on NOK stock given the global pivot to 5G. Nokia's turnaround plans are also impressive and the company could end up winning market share from Chinese rivals given the fact that more Western nations are realizing the strategic threat from the communist country.
Overall, NOK stock looks like a good buy at these prices and a way to play the increased 5G spending. The stock is also a play on the US-China strategic rivalry which might only get worse as the Biden administration expands its ambit to target the country.
Buy Nokia Stock at eToro, the World's #1 trading platform!