NIO Stock Price Forecast February 2022 – Time to Buy NIO Stock?
Please note that we are not authorised to provide any investment advice. The content on this page is for information purposes only.
NIO stock tumbled last week and is now nearing its 52-week lows. From the concerns over a possible delisting in the US to the spread of COVID-19 in China, troubles continue to mount for the Chinese EV (electric vehicle) company.
All the EV stocks including Tesla have looked weak in 2022 amid the broader market sell-off and the crash in growth stocks. What's the forecast for NIO stock and is it a good buy in May 2022?
NIO stock recent developments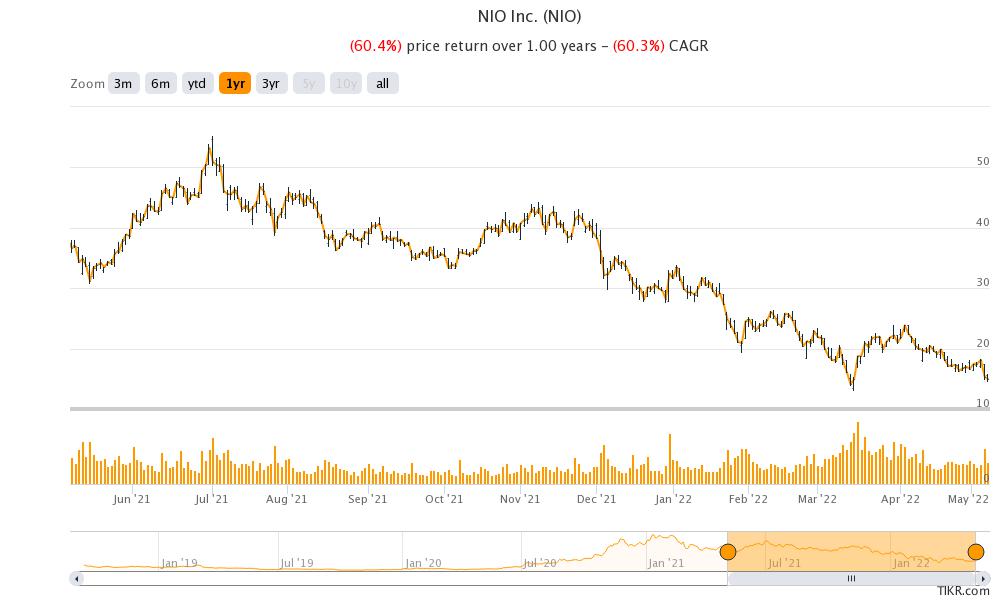 NIO is planning a secondary listing in Singapore. The company is currently listed in the US and Hong Kong. Several Chinese companies have opted for a dual listing in Hong Kong amid the rising US-China tensions and fears of delisting of Chinese stocks from the US markets. Notably, Li Auto and Xpeng Motors even went for a dual primary listing in Hong Kong instead of a secondary listing that most companies prefer.
NIO is among the companies that the US had identified as not complying with US listing laws. The Holding Foreign Companies Accountable Act (HFCAA) mandates that foreign companies listed in the US also need to get their books audited.
68% of all retail investor accounts lose money when trading CFDs with this provider.
Delisting concerns
In its release, NIO said," In accordance with the HFCAA, if the SEC determines that the Company filed an annual report containing an audit report issued by a registered public accounting firm that has not been subject to inspection for the PCAOB for three consecutive years beginning in 2021, the SEC shall prohibit the shares or American depositary shares of the Company from being traded on a national securities exchange or in the over-the-counter trading market in the United States."
It added that the company "will continue to comply with applicable laws and regulations in both China and the United States, and strive to maintain its listing status on both the NYSE and the HKEX in compliance with applicable listing rules."
China COVID-19 spread and supply chain issues
Apart from the fears of delisting, NIO is also battling supply chain issues amid the COVID-19 outbreak in China. In April, the company's deliveries tumbled to a mere 5,074 vehicles. It said, "In late March and April 2022, the Company's vehicle production and delivery have been impacted by the supply chain volatilities and other constraints caused by a new wave of the COVID-19 outbreaks in certain regions in China."
However, it added, "The vehicle production has been recovering gradually. The Company will closely monitor the situation and its impact to the Company's business and financial conditions, and continue to work with its supply chain partners to accelerate the recovery of production to its full capacity."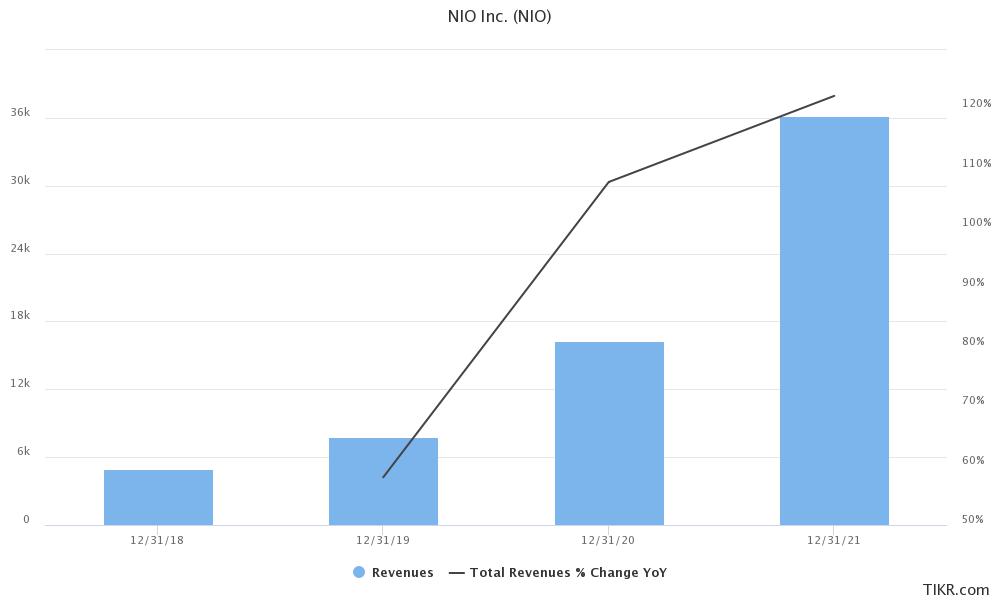 NIO earnings
NIO generated revenues of $1.55 billion in the fourth quarter of 2021, which were slightly ahead of what analysts were expecting. Of this almost $1.45 billion was the automotive revenue. The company's revenues increased by over 49% YoY led by higher deliveries. The company posted a net loss of $336.4 million in the quarter, which was much higher than what analysts polled by Bloomberg were expecting.
NIO reported a gross margin of 17.2% in the quarter which was similar to the corresponding quarter in 2020 but 310 points lower than the previous quarter. The company attributed the sequential fall in gross profit margins to the sales of regulatory credits in the third quarter which bumped up its margins in that quarter.
NIO stock forecast
Wall Street analysts have a bullish forecast for NIO stock though. it has a median target price of $30.88 which is a premium of 107% over current prices. Its street high target price is $82 which is a premium of 455% over current prices. Of the 28 analysts covering the stock 26 rate them as a buy while two analysts have a hold rating.
Earlier this month, Morgan Stanley reiterated its overweight rating on the stock despite the supply chain issues. It said, "NIO announced a temporary production suspension given the spillover of supply chain disruption amid China's Covid lockdowns. This isn't an idiosyncratic issue; more OEMs are scrambling to overcome the sporadic production hiccups in 2Q amid China's ongoing Covid-zero policy."
Also, UBS upgraded the stock from neutral to buy. It said UBS Evidence Lab's EV consumer survey reveals NIO's improving brand recognition, providing a basis for new products' strong sales volumes, in our view."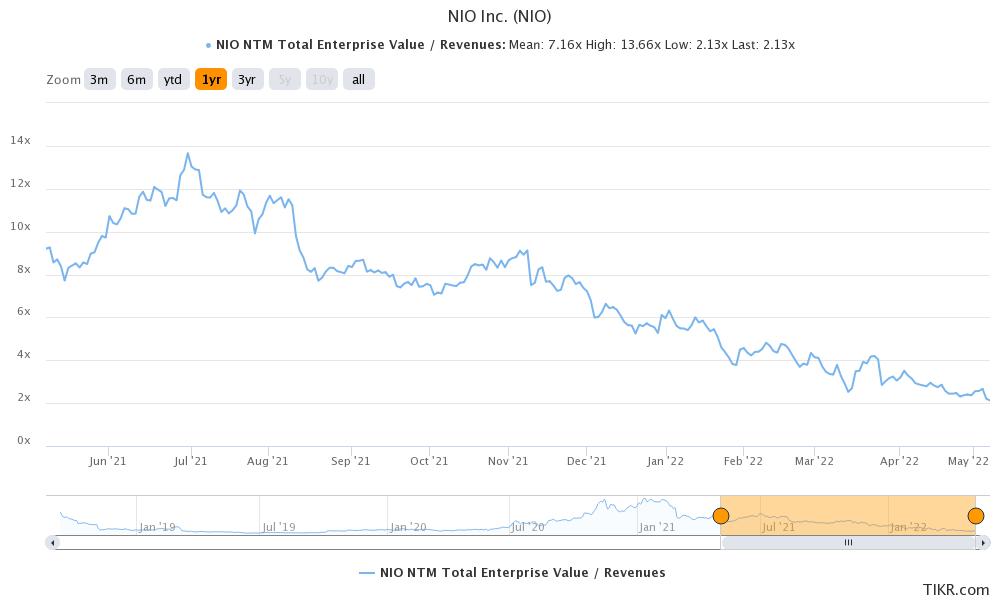 NIO stock long term forecast
Notably, last year, NIO had said that its production partner JAC Motors would double its production capacity in order to meet the rising demand. However, in the short term, the company's production plans have been hampered by supply chain issues, especially the global chip shortage.
The long-term outlook for NIO stock looks positive. The company is coming up with two new sedans this year and is also expanding into newer markets. These efforts would drive long-term value for investors. Also, the company is expected gradually improve its earnings and eventually turn sustainably profitable like Tesla.
Also, while there are delisting concerns, the company has alternate listings which would somewhat offset the fears.
Should you buy NIO stock?
NIO stock now trades at an NTM (next-12 months) enterprise value to sales multiple of 2.13x which looks quite attractive. NIO's balance sheet has come a long way since the first quarter of 2020 when it seemed headed for bankruptcy. Since then, it has raised cash through multiple share issuances. The most recent round of ADS issuance was completed in November 2021 where the company raised gross proceeds of almost $2 billion. NIO has a strong cash position and ended 2021 with a cash of $8.7 billion.
At these price levels, NIO looks like a good EV stock to buy despite the near-term concerns over delisting and supply chain issues.
Buy NIO Stock at eToro from just $50 Now!