Nike Stock is Up 3% in August – Time to Buy NKE Stock?
Please note that we are not authorised to provide any investment advice. The content on this page is for information purposes only.
The price of Nike stock is up 3% so far in August and has gone up more than 29% since the company reported an outstanding fourth quarter of its 2021 fiscal year that included a 96% jump in revenues compared to the previous year while exceeding pre-pandemic sales levels as well.
Market participants were buoyed by this surprisingly positive quarterly performance and that has led to multiple upward price target revisions and other positive actions from analysts.
Could this latest positive performance experienced by Nike stock continue during August or is a correction already long overdue for the shoemaker? In this article, I'll take a closer look at the latest price action seen by NKE stock to outline plausible scenarios as we move forward into the second semester of the year.
67% of all retail investor accounts lose money when trading CFDs with this provider.
Nike Stock – Technical Analysis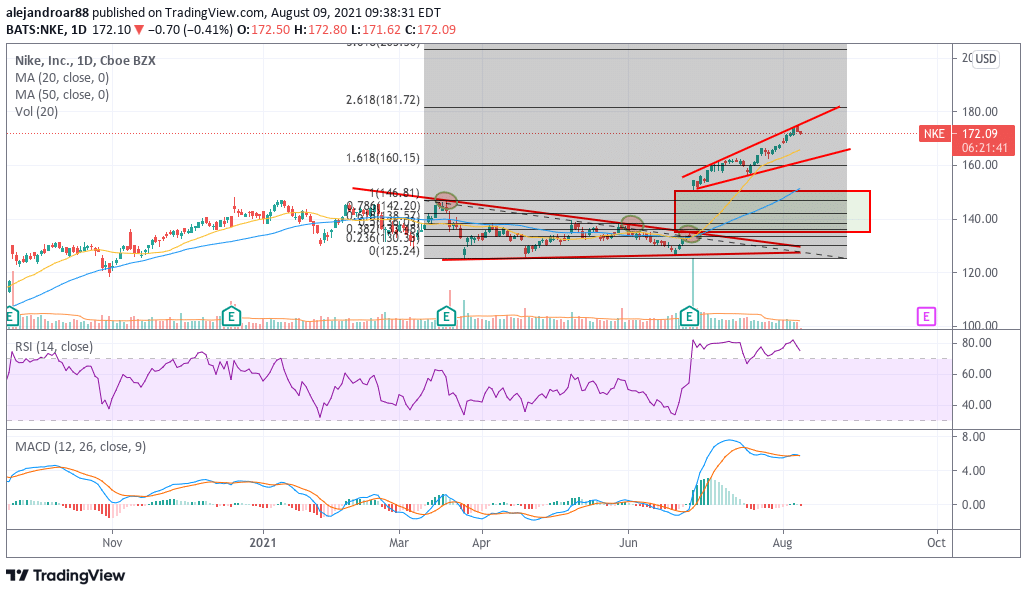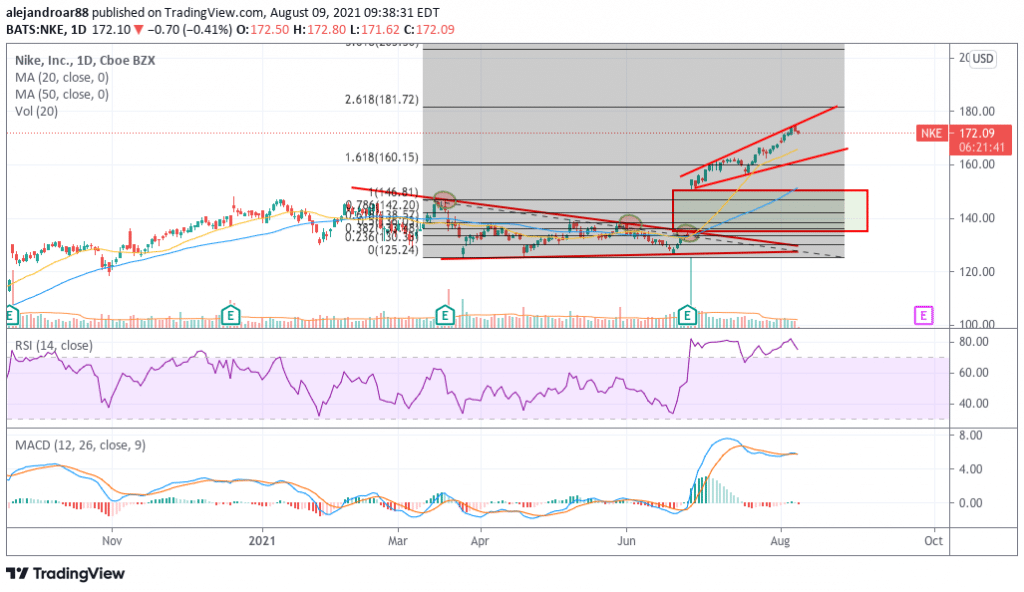 The positive momentum seen by Nike shares has strengthened lately as indicated by the Relative Strength Index (RSI), which has remained in overbought levels for more than a month now following the firm's upbeat fourth-quarter report.
Meanwhile, the trend has gone parabolic for Nike stock and this indicates that the price action may experience a significant degree of volatility moving forward as the price could experience a correction before its next push.
Notably, momentum readings are already flashing some warning signals as even though the price of the stock has climbed to all-time highs, these indicators have remained fairly stalled. This is a form of bearish divergence that could further validate a bearish short-term outlook for the stock.
Also, it is worth noting that Nike stock is trading almost 14% above its 50-day moving average and 23% above its 200-day moving average. Even though this is not the first time that the issue is trading at such stretched levels, this situation increases the risk of a sharp pullback and investors should be prepared for a potential return to the mean soon.
Moving forward, the 20-day moving average remains the key threshold to watch – currently standing at $166 per share – while the next support would be found at $150 which is a level that shows confluence between the upper bound of the bullish price gap left behind after the Q4 report and the stock's 50-day moving average.
If a correction of this nature takes place, it could provide a more decent entry point for a long position, with a mid-term price target for Nike set at $182 per share on the back of improved fundamentals.
Nike Stock – Fundamental Analysis
Nike's revenue growth has been accelerating in the years that preceded the pandemic, with top-line results jumping 6% in 2018, 7.5% in 2019, while they leaped 14% this year if we compare the past fiscal year's figure with those of the year that came before the virus crisis.
Perhaps the most encouraging variable for Nike at the moment is the increased volumes coming from its online channels, with the NIKE Brand Digital reporting 41% revenue growth during this last quarter compared to a year ago while the number resulted in a 147% leap compared to the previous quarter.
This performance is quite promising and market participants believe that post-pandemic e-commerce sales may continue to boost the firm's bottom-line profitability on the back of lower overhead costs.
In this regard, even though gross profit margins for the firm have been fairly stable at around 44.5%, net margins experienced a significant improvement last year as they landed at 13% compared to a range of 5% to 10% reported by the company in previous years.
Moving forward, analysts are expecting to see sales seeing a similar jump compared to a year ago with the consensus forecast standing at $50.4 billion for the 2022 fiscal year, resulting in a 13% year-on-year leap, while growth is expected to decelerate in the next two years but should still be above the company's historical averages.
As per its profitability, Nike's earnings per share are expected to grow by 21% by the end of this upcoming 2022 fiscal year while growth rates are forecasted to decelerate to an average of 17% moving forward.
In regards to its solvency and liquidity, the worst of the pandemic for the company seems to be in the rearview mirror already and Nike has emerged from the crisis with long-term debt of $12.3 billion that is currently fully covered by a $13.4 billion cash reserve. Meanwhile, these long-term commitments represented less than a third of the firm's total assets.
Moreover, the company could pick up the pace at which it is buying back its shares after last year's pause, possibly aiming to ramp up its buybacks during the 2022 fiscal year to keep deploying the $10.3 billion remaining of the $15 billion repurchase program approved by Nike's board back in June 2018.
Currently trading at $172.3 per share, Nike is displaying a forward P/E multiple of 40 that seems fairly attractive for a company that owns one of the world's most well-established brands and whose sales are expected to keep growing at a fast pace amid what could be a long-lasting pandemic tailwind.
Based on its robust fundamentals, a correction in the price of Nike may open up an opportunity to snap some shares of a great company at a more advantageous price point.
Buy Stocks at Cedar FX, the World's #1 trading platform!