Next Cryptocurrency to Explode May 2022 Week 4
Please note that we are not authorised to provide any investment advice. The content on this page is for information purposes only.
Following the general market trends in the last few weeks, many crypto assets are trading at support prices, opening up buy opportunities for investors. This article provides information on the next cryptocurrency to explode in May 2022. Also, we'll examine why these crypto-assets are a worthy investment at this time:
1. Lucky Block (LBLOCK)
Lucky Block is a gaming platform fixated on bringing transparency and fairness to the gaming industry. Using a randomised system of selection, winners are chosen for prizes through decentralised blockchain technology. This selection system is one of the reasons why Lucky Block's token, LBLOCK, ranks as the next cryptocurrency to explode.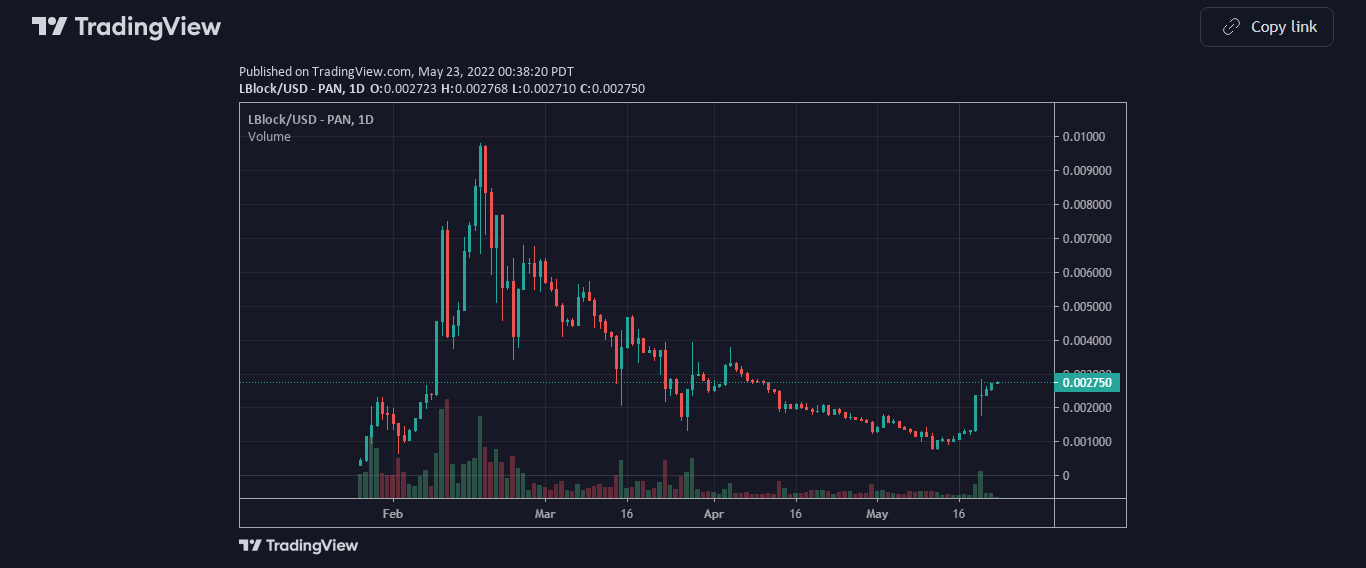 The crypto asset has an impressive track record for great price movements as it provided investors with over 1500% in profits a few weeks after its launch in January 2022. LBLOCK has opened up another opportunity for investors to earn as it currently trades at $0.0027.
Lucky Block is set to launch its long-anticipated web app on May 30, 2022. The web app will facilitate draws and enable new investors to buy the asset conveniently and monitor their assets. This improvement is essential to LBLOCK's adoption in the market.
2. Avalanche (AVAX)
Avalanche's token, AVAX, is a next-generation cryptocurrency that aims to provide full-on scalability to the crypto ecosystem. By using three blockchains instead of one, Avalanche facilitates faster, cheaper, and more secure transactions. Avalanche is also regarded as one of the most agile blockchains available. As a result, AVAX is a high demand asset and ranks as one of the next cryptocurrency to explode this year.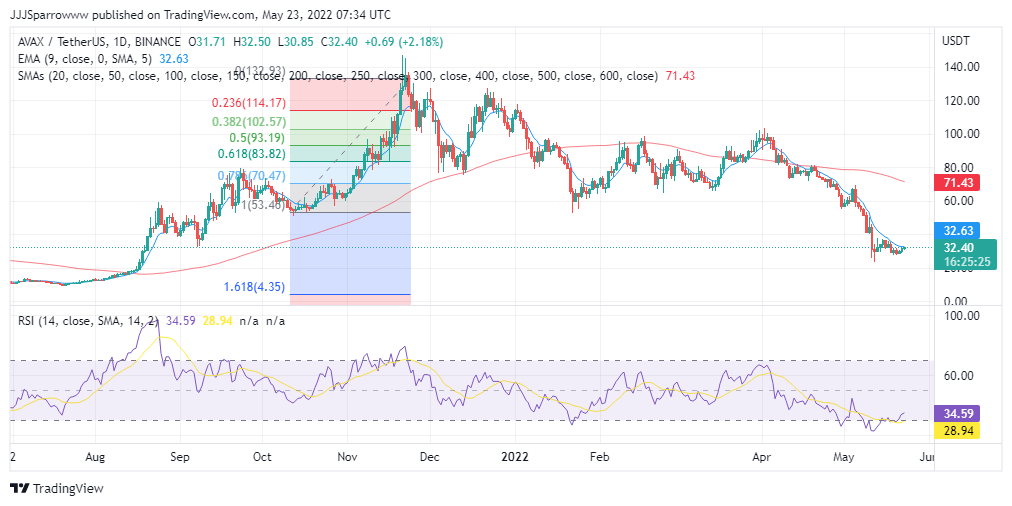 Following its previous price movements, AVAX has been on a downward trend in a bid to set a new support price. However, in recent days, the crypto asset has initiated a chart course change to begin an uptrend. AVAX currently trades at $32.40 and is making its way up, providing investors with a good opportunity to buy the asset and gain profits.
Avalanche is on the verge of increasing performance, which will lead to high scaling node services and enhanced NFT APIs. As a result of the partnership with BlockVision, Avalanche developers will have access to enhanced development tools that are relevant to empowering the ecosystem.
BlockVision is providing an intuitive drag-and-drop interface which will allow developers to easily build blockchain applications in a few clicks. Using Monitor dashboard, API stats, Debug Console, and Mempool, developers will also be provided with the resources and information required to troubleshoot and optimise their decentralised applications (dApps).
3. Fantom (FTM)
Fantom is one of the most scalable blockchains, providing users with high-speed transactions at low costs. The blockchain is a proof-of-stake protocol that is focused on providing simple infrastructure for developers to build on while providing security and decentralisation.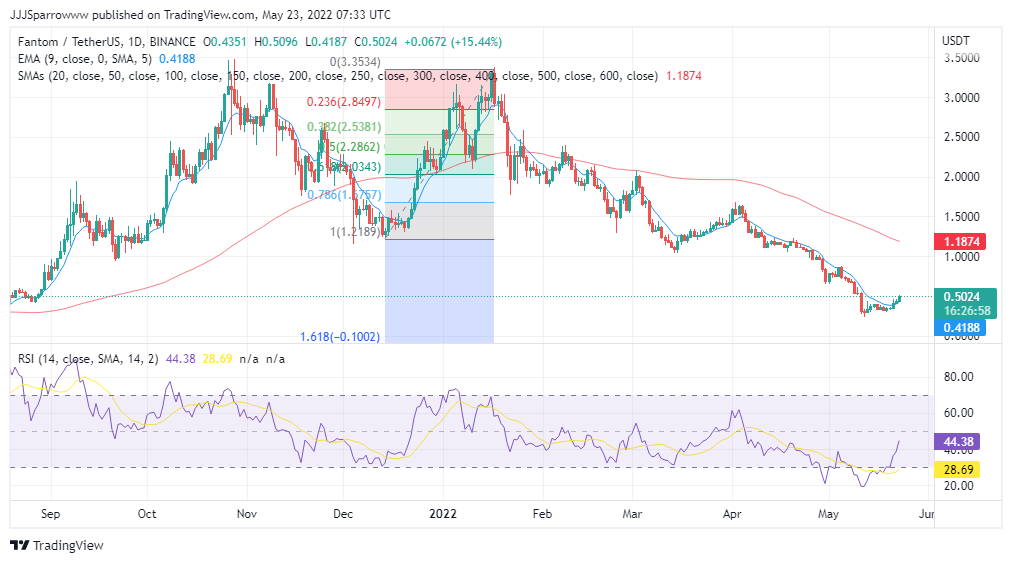 FTM, Fantom's asset, has made great price movements The digital asset currently trades at $0.50 which indicates that the crypto asset is on its way up and may attempt to break above its current resistance price.
This price movement is a result of its integration with Unmarshal, a web3 data infrastructure provider that offers developers easy access to organised on-chain data. The integration will provide Fantom with smart notification APIs, relevant for quick alerts on smart contract transactions. Unmarshal will also provide a wallet balance API to help track users' asset balances, a transaction history API to track all asset transfers on FTM, and decoded transaction API which will provide an in-depth description of a transaction.
Fantom is also integrated into the Unmarshal aggregated blockchain explorer, Xscan, which features private nodes, event logs, address tracking, and other portfolio functionalities.
4. Algorand (ALGO)
Algorand is a sustainable and scalable blockchain that provides users with fast transactions and low fees, at minimal costs to the environment. Using a pure proof-of-stake (PPoS) consensus protocol that initiates a near to finality transaction speed, Algorand can validate transactions in less than 4 seconds, thereby resulting in reduced energy input and a carbon negative score. These unique features help Algorand's token rank as one of the next cryptocurrency to explode in a few weeks to come.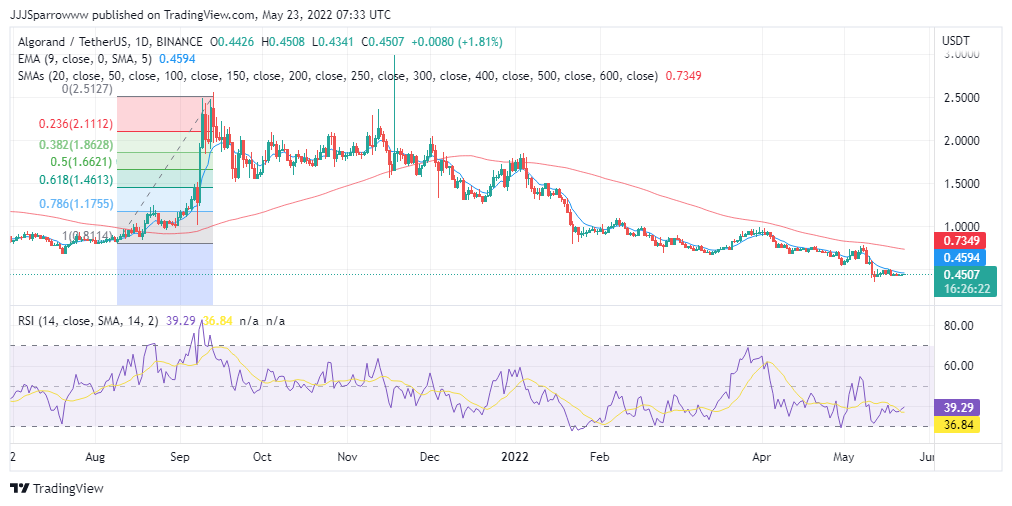 ALGO currently trades at $0.45 and is setting support prices before going on a much anticipated bullish run. The bullish run is imminent as the general market recovers from the crash last week and pNetwork's cross-chain protocol launches on Algorand.
In 2021, Algorand partnered with pNetwork to bring cross-chain capabilities to the Algorand ecosystem. Following this initial partnership, the launch of the cross-chain protocol will enable users from other networks such as Ethereum Binance Smart Chain and Polygon to interact with dApps in the Algorand ecosystem.
pNetwork's v2, an open-source protocol for routing between blockchain ecosystems, powers Algorand's cross-chain. As a result, users and smart contracts on any blockchain can send and receive data and assets on Algorand.
5. Polkadot (DOT)
Polkadot is an interoperable blockchain that enables users to interact with other blockchains in the Polkadot ecosystem. These blockchains or parachains share Polkadot's security. They also offer Polkadot all their features, making Polkadot a giant decentralised hub for crypto transactions. Hence, Polkadot's token is on the list of the next cryptocurrency to explode.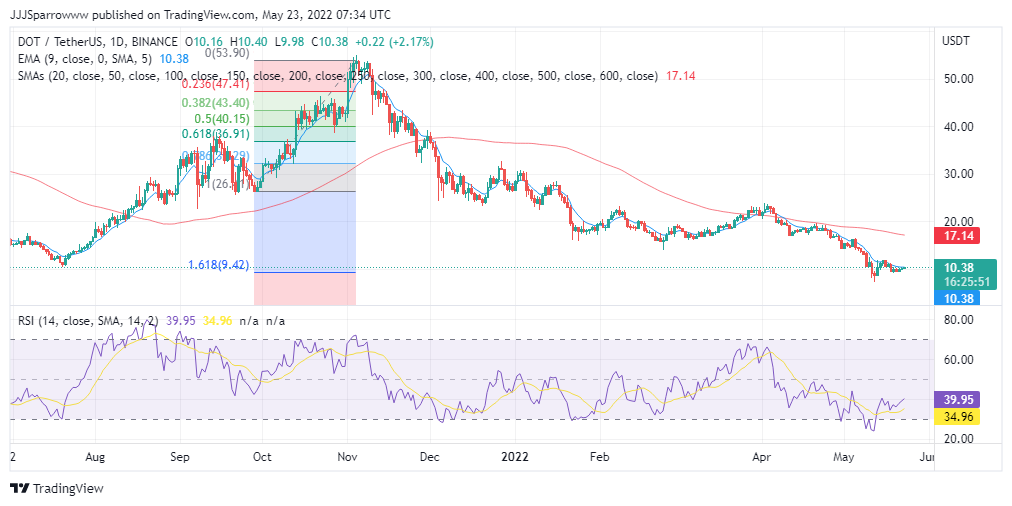 DOT currently trades at $10.38, which is a long way off Polkadot's resistance price. However, the crypto asset is making its way up as crypto market forces feed off increased investments following the crash. DOT is set to make remarkable recoveries and break resistance as Polkadot onboards Origin Trail as its 17th parachain.
Origin Trail brings real-world Web3 assets to Polkadot, making them accessible, valuable, and verifiable. Moreover, Origin will onboard at the beginning of lease 8. As a result, the Polkadot ecosystem will expand, creating more adoption for DOT.