Next Cryptocurrency to Explode May 2022
Please note that we are not authorised to provide any investment advice. The content on this page is for information purposes only.
The worldwide cryptocurrency market capitalisation is trading considerably higher at $1.31 trillion, up over 3% in the last 24 hours. Recently, there was a plunge in prices of cryptocurrencies, and the spectacular slump of Terra (LUNA) which harmed sentiments. However, tokens have made a modest comeback from previous lows. As a result, we'll look at the next cryptocurrency to explode that investors can buy and hold for the long-term.
1. Lucky Block (LBLOCK)
Lucky Block's token, LBLOCK, is our top choice for the next cryptocurrency to explode.
At press time, the token trades at $0.001091, a rise of 6.99% in the last 24 hours. LBLOCK has seen a downtrend of 7.01% in the past 7 days. However, this does not negate the cryptocurrency's growing potential. LBLOCK has grown by 587% from its introduction on January 27th, reaching a record-breaking value of $0.096. The digital asset was labelled the fastest cryptocurrency to acquire a market capitalisation of $1 billion, and it remains a valuable crypto asset with long-term potential.
Lucky Block is a protocol built on Binance Smart Chain (BSC) network to revolutionise the online gaming industry. The project's attraction stems from its user investment structure, governance votes, and the possibility of long-term holders profiting from jackpot winnings.
Essentially, Lucky Block's goal is to make online gaming more inclusive. With the traditional gambling industry favouring players with more money, Lucky Block makes it easier for anybody to play the games they want without fear of being censored.
The platform also uses distributed ledger technology (DLT) to deliver speedier payouts and thorough documentation and verification. By locking in their tokens, token holders can participate in the daily jackpot. When the game is completed, one individual earns 70 percent of the jackpot, 10 percent is donated to charity, 10 percent is spent on promotion, and 10 percent is distributed to all LBLOCK token holders by the tokens they own.
Recently, Lucky Block revealed the NFT prize draws for the Platinum Rollers Club NFTs. The NFT prize draws are expected to take place in May 2022. Thus, the giveaway will take place before all 10,000 NFTs in the Platinum Rollers Club are gone.
Lucky Block intends to give away a $1 million LBLOCK prize for this giveaway. Also, if the NFTs sell out, they plan to give away a Lamboborghini Aventador. Furthermore, holders of Platinum Rollers NFT have a lifetime ticket to Lucky Block Jackpot draws.
2. Defi Coin(DEFC)
DeFi coin ranks second on our list of the next cryptocurrency to explode.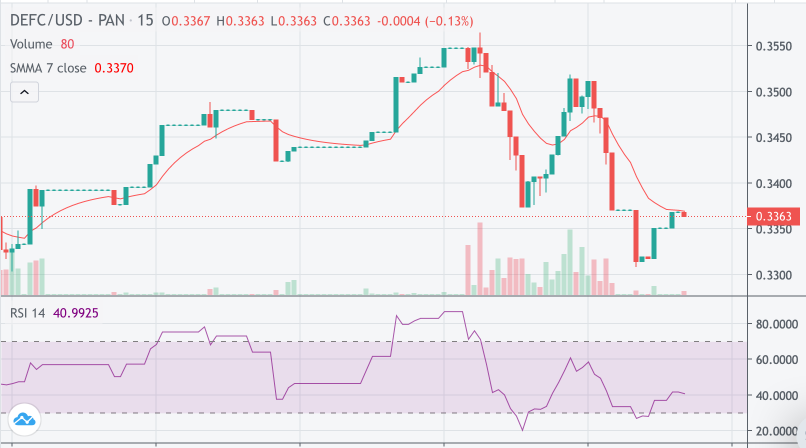 DEFC currently trades at $0.3363, a drop of 0.43% in the last 24 hours.
DeFi Swap has been hailed as one of the best DeFi exchanges to emerge this year, providing DEFC holders with significant returns. The price of the digital asset skyrocketed into the triple digits just hours after the DEX platform went live in early May.
By allowing users to exchange value directly with other market participants, DeFi Swap eliminates the demand for buyers and sellers to use centralised third parties.
To achieve its decentralised ambitions, the exchange relies on its original digital currency, DeFi Coin (DEFC. DEFC is based on the BSC network and may be exchanged between wallets.
The price of Defi Coin soared by more than 160% when the development team reached a key milestone in their roadmap. This milestone was the announcement of DeFi Swap by the team.
3. Cardano (ADA)
ADA, Cardano's token, is the next on our list of the next cryptocurrency to explode.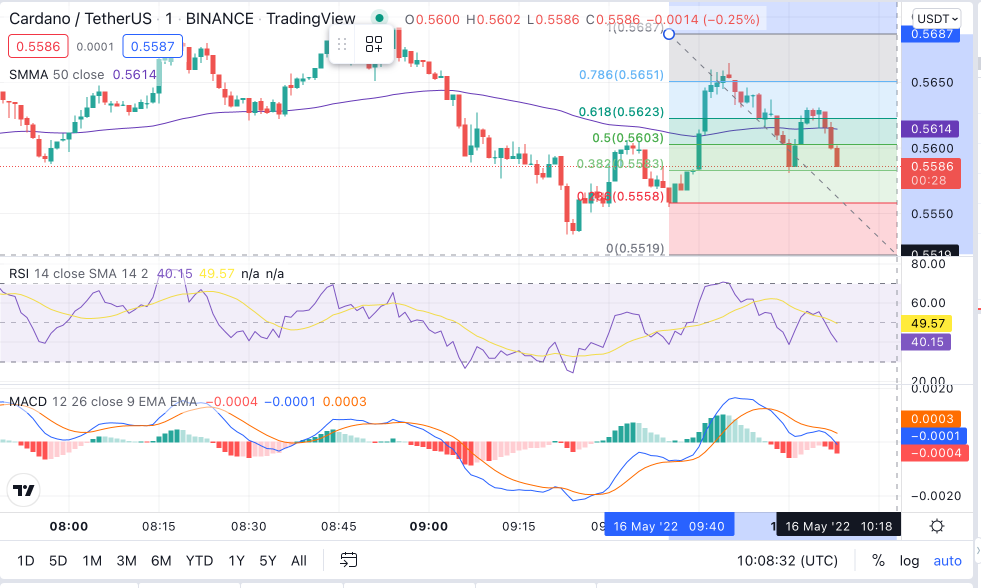 Cardano is a blockchain that relies on the Ouroboros proof-of-stake (PoS) consensus algorithm to approve transactions swiftly. The blockchain's goal is to create a scalable decentralised network that validates transactions swiftly and effectively while using minimum energy.
At press time, ADA's price is $0.55, an uptrend of 6.26% in the last 24 hours. However, the digital asset has fallen by 18.78% in the past 7 days. Also, ADA is 81.89% below the all-time high of $3.10. Despite the previous drops, the digital asset's 50-day moving average (MA) indicator price of $0.56 shows that ADA could see a price increase in the coming days.
Cardano has teamed up with COTI, a blockchain payments platform, to launch a new algorithmic stablecoin. Djed, the first algorithmic stablecoin developed on the smart contract platform, is now live on the public testnet.
According to COTI, the testnet will ensure that Djed and Shen (Djed's reserve coin) are technically dependable, sound, safe, and redeemable after protocol updates. Additionally, the Djed mainnet is expected to launch in June.
Djed was first unveiled as a project last year by Charles Hoskinson, the creator of Cardano and CEO of Input Output Hong Kong (IOHK). He stated that the stablecoin would be included in Plutus, ADA's smart contract platform, in the future.
4. Tezos (XTZ)
Tezos's token, XTZ, comes next on our list of the next cryptocurrency to explode.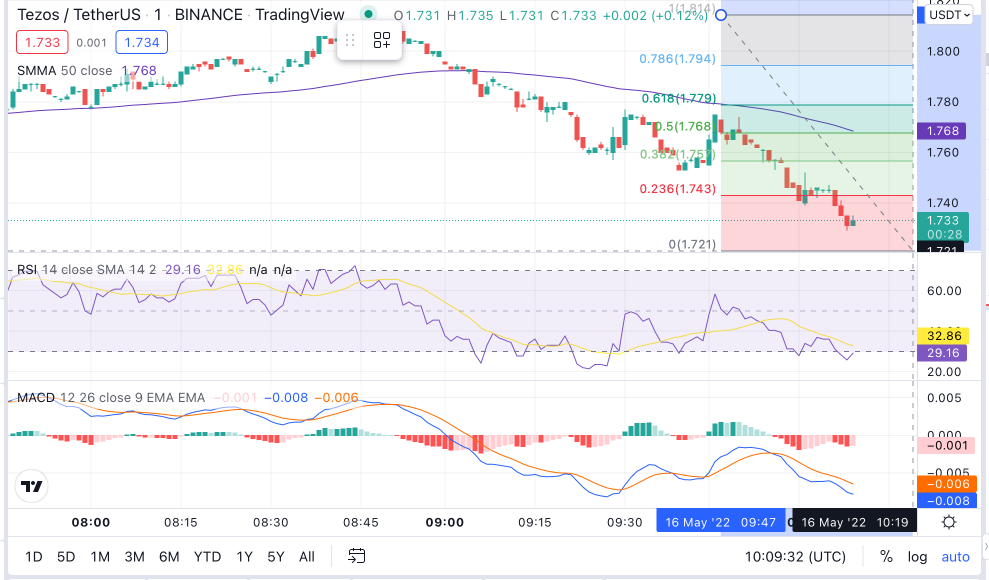 Currently, XTZ's price is set at $1.73, down by 2.88% in the last 24 hours. The digital asset has experienced a downtrend of 29% in the past 7 days. Also, XTZ is 85.48% below the all-time high of $12.19. However, the crypto asset's Relative strength Index (RSI) indicates that the asset is still in the underbought zone. Investors can buy at this time and rise with the market.
Tezos is a decentralised computing platform and cryptocurrency with formal verification and proof of stake (POS) consensus. These capabilities enable developers to validate their code and stakeholders to vote on protocol changes.
The computing platform provides a more scalable base for developing dApps. Tezos's strength is its future-proof architecture, which lets it scale without a hard fork. Also, Tezos' high-performance and low-cost transactions help users in the DeFi, NFT, and Metaverse ecosystems.
The Tezos Foundation, the computing platform's Swiss non-profit arm, has pledged £1 million to create a permanent collection of non-fungible token (NFT) art on its platform.
British photographer Misan Harriman, the head of the Southbank Centre in London, will curate this collection and launch it as a digital art gallery on the foundation's website this summer. Misan plans to buy pieces from up-and-coming artists from Africa and Asia, underrepresented in the NFT community.
5. Dogecoin (DOGE)
The meme king, Dogecoin, rounds off our list of the next cryptocurrency to explode.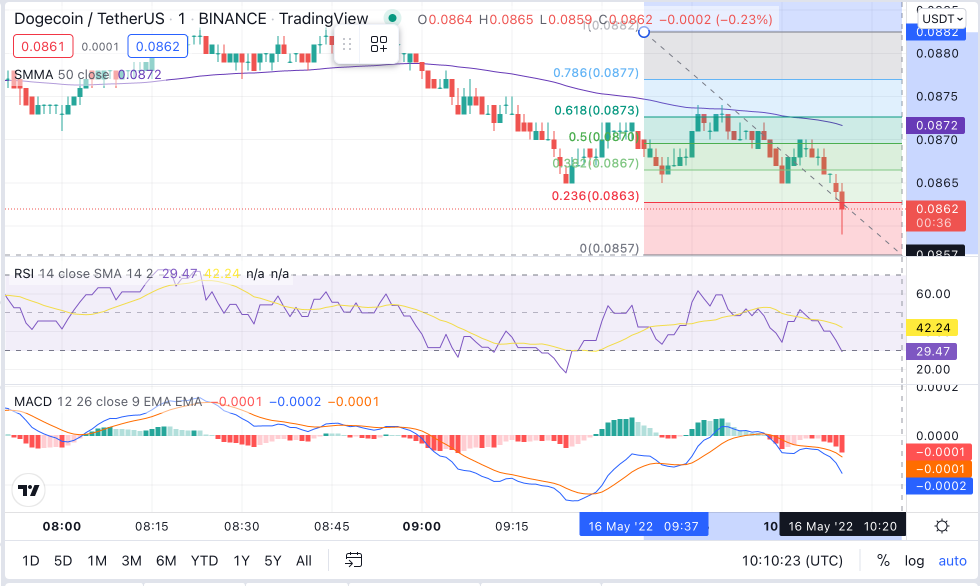 DOGE's price at the time of writing is set at $0.08. This price peg represents a drop of 0.56% in the last 24 hours. In addition, the meme-coin has slumped by 28.57% in the past 7 days. Despite this drop in prices, investors can take advantage and buy the dip as DOGE's relative strength index (RSI) of 29.47 is in the underbought zone.
The cryptocurrency is an amusing alternative to other cryptocurrencies. Dogecoin has an unlimited supply. Every minute, 10,000 new DOGE coins are minted.
DOGE is one of the most valuable cryptocurrencies by market capitalisation. The digital asset topped $50 billion in 2021, although each coin is only worth a few cents.
On Reddit and Twitter, Dogecoin is mostly a tipping method to reward the creation or sharing of high-quality content. However, investors can also get free DOGE by joining a Dogecoin community or using a Dogecoin faucet, which is a service that gives users a small quantity of Dogecoin for free.
Gucci, the high-end fashion house, has entered the crypto market. Select US locations will take cryptocurrency payments, including Dogecoins, by the end of this month. This summer, the company wants to expand the trial to all its directly-operated North American stores. The move is a massive endorsement of the currency from a well-known luxury brand.