Next Cryptocurrency to Explode June 2022 Week 4
Please note that we are not authorised to provide any investment advice. The content on this page is for information purposes only.
The crypto market is stabilising after last week's market bear run. Today marks the third successive day of gains, and investor sentiment is starting to shift a bit more positively. As is expected, many investors are now on the lookout for the next cryptocurrency to explode. Below, we'll share insights on some of the coins with the biggest potential going forward:
1. Lucky Block (LBLOCK)
LBLOCK tops our list of the next cryptocurrency to explode. The asset is the native token for Lucky Block – a blockchain gaming platform that has so far caught massive investor attention.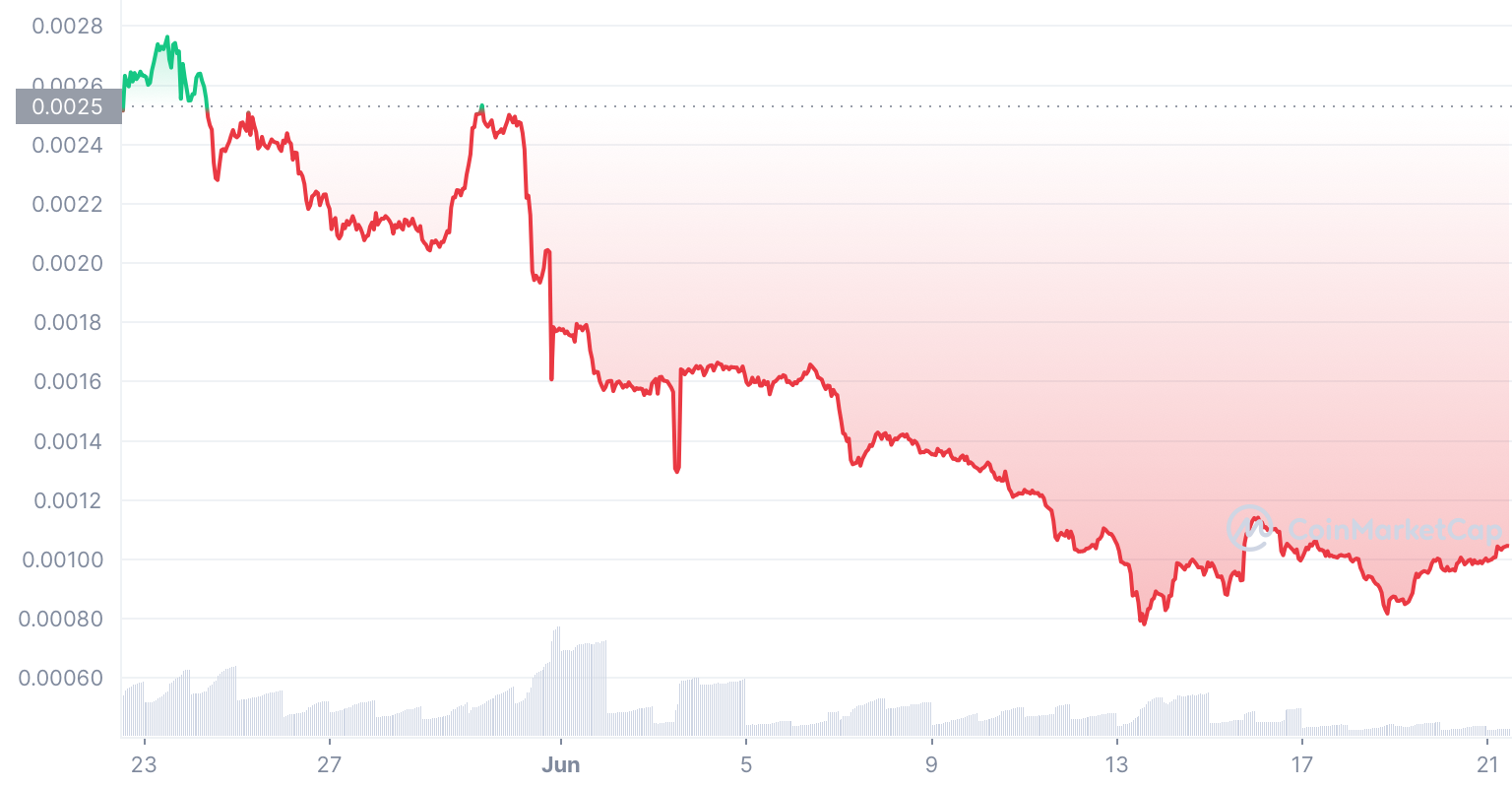 Lucky Block, launched in 2021, runs on the Binance Smart Chain. Using blockchain technology, the platform focuses on optimising transparency and fairness in transactions while also ensuring that anyone can enjoy access to its games.
LBLOCK functions as a ticket into Lucky Block's gaming ecosystem. Investors can buy Lucky Block and use it to play games. They can also speculate on the digital asset's price.
The Lucky Block ecosystem recently completed its prize pool and non-fungible token (NFT) giveaway, with community members enjoying $2 million in rewards. Although these draws were the first of their kind, they won't be the last.
Another weekly draw is expected by the end of this week, with up to $50,000 up for grabs.
Only 4 days until the next draw! 🔜

Minimum $50k #jackpot is guaranteed 🤩 But remember – if ticket sales and tax exceed $50k then the jackpot will be larger 🦾

Buy your tickets now at https://t.co/ZG3icHqoL0 and let us know how many you got 🎟️⬇️#cryptogames #blockchain pic.twitter.com/sA9vsDVl7F

— Lucky Block (@luckyblockcoin) June 20, 2022
At press time, LBLOCK trades at $0.001032.
2. Synthesix (SNX)
Next on our list of the next cryptocurrency to explode is SNX. The digital asset powers Synthetix – a layer-two scaling solution built on Ethereum.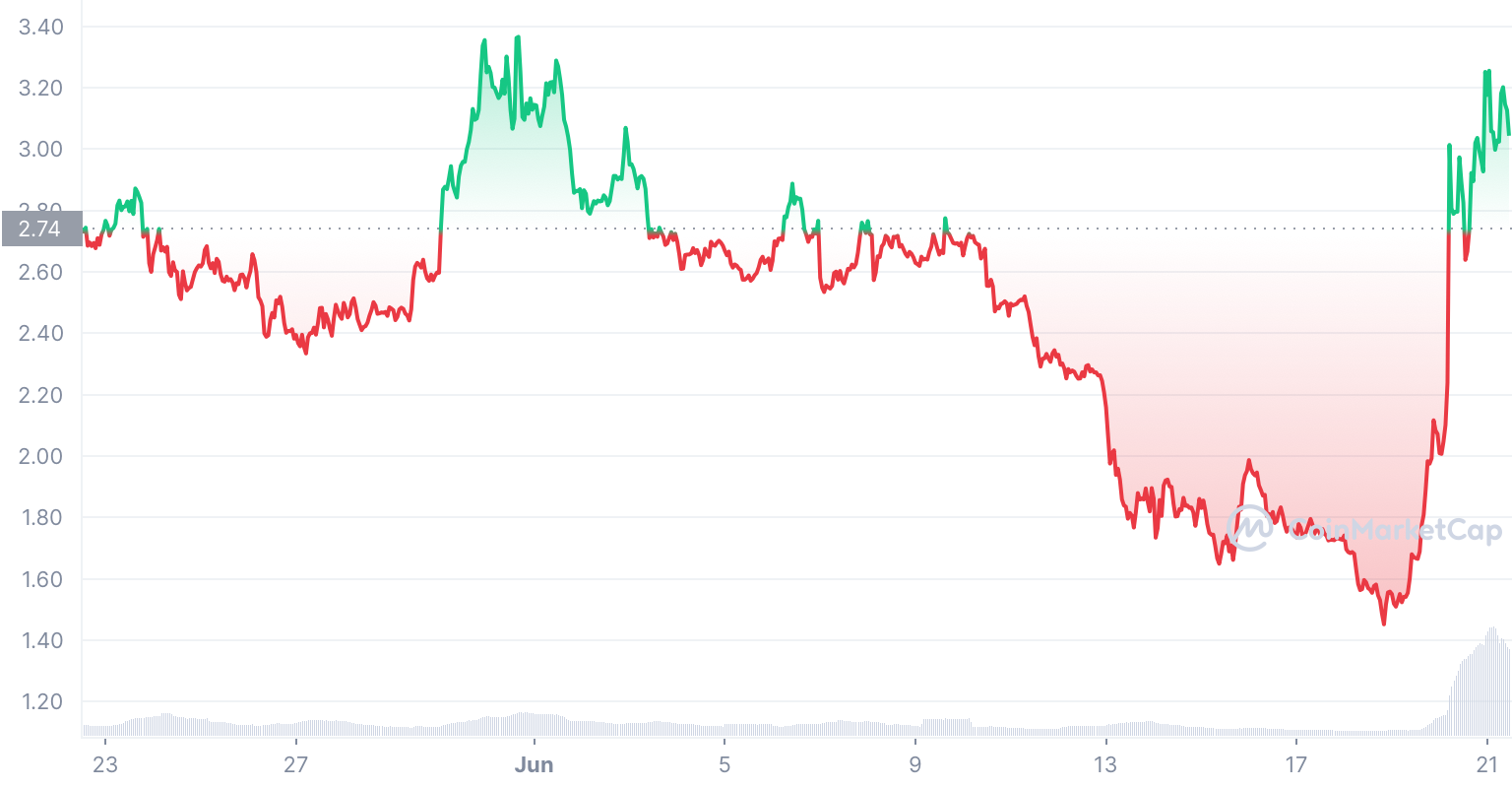 Synthetix allows users to easily issue synthetic assets on the Ethereum blockchain. It also doubles as a liquidity protocol for derivatives trading in the decentralised finance (DeFi) space.
SNX, the platform's token, currently trades at $3.16. The digital asset is up by 13.66% in the past month.
We believe that recent developments from Synthetix could serve as a major reason to invest in the coin. Last week, Synthetix partnered with Curve Finance to create liquidity pools for Synthetic Bitcoin (sBTC)/Bitcoin (BTC), Synthetic Ether (sETH)/Ether (ETH), and Synthetic U.S. dollar (sUSD)/3CRV. By allowing investors to easily convert synthetic assets, the platform is boosting liquidity in the DeFi space. As the sub-industry grows, we believe that this could be a good time to buy Synthetix.
3. Cardano (ADA)
Cardano is one of the most popular blockchain protocols in the world. The blockchain has been on a continuous development trajectory, putting it on par with some of the other popular platforms vying for the attention of decentralised application (dApp) developers.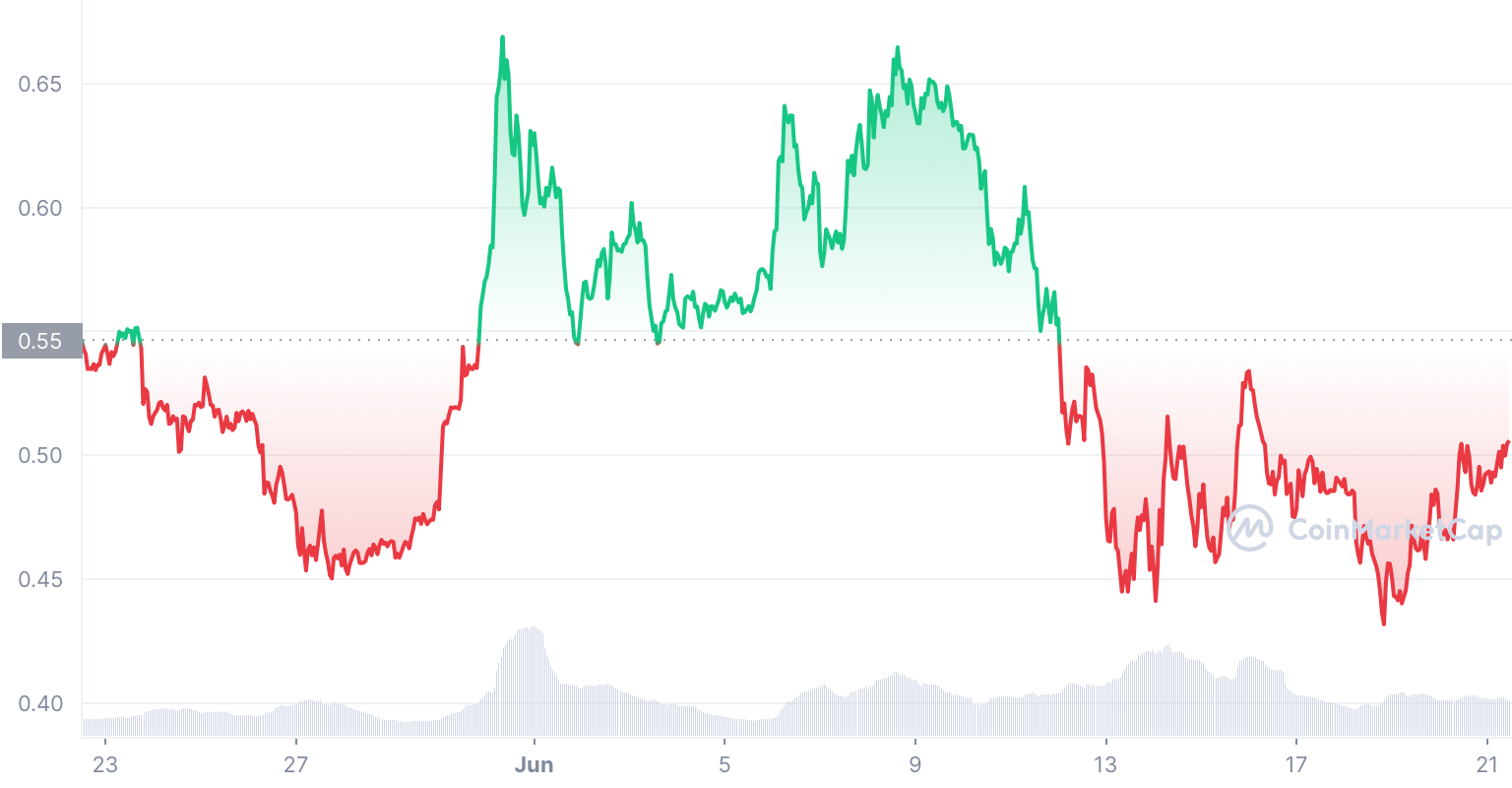 Developments in the Cardano blockchain are expected to cause a price jump soon. Presently, Cardano's developers are working on the Vasil hard fork – an upgrade that is expected to boost the blockchain's functionality and reduce its transaction costs.
👍Today we're delighted to report we've successfully delivered a new Node release for #Vasil with the first release of our new CLI, inc. new #Plutus capabilities. Alongside we continue to address the remaining issues we've caught in our extensive ongoing testing program.
6/n 🧵

— Input Output (@InputOutputHK) June 7, 2022
Vasil is the biggest upgrade to Cardano since Alonzo. The hard fork has been tentatively set for the end of the month, and we think that a successful launch could give investors a good reason to buy Cardano.
At press time, ADA, Cardano's native token, is one of the most valuable in the market. The crypto asset trades at $0.49.
4. Avalanche (AVAX)
Avalanche is another highly popular blockchain protocol that has emerged as a favourite for many developers. The platform is popular for its quick transaction time, consensus mechanism, and digital asset that also features on our next cryptocurrency to explode list.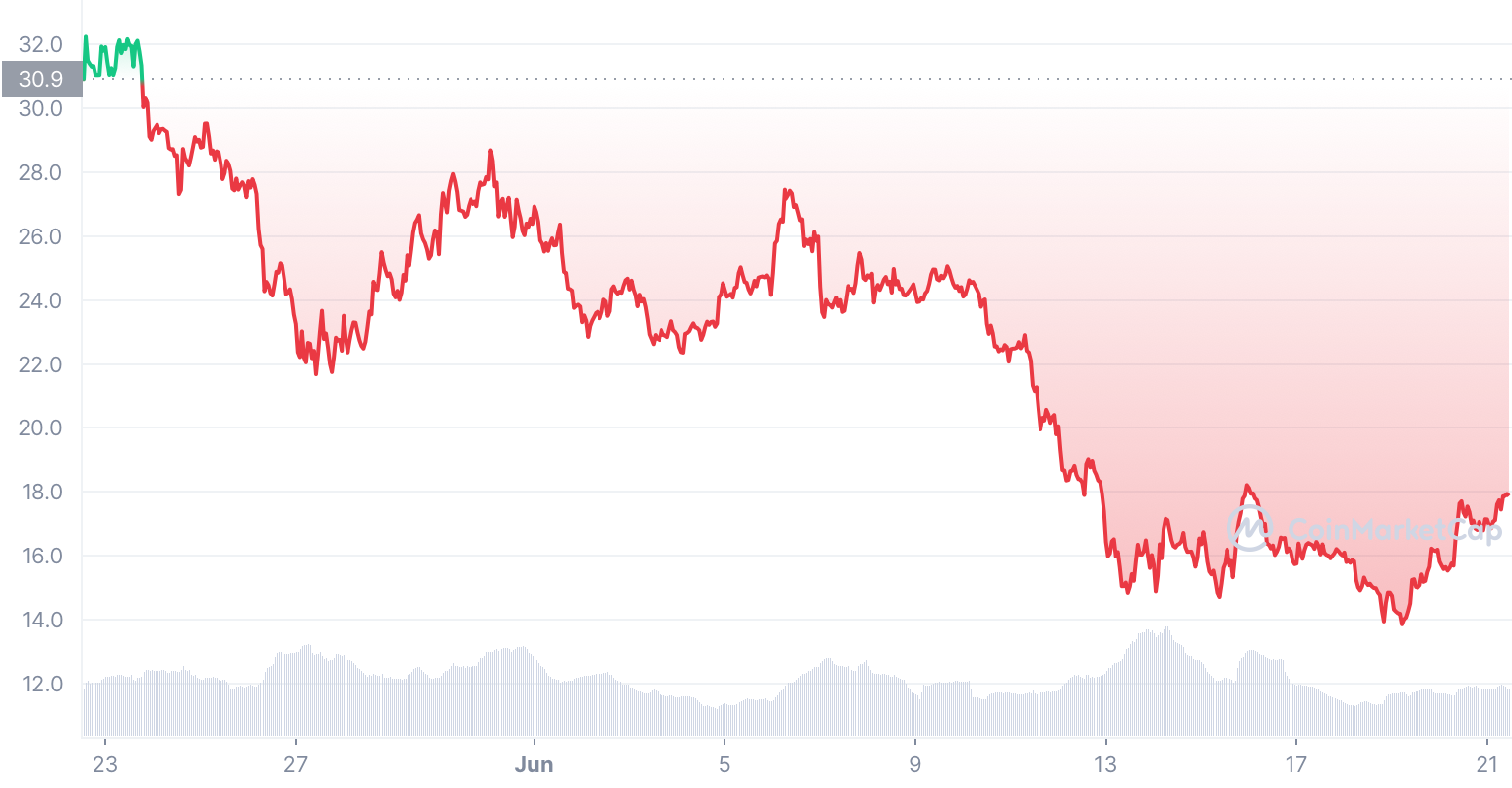 We believe that this is a good time to buy Avalanche. Investors can now earn passive income on the digital asset after Binance US – the U.S. subsidiary for the world's largest crypto exchange – announced the launch of staking support for AVAX.
Avalanche is also expected to see gains when the market flips bullish. Its position in the market makes it a good buy, and the potential to earn passive returns on the coin makes it all the more attractive to investors.
At press time, Avalanche's AVAX token trades at $17.45.
5. FTX Token (FTT)
To round up our list of the next cryptocurrency to explode is FTT. The digital asset is the exchange token for FTX and is currently the second-largest exchange token in the market.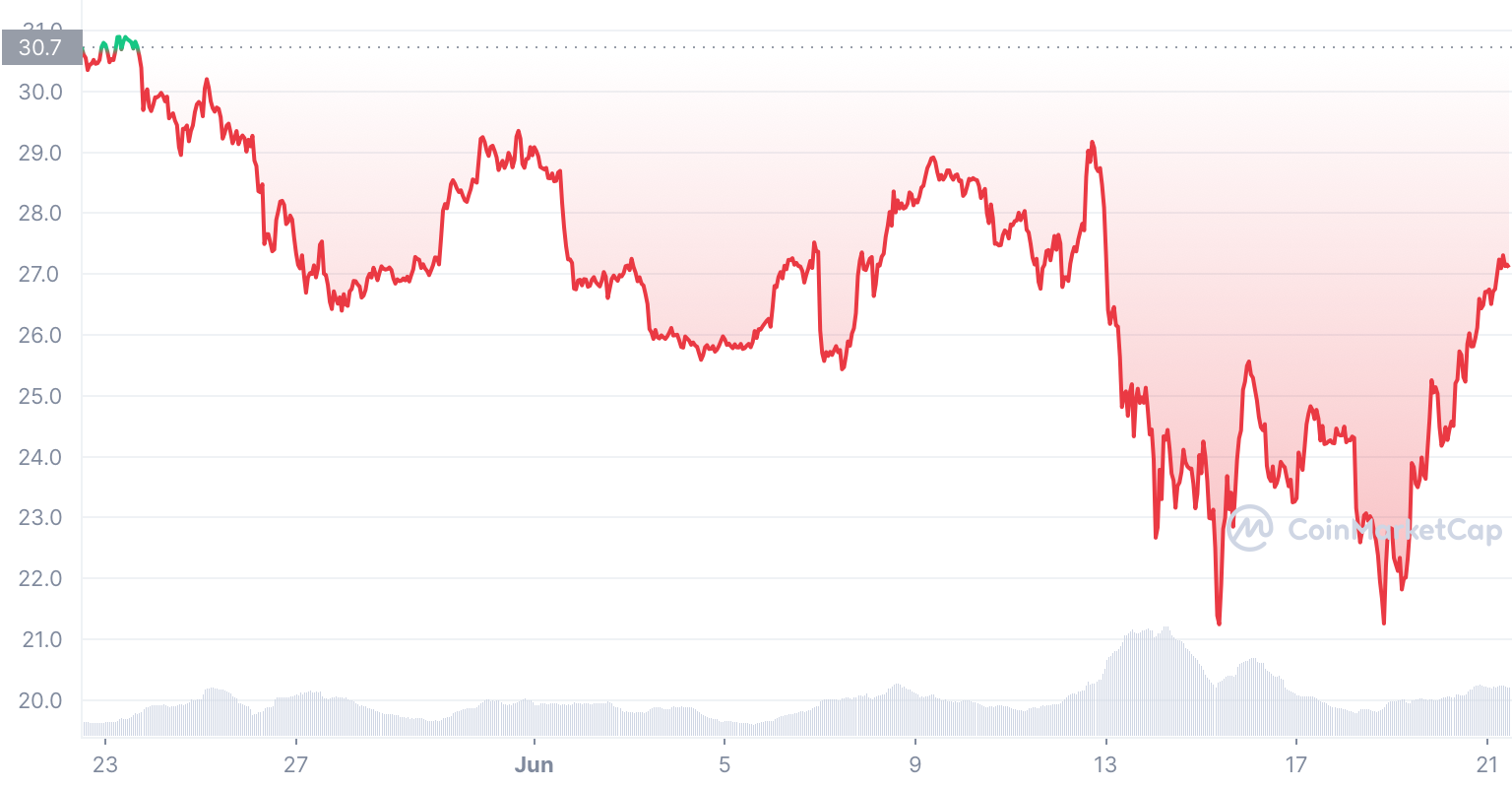 FTX is expanding its reach as it continues to conquer new markets. Last week, FTX's parent company announced the acquisition of Canadian exchange Bitvo as part of its push into the Canadian market.
The acquisition is FTX's second major one this year, following the purchase of Japanese exchange Liquid. Although FTX is currently the second-largest exchange by daily trading volumes, the company is gunning for the #1 spot and FTT investors should be excited.
At press time, FTT trades at $27.14.