Nexo Price Down by 43.44% This Week – Time to Buy NEXO?
Please note that we are not authorised to provide any investment advice. The content on this page is for information purposes only.
Nexo has dropped 7.86% in the last 24 hours and is trading at $0.67101 today. 
Three Arrows Capital, or 3AC for short, could be the weighting on Nexo.
The Celsius Network announced the suspension of withdrawals, swaps, and transfers.
On June 17, the price of Nexo (NEXO) fell further as the falling cryptocurrency market shook crypto lending firms. At the time of writing, Nexo's current price is $0.671011, with a 24-hour trading volume of $8,423,025. Nexo has dropped 7.86% in the last 24 hours.  Here's everything you need to know about the NEXO coin. 
What is NEXO? 
Nexo is a blockchain-based lending platform that provides users with immediate cryptocurrency-backed loans. Users offer collateral in the form of an accepted token. Such as Bitcoin (BTC), Ether (ETH), Litecoin (LTC), or XRP (XRP), to receive a loan in the form of a fiat currency or stablecoin.
Nexo has a native token, NEXO, which, when locked in the platform. It provides users with benefits such as interest discounts on loans and the ability to receive interest payments on funds deposited. In addition, token holders receive dividends from Nexo's profits as well.
Is Three Arrows Capital Bankrupt?
Three Arrows Capital, or 3AC for short, could be the latest casualty. The rumors circulated about its impending demise due to losses associated with the deep slump in Bitcoin, Ether, and other altcoins.
According to a new report, crypto lender BlockFi was among several companies that liquidated at least some of 3AC's positions. Three Arrows Capital (3AC) has apparently failed to fulfill margin calls from its lenders, raising the prospect of insolvency after this week's crypto market crash triggered unexpected liquidations for the Singapore-based firm.
Su Zhu, the cofounder of The Block, took to Twitter to at least acknowledge the concerns, which had been spread by a research analyst at The Block, though the cryptic response he provided shed little light on the extent.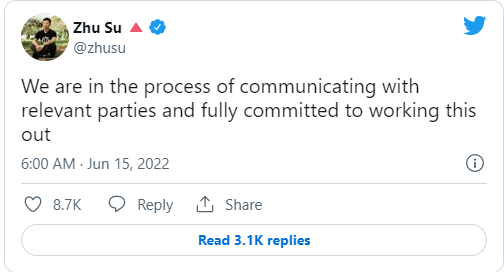 "We are in the process of communicating with relevant parties and are fully committed to resolving this," Zhu said on Twitter. For instance, Danny Yuan of Hong Kong-based cryptocurrency trading firm 8 Blocks Capital claimed that the company's problems had affected him.
Meanwhile, Nexo has denied reports that it has exposure to Three Arrows Capital (3AC), a Dubai-based crypto fund facing insolvency.
Will the market crash have an impact on Nexo?
The Celsius Network announced the suspension of withdrawals, swaps, and transfers on Sunday night. The platform has yet to restore these functions more than 48 hours after this announcement. In the most recent development, the company has hired restructuring attorneys to investigate potential financing options.
Following the Celsius crash, Nexo Finance proposed a protocol buyout to assist it in meeting its obligations. Nexo stated in the announcement that it had ample liquidity as a result of "solid fundamentals and prudent risk management."
A day before Celsius announced the suspension of withdrawals, Nexo users reported that the platform's app and website were unavailable. Nexo responded, stating that the team had identified and investigated the issue.
Despite the fears of DeFi investors, Nexo has shown signs of strength and even demonstrated sufficient liquidity to help it survive the bear market. The company stated that all its products, including borrowing, earning, exchanging, and the Nexo card, were operational as usual.
Stay tuned and continue to follow economywatch.com for more news!