Asos Share Price Forecast December 2021 – Time to Buy ASC?
Shares of British online fashion and cosmetic retailer Asos (LSE: ASC) are in the red, currently trading at 2320p at the time of writing. ASOS has struggled over the past few months after soaring due to the pandemic, and the shift to online shopping.  This came as a result of several short-term headwinds that face the company, including supply chain pressures. This has led the company to decrease its sales growth estimate to 10% and 15% for FY22.
Asos – Technical Analysis
Asos's financial statement indicates a market cap of £2.3 billion and total assets worth £2.885 billion. Revenue for 2021 was at £3.91 billion with a profit margin of 3.28% compared to £3.26 billion in 2020.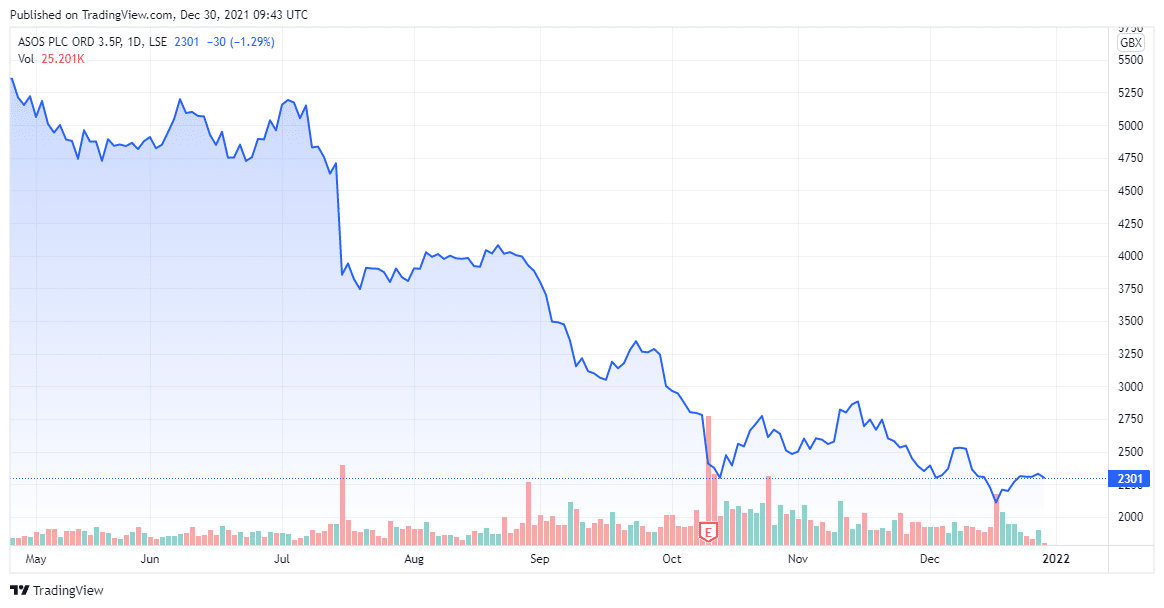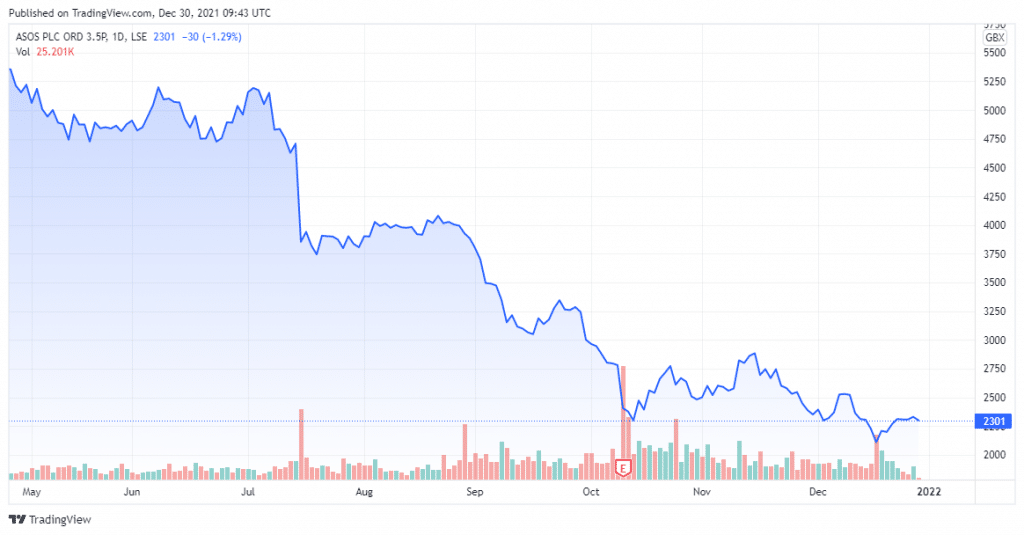 Moving averages such as Exponential Moving Average (20)(2344), Simple Moving Average (20)(2326),  Exponential Moving Average (30)(2399) and Simple Moving Average (30)(2404) are indicating a sell action. On the other hand, oscillators such as Relative Strength Index (14)(45),  Stochastic %K (14, 3, 3)(58), Commodity Channel Index (20)(−7),  Average Directional Index (14)(27) and  Awesome Oscillator(−143) are neutral.
68% of all retail investor accounts lose money when trading CFDs with this provider.
Recent Developments
Asos was accused by some staff and workers unions for failing to adequately enforce preventative measures in their Grimethorpe, Barnsley site during the pandemic.  The company also announced that it would not be charging commission rates on small business transactions to provide support through the COVID-19 pandemic for sellers. It has also inked a deal with DPDgroup to allow shoppers the option to donate unwanted clothing to charity.
While the Asos share price has taken a dive this year, it has still accomplished a lot in 2021. It acquired the brands Topman, Topshop, Miss Selfridge, and HIIT. The combined £265 million purchase generated a combined £1bn in revenue in 2019. The newly opened state-of-the-art warehouse in Lichfield, Staffordshire during August of 2021 will allow to push £6bn in sales by 2023. Other positive metrics include revenue growth of 22% year-on-year and 3m new customers were added to an active customer base of 26.4m people.
2021 was the year of global supply chain issues including the six-day blockage of the Suez canal. Asos also has to tackle the Brexit problem. It announced in October that it expected profit margins to be squeezed for the upcoming fiscal year due to Brexit related duty costs, inflation, and post-covid blockages at international ports of entry. Asos projects profits before tax in the year 2022 to be between £110 million and £140 million.
Should You Buy ASC Shares?
Investors interested in ASC shares should first look at the costs incurred by the company.  Costs such as higher inbound freight costs, labour cost inflation and increases in marketing costs are expected to increase.  The company also expects profit before tax to drop 30% from this year to around £125 million.
Despite these risks, there are ample reasons to be confident in the long-term future of the group. This is evidenced by the company's confident targets of achieving £7 billion worth of sales over the next three or four years, with operating profit margins of at least 4%. This is higher than this year's £3.9 billion.
There is still enough demand for Asos's products, especially as the pandemic has made online shopping more relevant than it has ever been.  The company is also targeting US markets and should be able to pounce on any opportunity, thanks to the £200 million in net cash. Thus, ASC shares are worth buying and holding for the long-term.
Buy ASC Stock at eToro from just $50 Now!