New Match-Trader White Label Package by B2Broker Offers Comprehensive Trading Solution for Brokerage Businesses
Please note that we are not authorised to provide any investment advice. The content on this page is for information purposes only.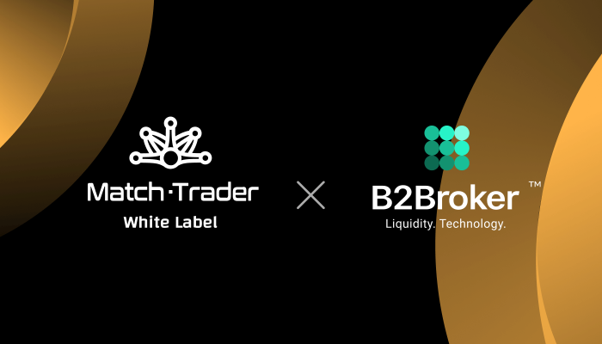 B2Broker, an international liquidity and technology provider for the FX and cryptocurrency markets, has revealed its further extension of white label liquidity via integration with Match-Trader. With this new partnership comes a comprehensive solution that includes competitive rates and a ready-to-go B2Core integration. With this move, B2Broker continues to expand, having incorporated cTrader in 2022 – demonstrating their unwavering commitment to delivering clients adaptable solutions at every turn!
Match-Trader While Label Solution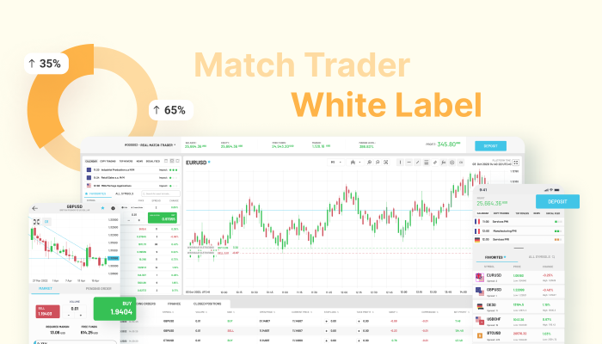 B2Broker's new white label Match-Trader solution is designed to give brokers and their end customers a fully comprehensive Match-Trader offering. The package combines all essential technology into one cost-saving platform that includes B2BinPay (cryptocurrency payment processing), B2Core (CRM system) tools, as well as access to the exclusive Prime of Prime liquidity pool from B2Broker. All these features guarantee the new Match-Trader White Label Package will be received with open arms by interested businesses.
The Match-Trader white label makes online trading a breeze for your clients with its comprehensive selection of services. As a broker, you can rely on the 24/7 server support and technical assistance alongside your personal account manager for any inquiries you have about brokerage operations. B2Broker also offers a training program as part of its package to ensure that everyone in the team is familiarized with using the software.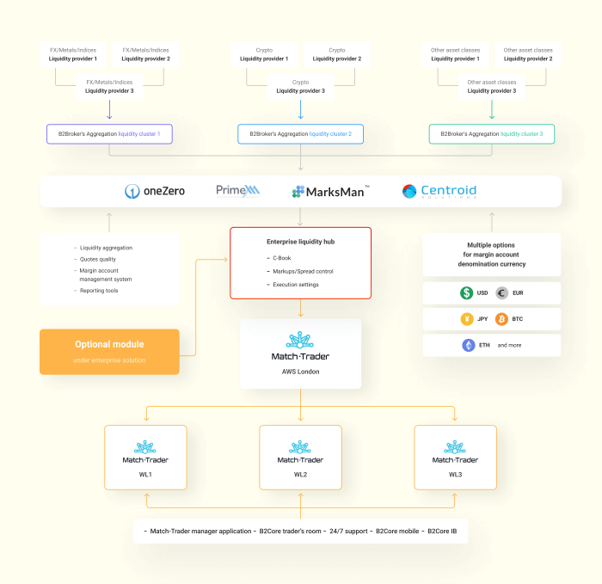 Match-Trader White Label is the ideal choice for organizations searching for competitive trading commissions and reasonable volume fees. Moreover, there's also zero setup charge! All that's required to get started is a minimum liquidity fee that covers three months – plus, clients get an entirely free month after setup in terms of monthly minimum liquidity and connectivity fees.
Match-Trader x B2Core Integration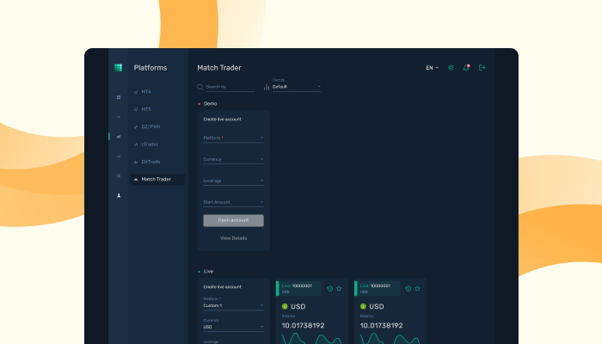 The B2Broker's white label offering is complemented by the ready integration of Match-Trader with B2Core. Match-Trader works similarly to other platforms in the B2Core ecosystem. Thus, brokers can provide clients with the same high level of service through immediate account opening/management and the ability to connect to the platform instantly.
For those users who wish to start margin trading with Match-Trader through B2Core, the process is quite simple. Get started by creating a user account that will act as the bridge between all your trading accounts. Afterward, just connect the margin trading account with Match-Trader, and you're set!
The Platforms tab of B2Core now offers the incredible Match-Trader section with a host of features and abilities. From there, traders can set up demo accounts to practice trades in real time. On top of that, deposits, withdrawals, transfers, and internal transfers are handled through the platform itself. There's even a download button for the dedicated Match-Trader terminal so traders can get going quickly.
Conclusion
B2Broker's integration with Match-Trader presents an unparalleled prospect for brokers searching to offer their customers a full-feature online trading platform. Brimming with powerful tools and capabilities, this package offers a comprehensive solution for any business looking to reap the rewards of cutting-edge technology.
Soon, Match-Trader will be incorporated into IB's programming, offering a variety of new potentials. By connecting with IB, Match-Trader can supply brokers with a wide array of high-quality services, no matter how big or small their business may be.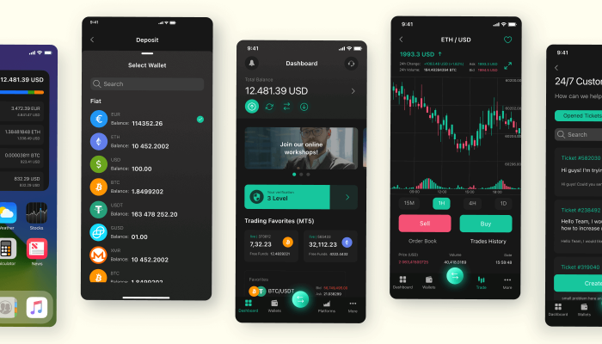 Additionally, in the near future, Match-Trader will be totally integrated with B2Core Mobile, making it possible for brokers to provide their clients with a single application containing all of the best components.