Netflix Share Forecast January 2022 – Time to Buy NFLX?
Shares of American subscription streaming service Netflix (NASDAQ: NFLX) are in the red today, after closing at $508.25 as of January 20th (22:49 EST). Netflix failed to meet its own subscriber projections in the fourth quarter, despite a fourth-quarter that was filled with high profile, blockbuster content.
Netflix – Technical Analysis
Netflix's financial statement indicates that the market cap is at $225.13 billion with total assets worth $42.74 billion. Revenue for 2020 was at $25 billion with a profit margin of 11.05% compared to $20.16 billion in 2019.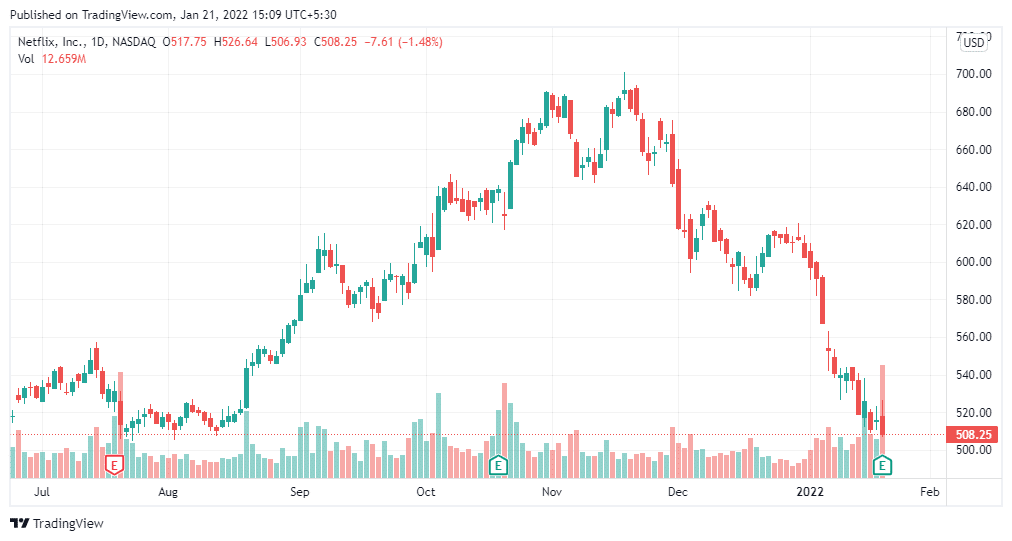 Oscillators such as Relative Strength Index (14)(22.45), Stochastic %K (14, 3, 3)(3.18), Commodity Channel Index (20)(−104.36) and Average Directional Index (14)(46.44) are neutral. Moving averages such as Exponential Moving Average (10)(531.92), Simple Moving Average (10)(529.21), Exponential Moving Average (20)(555.00) and Simple Moving Average (20)(566.27) are indicating a sell action.
68% of all retail investor accounts lose money when trading CFDs with this provider.
Recent Developments
Netflix recently reported its quarterly financial results which resulted in a 19% after-hours plunge in the share price. Revenue for Netflix was up 16% year over year to reach $7.71 billion, while net income increased by 12% to produce earnings of $1.33 per share. Global net subscriptions were up 9% year over year, adding 8.28 million. Netflix experienced 1.2 million paid memberships in the U.S. and Canadian region during the fourth quarter. It has experienced sizable growth in the Asia-Pacific region, adding 2.6 million paid memberships.
However, business slowed down from the Europe, Middle East, and Africa segment where it added 3.5 million net additions. Management released projections for $7.9 billion in revenue which represents just 10% growth from the first quarter of 2021. Net income guidance has also been lowered to $1.3 billion which comes down to $2.86 per share. Netflix expects to bring in a mere 2.5 million new subscriptions. The company expects delayed new signups as most of its new content will out towards the end of the period.
When the economy reopened in 202, it shifted people's attention away from the screens. As a result, customer growth fell in half from 2020, when there were historic signup numbers. It is also facing increasing competition from the likes of Amazon's Prime, AT&T HBO Max, and Walt Disney's Disney+. The company has 222 million subscribers at the moment, with growth concentrated in Asia and Europe. The company announced that it was increasing all US plans from $1 to $2 which came a month after the company decreased its fees in India.
Should You Buy NFLX Shares?
It is apparent that few investors believe that it is a company-specific problem. This is evidenced by the way that Netflix's peers reacted to its financials. Additionally, hiking membership prices should allow Netflix to spend more on creating content. For instance, the company has spent $12 billion on content in the nine months ended on September 30th. The pricing move has the potential to boost revenue high if too many people don't cancel their subscriptions.
Netflix hopes that customers will pay a higher premium if they get good value. The company has achieved growth from $3.2 billion in revenue in 2011 to $25 billion in 2020. Its operating profits have also increased from $376 million to $4.6 billion. The price increase announcement might very well reassure shareholders that the strategy is successful. Competition in this space is not a problem for Netflix, as it is expected to remain a leader in the streaming content market.
Buy NFLX Stock at eToro from just $50 Now!