Microsoft Stock Up 7% in August – Time to Buy MSFT?
Please note that we are not authorised to provide any investment advice. The content on this page is for information purposes only.
The price of Microsoft stock has gone up 7% so far in August while shares of the tech company have delivered a solid 37.6% gain for investors since the year started – effectively outpacing the performance S&P 500 index by nearly 20%.
The company's latest solid quarterly results along with recent news about a change in the price of its Microsoft 365 solution have contributed to the positive performance of its stock so far this month.
Could this uptrend continue in the following weeks or are Microsoft shares poised to experience a pullback amid seemingly overheated technical indicators? The following article takes a closer look at the latest price action while also assessing the firm's fundamentals to outline plausible scenarios for MSFT stock.
67% of all retail investor accounts lose money when trading CFDs with this provider.
Microsoft Stock – Technical Analysis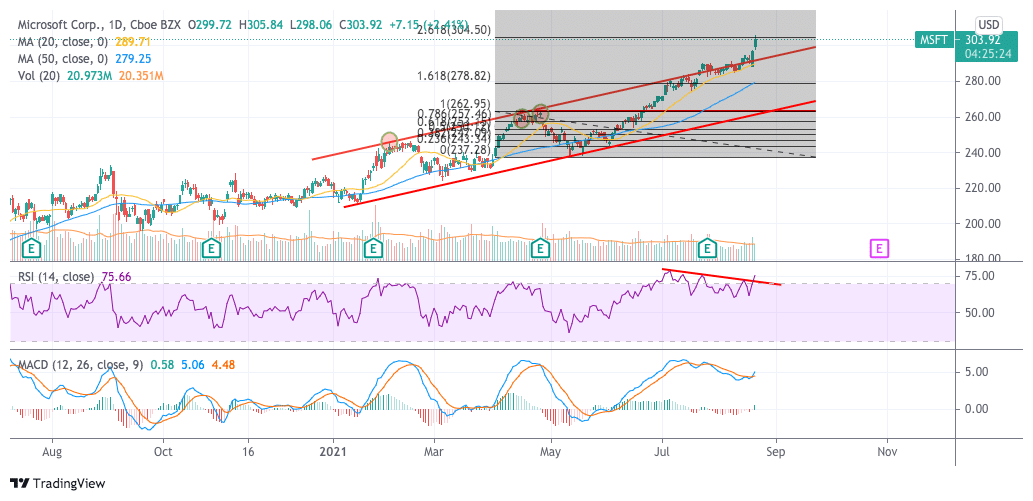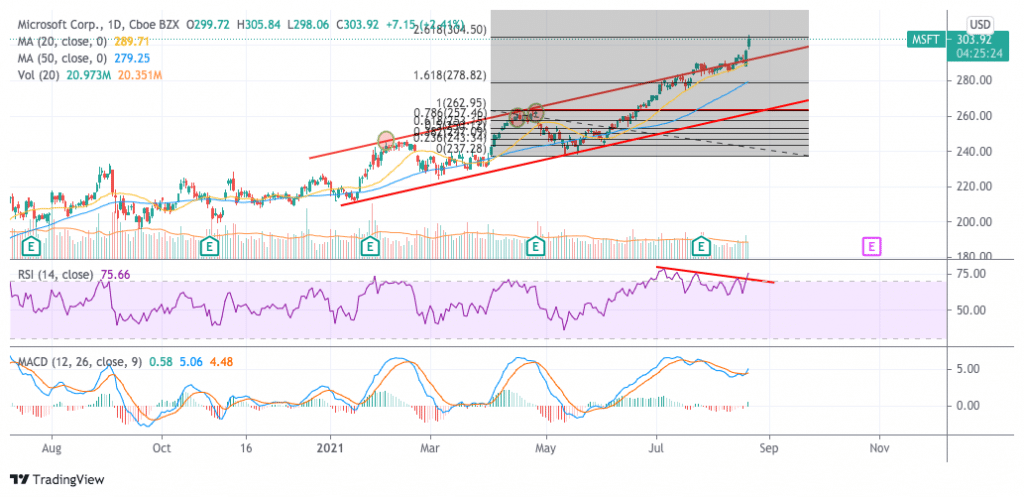 Yesterday's sharp uptick amid news that Microsoft will raise the price of its MS 365 business subscription was accompanied by elevated trading volumes. Meanwhile, this push ended up breaking a long-dated upper trend line for Microsoft shares and has been followed by another pronounced jump this morning that has ended up tagging a key Fibonacci level.
Momentum oscillators appear to be reversing a downtrend they had been experiencing lately even as the price of the stock moved higher and this situation could reinforce a bullish short-term outlook for MSFT shares.
However, the fact that both the Relative Strength Index (RSI) and the MACD are currently standing at such elevated levels increases the risks of a sharp pullback as market participants could be ready to take some profits off the table after a furious rally that has endured for more than two months.
It is fairly difficult to estimate the downside risk in the case that a pullback occurs as the price is still trading fairly close to its 20-day moving average. That indicator could serve as short-term support in case the price heads down in the following session, resulting in a total 4.5% downside risk.
Meanwhile, if the price breaks above the 2x Fibonacci extension highlighted in the chart, chances are that MSFT stock could enter a fresh bullish cycle that could result in sizable mid-term gains for the company on the back of improved fundamentals.
Microsoft Stock – Fundamental Analysis
Microsoft sales had been growing at an average rate of 14% before the pandemic stroked but the health emergency accelerated the firm's growth rates as more businesses were forced to rely on the company's cloud solutions to remain operational during the contingency.
By the end of last year, sales landed at $168 billion for the company founded by Bill Gates while profit margins have been progressively improving in the past three years.
From 2018 to 2021, the firm's normalized earnings per share have advanced from $2.73 to $5.74 at a compounded annual growth rate (CAGR) of 28% while free cash flows per share have grown from $4.20 to $7.46 at a 21.1% CAGR during that same period.
Currently trading at a forward P/E multiple of 33 and based on the company's past earnings and cash flow growth, Microsoft seems to be fairly valued upon considering this past performance, the maturity of its business, and a potential deceleration in its growth rates once the world steps out of the pandemic.
However, an acceleration in the rate at which businesses are adopting digital solutions along with multiple trends including the incorporation of artificial intelligence solutions, the development of the metaverse, and further innovation in the augmented and virtual reality markets could further boost Microsoft's top and bottom/line results moving forward.
Moreover, Microsoft has nearly tripled the amount it has been deploying to buy back its shares in the past years, with a total of $27.4 billion spent for this purpose last year alone. This shows the management's belief that the stock is undervalued at current levels.
Considering that these buybacks account for less than half of the free cash flow that the company generates every year, it would be plausible to expect that Microsoft may continue to increase the size of these repurchases if its results continue to improve moving forward.
Based on those prospects, a pullback in MSFT shares may result in an opportunity for long-term investors to buy a blue-chip stock at an even more attractive valuation.
Buy Stocks at Cedar FX, the World's #1 trading platform!