Meta Platforms Stock Down 23% Today – Time to Buy FB Stock?
Please note that we are not authorised to provide any investment advice. The content on this page is for information purposes only.
Meta Platforms (FB), which is the parent company of Facebook, WhatsApp, and Instagram, was trading almost 23% lower in US premarket price action today and looks set to hit a new 52-week low.
Meta Platforms stock has looked weak since the middle of 2021. The whistleblower controversy took a toll on its stock price. US lawmakers also blocked the company's plans to launch an Instagram version for teens. What's the forecast for FB stock and is it a good buy now after the massive crash?
FAANG earnings have been mixed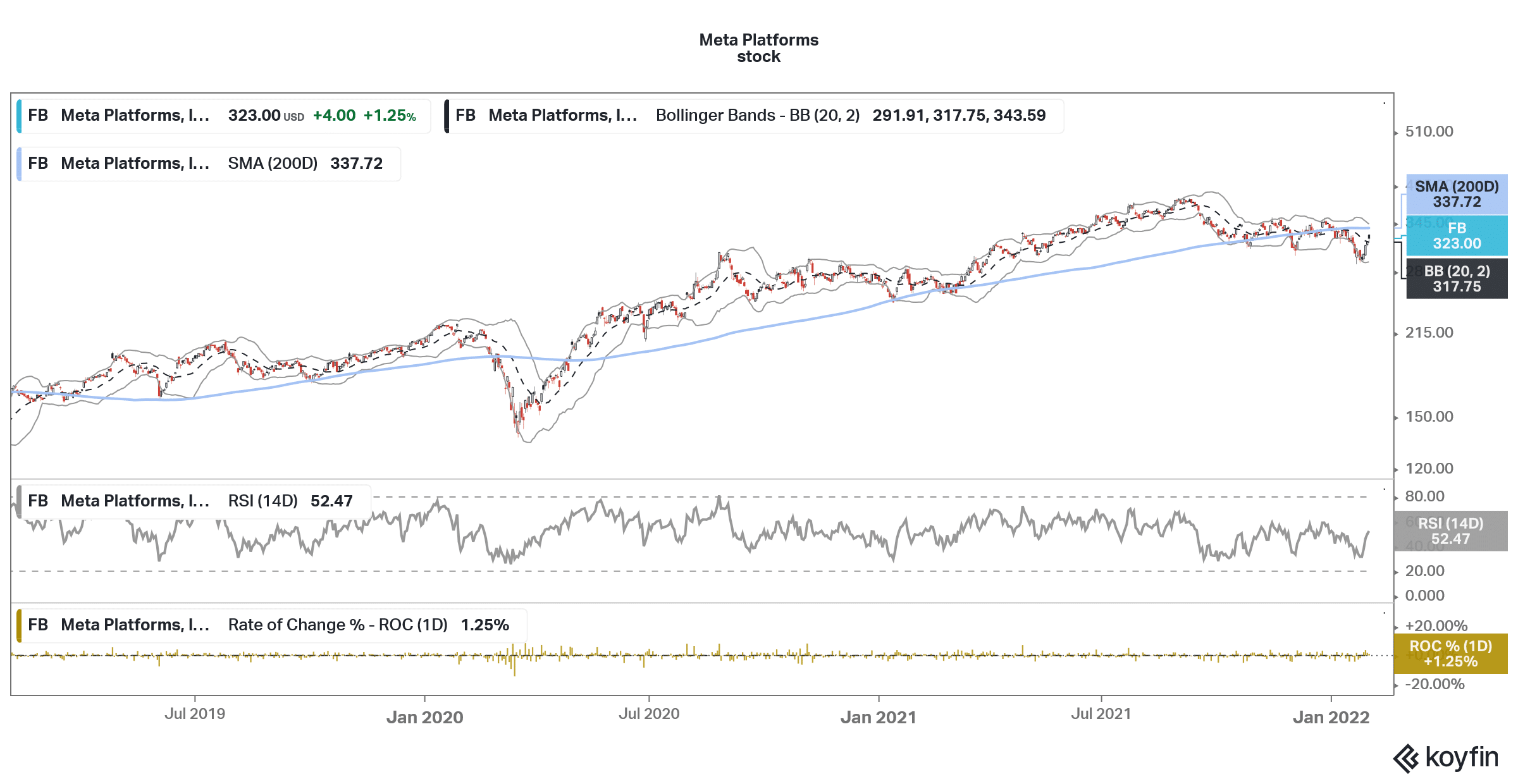 The earnings of FAANG companies have been quite mixed. Netflix provided a dismal outlook for the first quarter and its stock price tumbled to multi-month lows after the earnings release. It also warned that its margins would not increase in 2022 as it spends more on new content.
Apple's earnings brought cheers to FAANG investors and the company posted better than expected earnings. It tackled the chip shortage situation quite well and posted record sales in all the geographies. While the company did not provide hard guidance considering the uncertain economic environment, it provided some color on what markets can expect in its current quarter.
It said, "We expect to achieve solid year-over-year revenue growth and set a March quarter revenue record despite significant supply constraints, which we estimate to be less than what we experienced during the December quarter."
68% of all retail investor accounts lose money when trading CFDs with this provider.
Alphabet also posted strong results
Alphabet also posted strong results in the December quarter and its earnings surpassed estimates by a wide margin. Unlike FAANG peers which saw decelerating growth in 2021, Alphabet's sales grew at a faster pace in 2021 as compared to 2020. It also announced a 20-for-one stock split which would be completed in July.
Meta Platforms posted disappointing earnings
Meanwhile, Meta Platforms posted disappointing earnings in the fourth quarter of 2021. Its revenues increased 20% YoY to $33.67 billion in the quarter which was slightly ahead of the $33.4 billion that analysts were expecting. However, its EPS came in at $3.67 in the quarter which was below the $3.84 that analysts were expecting.
While its average revenue per user of $11.57 was higher than the $11.38 that analysts were expecting, its daily active user count of 1.93 billion was lower than the 1.95 billion that analysts were expecting. Also, it reported MAUs (monthly active users) of 2.91 billion, below the 2.95 billion that analysts were expecting. The company's MAUs fell on a sequential basis in the quarter, a first in its history as a publicly-traded company.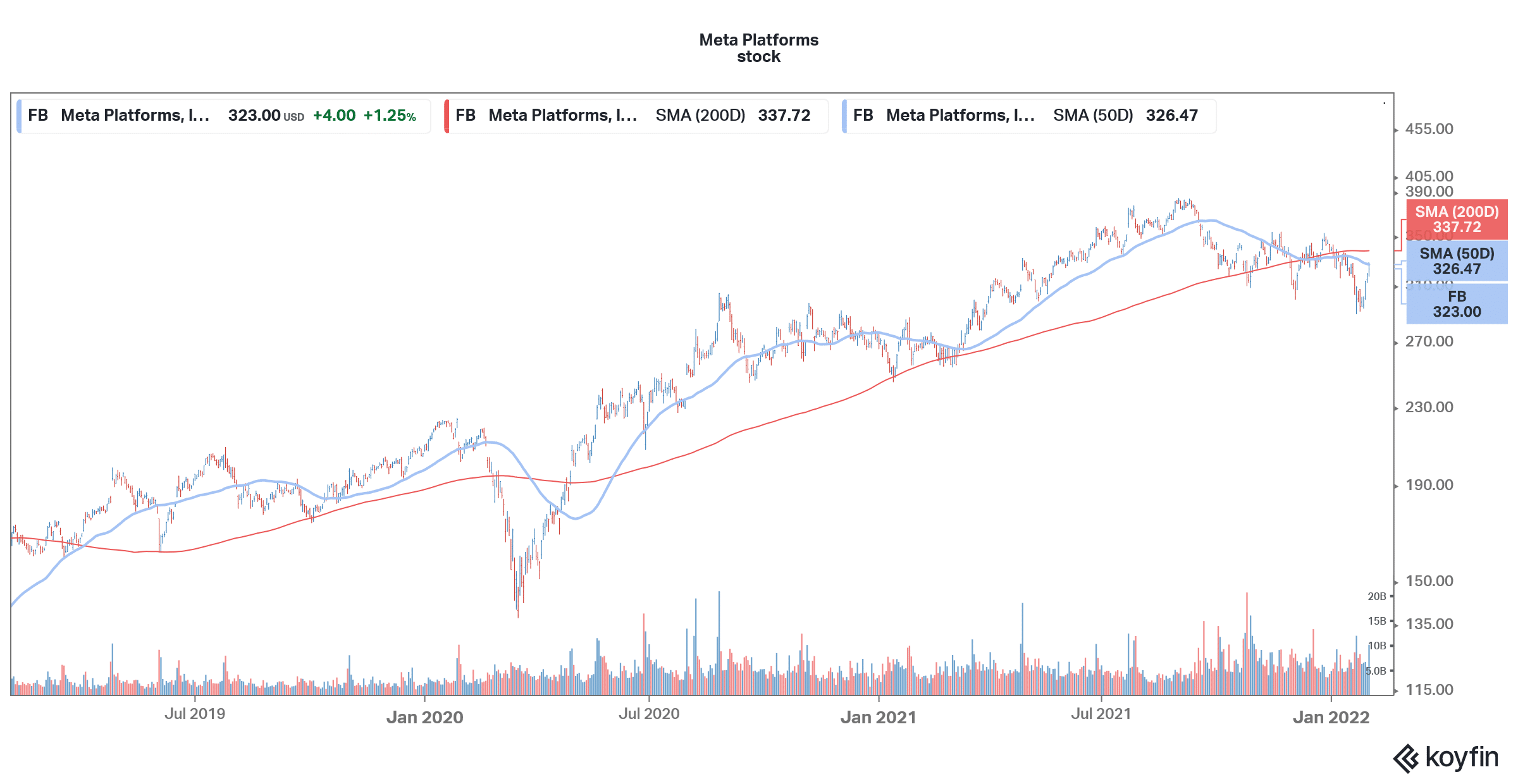 Meta Platforms provided dismal guidance
Meta Platforms said that it expects to post revenues between $27-$29 billion in the first quarter which would mean a YoY growth between 3-11%. The company's guidance fell short of the $30.1 billion that analysts were expecting. It said that its revenues in the quarter would be negatively impacted by both impressions and price growth.
Meta Platforms said in its earnings release that "On the impressions side, we expect continued headwinds from both increased competition for people's time and a shift of engagement within our apps towards video surfaces like Reels, which monetize at lower rates than Feed and Stories."
Pricing to be a headwind in 2022
Meta Platforms expects Apple's iPhone privacy feature to negatively impact its sales by around $10 billion in 2022. It had spoken against Apple's new policy in 2021 saying that it would hit small and medium businesses.
Meta Platforms CEO Dave Wehner said that "We're just estimating what we think is the overall impact of the cumulative iOS changes to where the 2022 revenue forecast is." He added, "If you aggregate the changes that we're seeing on iOS, that's the order of magnitude. We can't be precise on this. It's an estimate."
In the prepared remarks, commenting on the pricing, Meta Platforms said that "we will lap a period of strong demand in the prior year and we're hearing from advertisers that macroeconomic challenges like cost inflation and supply chain disruptions are impacting advertiser budgets." Finally, the company expects currency movement to be a headwind this year.
Meta Platforms lost billions on the metaverse
Starting the fourth quarter, Meta Platforms started reporting the financials for its Reality Labs, which is building the metaverse separately. In 2021, the Reality Labs operation lost $10.2 billion. The losses don't look surprising as the company is investing billions in building the metaverse. These investments would pay off in the long term even as they are a drain on the company's profitability for now.
Meta Platform's commentary on pricing headwinds also took a toll on other social media stocks and all of them were trading sharply lower in pre markets today.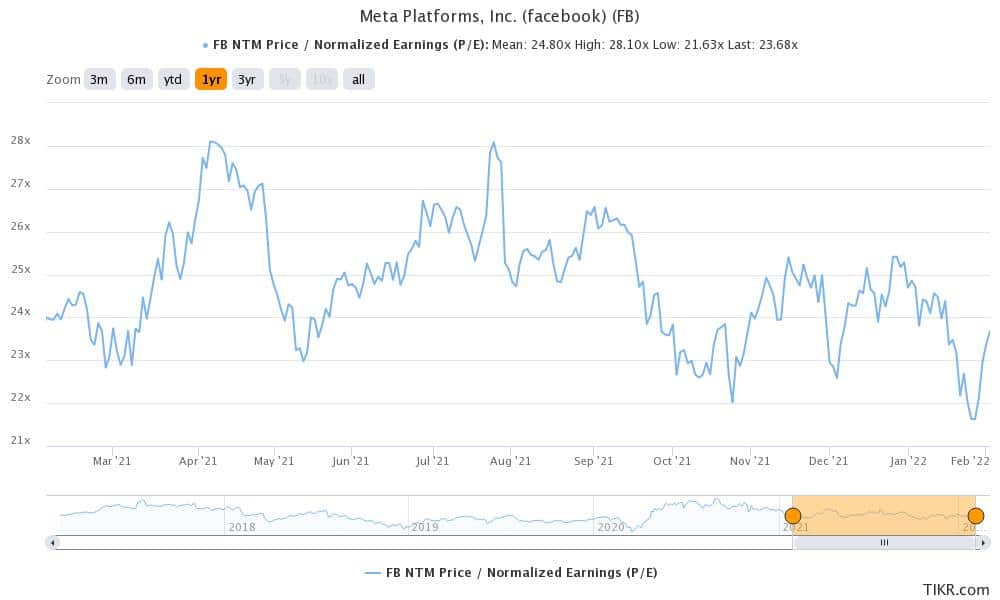 Meta Platforms stock forecast
Wall Street analysts were quite bullish on Meta Platforms stock ahead of the earnings. Guggenheim reiterated its buy rating on Meta Platforms yesterday only.  It said, "We continue to believe that Meta has been the most proactive mobile-advertising platform in developing additional privacy-enhancing ad targeting and measurement solutions. We do not expect that the company will be able to offer significantly detailed insight regarding the extent to which initiatives can offset signal degradation."
42 analysts have a buy or equivalent rating on Meta Platforms stock while 11 have a hold rating. Its median target price of $400 is a premium of almost 24% over its yesterday's closing prices. However, several analysts might lower their target price on the stock now after the dismal commentary on the outlook.
Should you buy Meta Platforms stock?
Meta Platforms was already the cheapest FAANG stock and its valuation discount would only increase looking at the expected price action today. The fall in FB stock today looks like a good buying opportunity. While some of the headwinds like the Apple iPhone privacy features are structural in nature, at these prices FB stock looks too cheap to ignore.
We saw significant buying interest in Netflix stock from both retail and institutional investors following the post-earnings crash. It wouldn't be surprising if bargain hunters see the crash in Meta Platforms as a good opportunity to buy the social media stock.
Buy FB Stock at eToro from just $50 Now!