Marks and Spencer Group Share Price Forecast July 2021 – Time to Buy MKS?
Shares of the major multinational retailer Marks and Spencer Group PLC (LSE: MKS) are in the green at the moment (July 21 08:04 UTC+1) with the price dropping continuously during the past month. It makes investors wonder whether it is the right time to invest in MKS shares.
Marks and Spencer Group PLC – Technical Analysis
Based on the financial statement revealed by the company, Marks and Spencer Group PLC has a market cap of £2.589B and its total assets are worth £8.637B. The revenue of the company for 2020 was £9.14B compared to £10.18B in 2019. The market for MKS shares is open at the time of writing at £134.70 with an uptrend of 2.39%.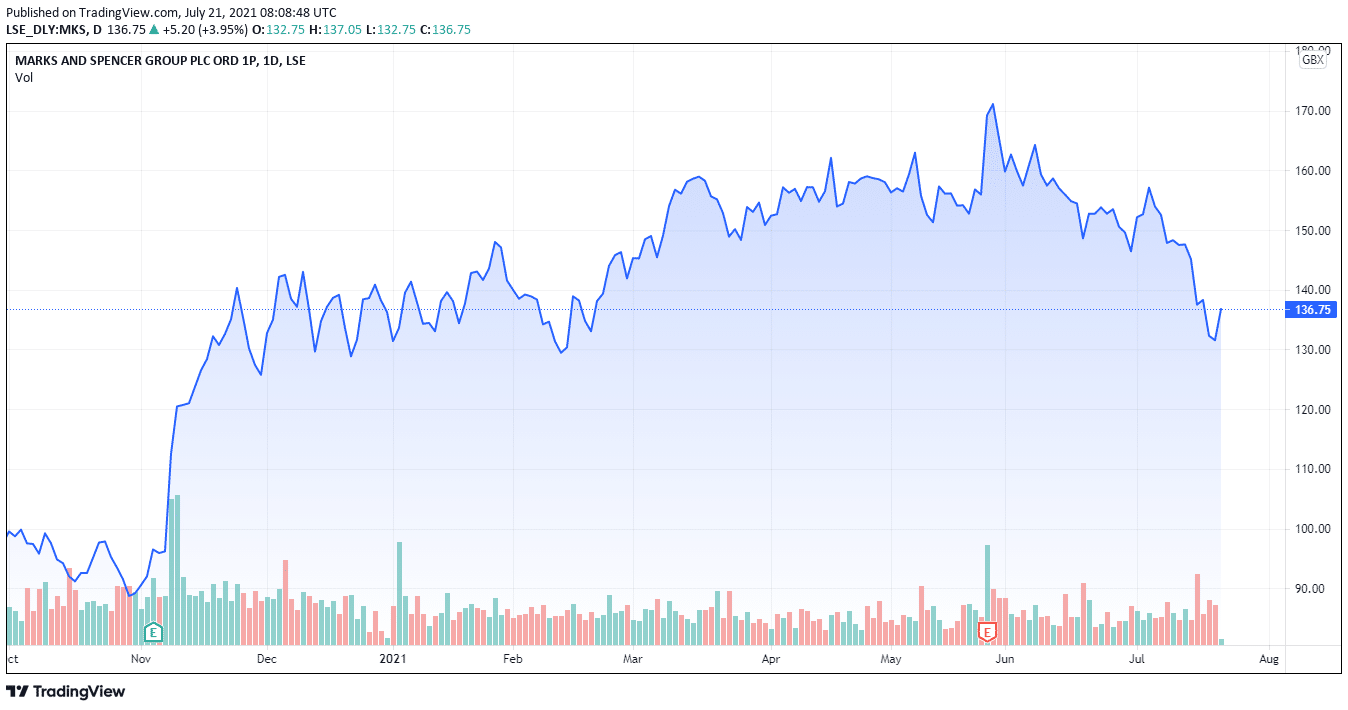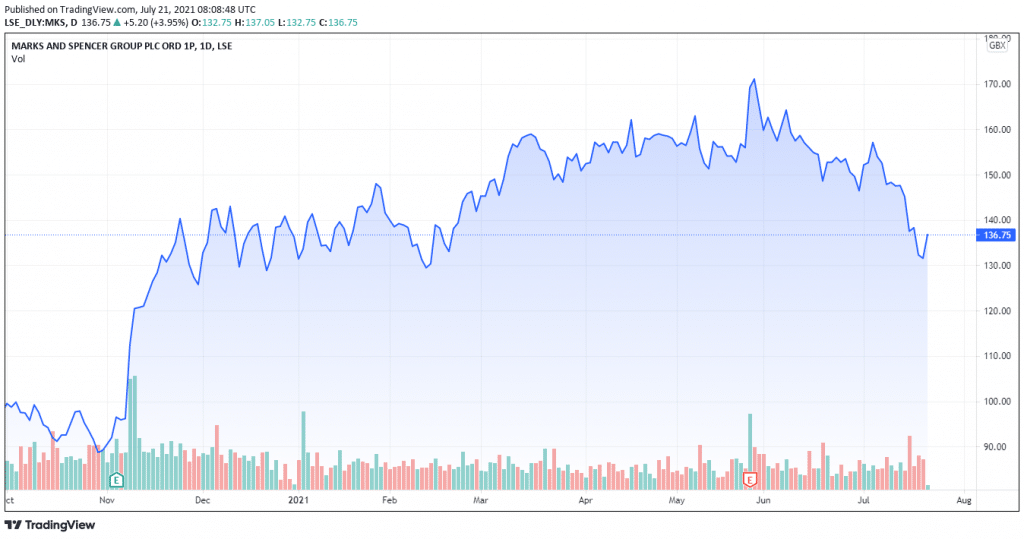 The technical information of MKS shares shows moving averages such as Exponential Moving Average (10)(139.69), Simple Moving Average (10)(140.99), Volume Weighted Moving Average (20)(145.78), and Simple Moving Average (20)(146.56) pointing towards a sell action. Oscillators like Relative Strength Index (14)(31.00), and Bull Bear Power (-15.57) are being neutral, while MACD Level (12, 26)(-5.47), and Ultimate Oscillator (7, 14, 28)(25.76) are pointing towards selling.
67% of all retail investor accounts lose money when trading CFDs with this provider.
Recent Developments
Marks and Spencer Group PLC has been struggling regarding MKS share prices lately. The company suffered a fall of 11.8% in revenue during the last financial year. However, it is not very concerning as most companies struggled last year due to Covid-19 impacts. The company has still been making pre-tax profits.
The food business of Marks and Spencer Group PLC has grown slightly and its online sales for the home segment and clothing have also gone up by more than 50%. Improvement can be noticed in its share price as well which has been increased by over 48%. Although it is still below that what it was during the pre-pandemic period, it is expected that the prices will reach those levels gradually with time.
Should You Buy MKS Shares?
From an investor's point of view, it is essential to observe how the MKS share price has been increasing to predict how much it can increase in the long run. It all depends on the competitive market. In the meantime, the technical information can offer more insight to make a decision. All moving averages and most oscillators are pointing towards a sell action, while some oscillators are neutral. So, judging from every aspect, it may not be a good time to purchase MKS shares at the moment. What you need to do is keep an eye on the chart and invest if you get a strong buy signal from the technical indicators or if you see a surge in share prices. Financial events and news may also make an impact.
Buy Marks and Spencer Group PLC Shares at CedarFX, the World's #1 trading platform!