Lucky Block Price Prediction – LBLOCK Rockets 26.5%, What's Next?
Please note that we are not authorised to provide any investment advice. The content on this page is for information purposes only.
Cryptocurrency market capitalization increased to $1.87 trillion from $1.70 trillion, while trading volumes increased to $90.36 billion from $68.72 billion.
Lucky Block is up 26.5%, showing incredible bullish momentum after a previous bearish correction in LBLOCK prices.
Series of 14, 21, and 35 moving averages signal a strong uptrend in LBLOCK.
Lucky Block, a crypto-lottery platform recently listed on PancakeSwap, has already made waves in the crypto market. The price of LBLOCK has increased by over 700% since its launch on January 26.
According to CoinMarketCap, Lucky Block now has a market cap of more than $43 million. The figure rises to more than $180 million when the total supply of LBLOCK tokens is considered. The LBLOCK long-term price prediction is pretty optimistic. However, if you're just getting started with this token, let me walk you through it quickly.
Lucky Block listings on centralised exchanges to start next week
Lucky Block CEO Scott Ryder wrote in a Telegram post yesterday to token holders that the coin will be listing on a number of centralised exchanges next week. Although one Japanese exchange has been mentioned, others are expected too.
Optimism in the crypto market supports an uptrend in
LBLOCK
Over the last 24 hours, the cryptocurrency market capitalization increased to $1.87 trillion from $1.70 trillion, while trading volumes increased to $90.36 billion from $68.72 billion on February 4.
In the last 24 hours, decentralized finance (DeFi) accounted for 13.44 percent of total cryptocurrency trading volume, totaling $12.21 billion. On the flip side, stable coins accounted for 81.35 percent of the crypto market's 24-hour volume of $73.92 billion.
On February 5, Bitcoin's market dominance increased marginally to 41.65 percent, with the virtual token trading at $41,388.68. The world's leading cryptocurrency, Bitcoin, is up 23.2 percent from the year's low of $32,950.72 on January 24. Following a massive surge in the crypto market, the price of LBLOCK has risen dramatically by 26.5% to trade at $0.001340. Let's have a look at the technical side of the market.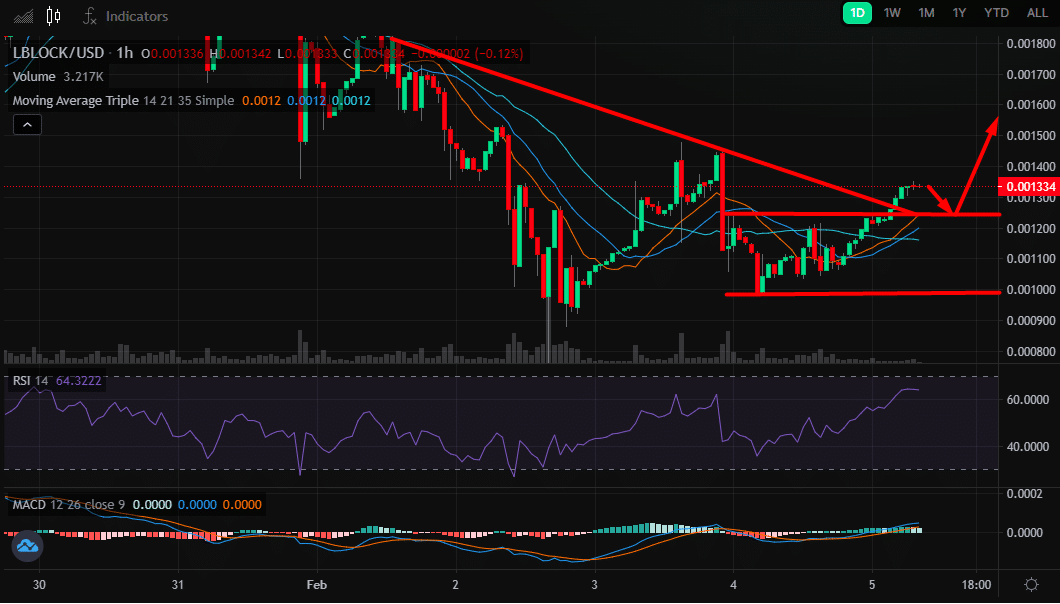 Lucky Block Price Chart – SMA Supporting Uptrend
LBLOCK Price Prediction – Will There Be More Bullish Momentum?
At the time of writing, the current LBLOCK price is hovering around $0.001340. The LBLOCK/USD price shows incredible bullish momentum, followed by a bearish correction in LBLOCK prices. All eyes will be on the price chart during the coming days as the token prepares for another upward push.
On the daily time frame, the LBLOCK has formed a "Three White Soldiers" pattern that's signaling a solid uptrend. Lucky Block price prediction seems to lead the coin price towards an immediate resistance level of 0.0014. On the other hand, a spike in demand can drive the LBLOCK price towards the next target levels of $0.0017 and $0.0020.
The series of 14, 21, and 35 moving averages signals a strong uptrend in LBLOCK, while extending support near the $0.0012 mark. The leading technical tools like RSI and MACD are in support of an uptrend. Thus, consider buying positions above $0.0012 to target the 0.0017 and 0.0022 levels.
What is Lucky Block (LBLOCK)?
Lucky Block is a crypto-lottery platform built on the Binance Smart Chain (BSC) that aims to disrupt traditional lottery systems. Typically, traditional lotteries are run by large corporations that do not appear to place a high value on the entrant experience. Furthermore, while most lotteries have charitable intentions, it is frequently unclear where the proceeds of these lottery draw go.
The creators of Lucky Block hope to address these issues by leveraging blockchain technology. His idea is to improve the transparency and fairness of lotto draws. Users from all over the world can participate in Lucky Block's draws, which are held on a daily basis. Winnings are paid out in LBLOCK, the platform's own token, which means that prize payouts are quick instead of taking a long time with FIAT money.
LBLOCK is also used to pay platform transaction fees and purchase individual lottery tickets. Notably, when LBLOCK holders sell their holdings, they will be charged a 12% fee. The proceeds from these fees are used to supplement future jackpots, liquidity pools, and the NFT & Gaming Royalty Fund, an innovative feature of the Lucky Block platform. As a bonus, 1% of the LBLOCK tokens that are used to pay fees are burned, giving the token a deflationary effect.
That's all for now; I'll see you in a few days with the next LBLOCK price prediction. Best wishes, and have a wonderful weekend!