Lucky Block Presale Sells Out, Lists on Pancakeswap 26 Jan – How to Buy
Soon-to-launch blockchain lottery platform Lucky Block has seen its presale race to a sell out,11 days before it was due to close on 1 February.
The project raised $5.7 million in the presale which attracted 8,607 investors. Judging by activity on its Telegram group, the innovative lottery platform that is targeting disruption of the traditional industry, has attracted interest from around the world.
It took just 7 weeks to sell all of the 32,500,000,000 (32.5 billion) Lblock tokens that were on presale.
As crypto investors become more discerning, with greater due diligence on use case potential for adoption at scale among consumers, Lucky Block appears to have caught the imagination.
The total supply of Lucky Block is 100 billion.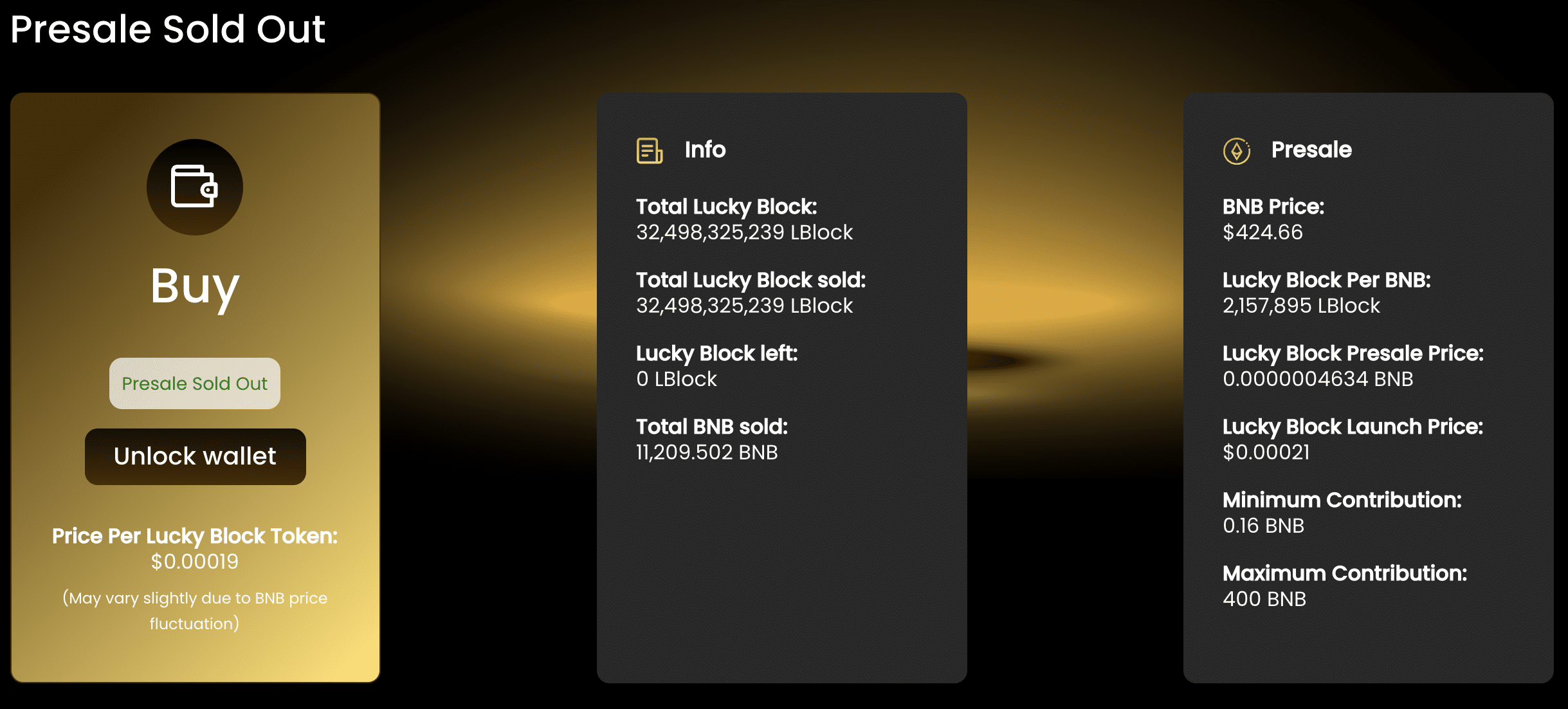 Lucky Block (Lblock) coming to Pancakeswap on Wednesday 26 January
Lucky Block CEO Scott Ryder commenting on the presale success said: "We are so pleased that the project has been so well-received by the crypto community. The presale demand is even more impressive given that the spot market is still struggling to find a bottom.
"We are now putting into place the final touches of the next leg of our PR campaign and have applied for our listing on top centralised and decentralised exchanges," Ryder added.
"Lucky Block will be listing on Pancakeswap listing to Wednesday 26 January at 18:00 GMT  (18:00 UTC) and we have chosen Crypto.com and FTX as our first centralised exchange listings – applications were submitted this morning."
The project has also today applied for listings on the industry's top pricing and analytics platforms, Coinmarketcap and Coingecko.
In a perhaps welcome change in the crypto scene, Lucky Block is positioning the platform not just as a disruptor of traditional lotteries but also as a new fun way of giving to good causes.
As such, generous donations to charities and other good causes is a key element of the Lucky Block mission.
Lucky Block app set to launch on 25 March 2022
The Lucky Block dev team is working hard on the website and app that will provide the frond end for the lottery. According to our sources, the app is scheduled for release on 25 March on both Android and iOS.
We have got our hands on some images of the version 1 user interface and the product looks extremely impressive (see below).
Lucky Block Lottery, Version 1, is due for release Friday 25 March 2021 which will also be available on IOS and Android for all users to be able to download.
Take a sneak peak of how version 1 of the app is going to look!
The project will be releasing more launch preparation details on Tuesday 25 January, in it describes as the Road to Binance.
To stay abreast of Lucky Block developments join its fast-growing Telegram group, while now has nearly 18,000 members. Here's the Luck Block social links:
Social Channels: Twitter | Telegram | Discord | Reddit | Instagram

Why invest in Lucky Block?
LuckyBlock is a blockchain-based lottery platform that has significant advantages over traditional online and offline lottery systems because of its inherent fairness and transparency, courtesy of its blockchain technology. 
High scores on environmental, social and governance (ESG) – the fastest-growing investment theme of recent years
Lucky Block's tag line is "Everyone's a winner". The platform is all about giving back to society by helping those most in need. The platform is focused on putting good causes at the centre of its mission. 
By playing the lottery and taking part in the network, environmental, social and governance (ESG) aware investors can be sure that the project aligns with their objectives.
So for those worried by the oft-cited supposedly malign impact of crypto on the environment because of the high energy usage of certain blockchain protocol consensus systems, LuckyBlock overcomes those fears.
LuckyBlock is built on top of the Binance Smart Chain which is a Proof-of-Stake protocol that uses very little energy to verify transactions and blocks.
A lottery with global reach
UK government data show that In 2019/20, 44% of respondents reported playing a National Lottery Game at least once in the last 12 months. Extrapolate that across the world, taking into account variable demographics and incomes, and the global lottery business opportunity is huge.
Because of its blockchain technology and crypto onboarding, it is possible for anyone to play Lucky Block's lotteries, wherever they are in the world. all they need is the Lblock token to buy the tickets for entry.
Players can vote on how the lottery system is run
Alongside being an ESG-compliant crypto project it is also an example of a Web 3.0 product – that's to say it is a decentralised network disrupting current centralised legacy companies, in this case lottery operators, where the players and token holders, among other things, are empowered to vote on governance issues.
Winning prizes paid instantly
Winners are paid instantly in Lblock, which they can either hold to benefit from the dividend or cash out by swapping to Binance Coin (BNB). The savings made by being built on blockchain means the savings are passed on to players by providing better chances of winning than available in traditional lotteries.
Every time Lblock is sold a 12% transactional tax will be applied (see table 1 below).
4% of this transactional tax will be added to the lottery pool available for daily jackpots. 
The remainder of the 12% tax will be distributed to the liquidity pool, token burn and the LuckyBlock NFT fund (see table 2 below). 
For every jackpot that is won, LuckyBlock burns 1% of tokens.
Table 1: Transactional tax – 12% transactional fee on sale

Lottery Pool

4%

Liquidity Pools

4%

NFT & Gaming Royalty Fund

3%

Token Burn

1%
Table 2: Jackpot distribution

Winners

70%

Charity

10%

Token Holders

10%

Lucky Block

10%
Table 3: Presale smart contract lock-up

£0-10,000

no lock-up

£10,000-25,000

3 month lock up

£25,000-50,000

6 month lock up

£50,000-100,000

9 month lock up

£100,000-250,000

12 month lock up
Lucky Block already giving to good causes – British Red Cross accepts $5,000 donation
In a statement of intent it has already given $5,000 to the British Red Cross  (see picture below) will be the top priority and not just an afterthought, odds of winning for lottery players will be much better, token holders will. not just be able to vote on governance issues, such as which good causes to support, they will also receive a dividend, regardless of whether they have entered the lottery.
On 7 January at an event held in London's Mayfair, Lucky Block made a donation of $5,000 worth of crypto to the British Red Cross. The event was attended London BRC president Solangela Garbutt.
Also present at the IT London events were Lucky Block CEO Scott Ryder, UK no.1 chart-topping Drum and Base DJ and record production duo Sigma (Cameron James "Cam" Edwards and Joseph Aluin "Joe" Lenzie), model and Love Island contestant Jamie Jewitt, singer Sonique, R&B artist Kele Le Roc, among others.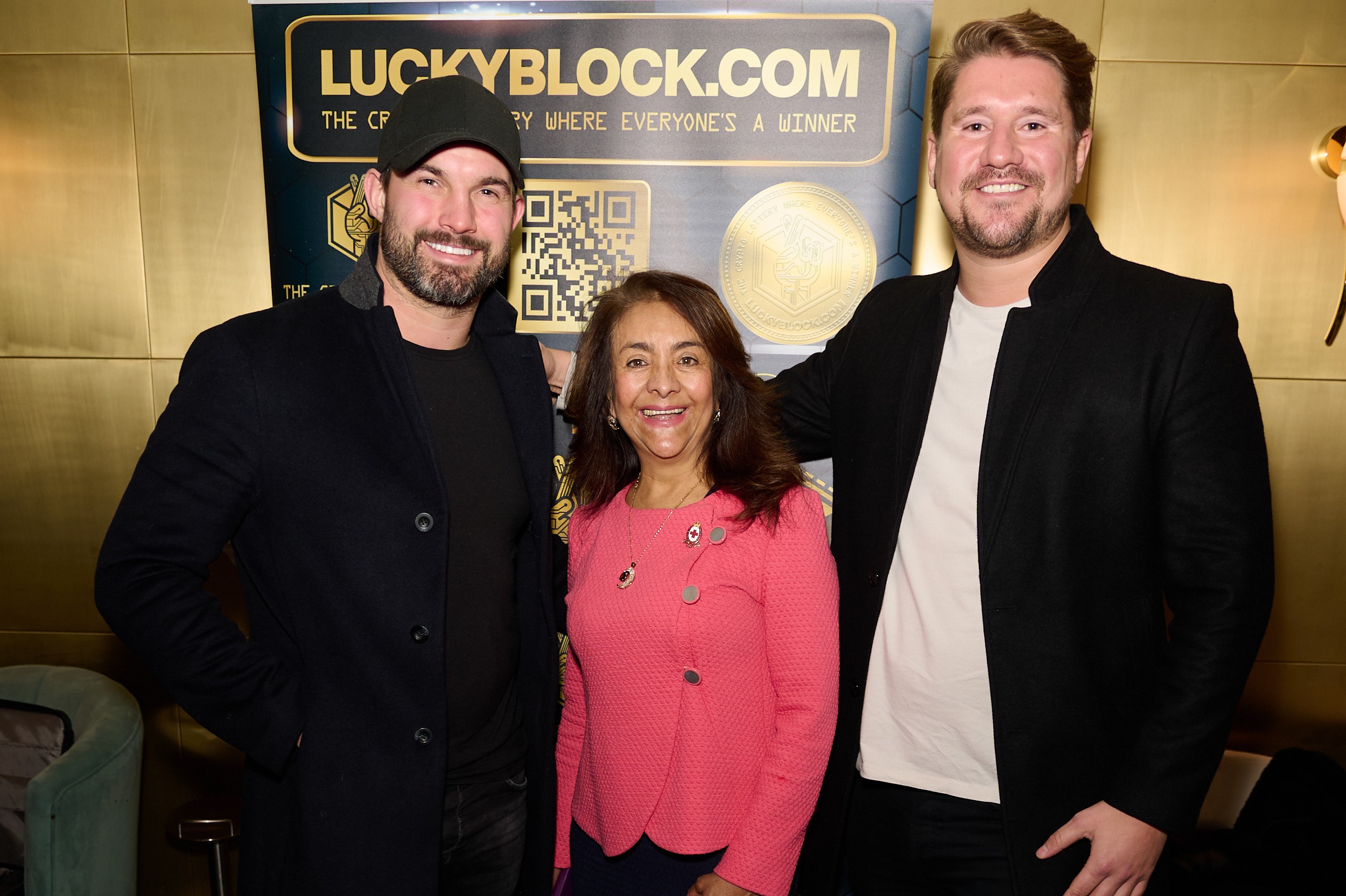 (Pictured, left to right: former Love Island contestant Jamie Jewitt, London President of the British Red Cross Solangela Garbutt and Lucky Block CEO Scott Ryder. The British Red cross was given $5,000 worth of crypto at the event held in the private rooms of the upscale IT London restaurant in London's Mayfair.)
How to buy Lucky Block (Lblock) token
The Lucky Block Lblock token is sold out in presale, but those wishing to get in on the Lucky Block action can buy on the Pancakeswap decentralised exchange from 18:00 GMT on Wednesday 26 January.
Pancakeswap is similar to Uniswap but for BEP-20 tokens that run on the Binance Smart Chain, as Lucky Block's Lblock token does. The last presale quoted price for Lblock was $0.00019.
You will need BNB or another BEP-20 compliant token in order to execute a swap to purchase Lblock on Pancakeswap.
If you don't have any BNB, then head over to Binance – the world's largest crypto exchange – set up your account and buy some. You can then transfer BNB from the exchange wallet to Pancakeswap and you will be ready to go before the Lblock lists on 26 January.
You can also buy BNB on more strongly regulated exchanges such as eToro and Coinbase.
Note: Lucky Block platform is not connected to Lucky Block Network (LBN) or the Minecraft Lucky Block Mod.