Lucky Block Debut's on LBank, Finds Strong Support at $0.0055
Please note that we are not authorised to provide any investment advice. The content on this page is for information purposes only.
Lucky Block, the global lottery platform, listed its LBLOCK token on LBank exchange today at 10am GMT, witnessing brisk trading action.
The move follows its listing on decentralised exchange Pancakswap just two weeks ago, where earlier today it traded as high as $0.0075 in the run-up to the LBank launch.
As is to be expected, the price action has been highly volatile prior to and since the listing on the Hong Kong based LBank exchange.
In early trading on LBank, where 24-hour volumes typically are around $1.4 billion, quotes spiked to $0.0085 as price discovery began. However, since then the price has fallen back to settles in the $0.005000s.
Lucky Block price consolidates support above $0.0050
Prices on the CEX and the DEX began with a large spread which soon started to narrow as arbitrage trades kicked in. Those with funds on both exchanges were able to make aggressive trading moves to take advantage of the disparity in prices, by buying in the low-priced venue and selling in the high-priced venue.
Listings of new coins on centralised exchanges are typically associated with highly volatile trading patterns, and LBLOCK has been no different in that regard.
Volume on LBank has started to build up, currently at 333k USDT. The price on the centralised exchange is at the time of writing slightly higher than on Pancakeswap, at $0.005633 versus $0.005498.
Lucky Block is trading nearly 20% higher on its opening price on the exchange.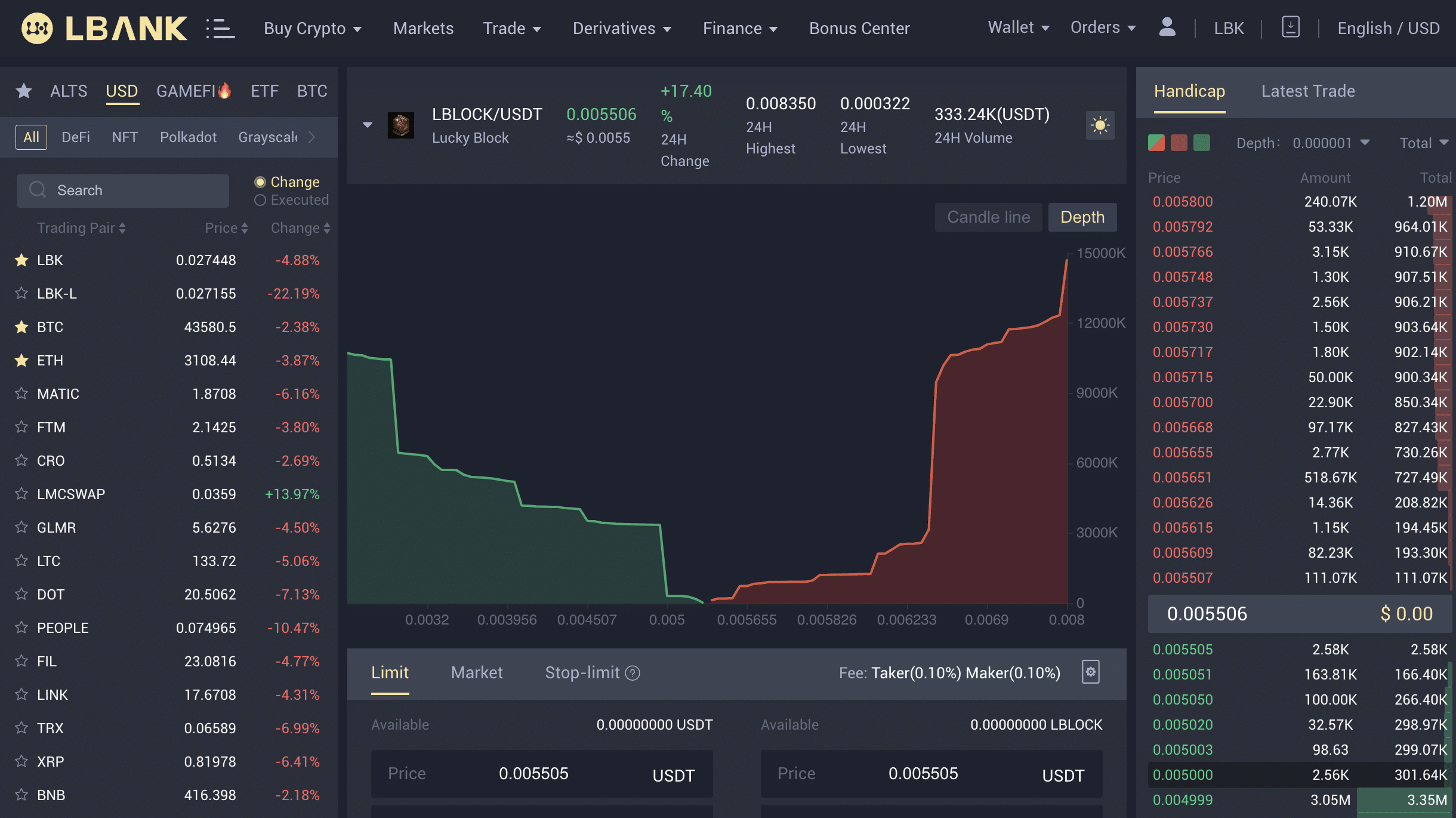 How to trade LBLOCK / USDT on LBank
To buy LBLOCK on LBank you have to use the  LBLOCK / USDT pair, although fiat will be introduced at a later date.
There are no LBLOCK transaction fee as there is on Pancakeswap, where it is charged at 12% for sell transaction. Also for current holders of LBLOCK it is best not to transfer LBLOCK from their DEX wallet to LBank, as that will also attract the 12% transaction fee.
But  in order to receive the token distributions, which amounts to 10% of every jackpot, LBLOCK holders will need to hold their LBLOCK in a DEX wallet such as Trust Wallet or Metamask.
Transfer from LBank to a DEX Wallet will not pay the 12% tax.
To keep up with news and developments in the Lucky Block ecosystem, the official Telegram Group is the best place to check out.