Just Eat Takeaway Share Forecast January 2022 – Time to Buy JET?
Please note that we are not authorised to provide any investment advice. The content on this page is for information purposes only.
Shares of Dutch multinational online food ordering and delivery company Just Eat Takeaway (LSE: JET) are in the red today, currently trading at around 4025p at the time of writing. JET shares have taken a real beating in 2021, and are down by almost 55% in a year at the last close. Following a positive trading update, shares rose 3.6% two days ago.
Just Eat Takeaway – Technical Analysis
According to the financial statement released by Just Eat Takeaway, the market cap of the company is at £8.647 billion with total assets worth £15.206 billion. Revenue for 2020 was at £1.83 billion with a profit margin of -7.39% compared to £352.39 million in 2019.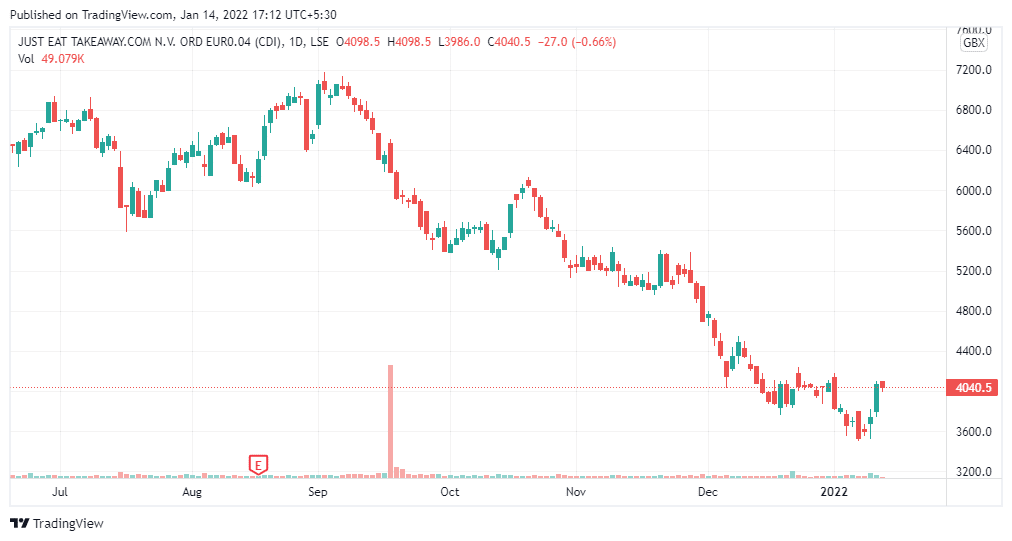 Moving averages such as Exponential Moving Average (30)(4116.2), Simple Moving Average (30)( 4043.7), Exponential Moving Average (50)(4419.9),  Simple Moving Average (50) (4475.8) and Exponential Moving Average (100)(5007.7) are indicating a sell action. Oscillators such as Relative Strength Index (14)(48.9),  Stochastic %K (14, 3, 3)(62.2), Commodity Channel Index (20) (63.9), Average Directional Index (14)(29.2) and Awesome Oscillator(−394.8) are neutral.
68% of all retail investor accounts lose money when trading CFDs with this provider.
Recent Developments
Just Eat Takeaway was formed following a merger between Takeaway.com and UK-based food delivery service Just Eat, in February 2020. The deal was finally cleared by the Competition and Markets Authority.  The company became the official sponsor of the UEFA men's club and women's competitions starting in the 2021-24 cycle. In July 2021 Just Eat Takeaway completed the acquisition of Slovakian market leader Bistro.sk.
Just Eat Takeaway experienced a surge when people were ordering out more due to lockdowns in the pandemic. The shares rose to new highs in a couple of months after the first lockdown was announced. They then started crashing down as soon as the market rallied on vaccine development in November last year. The shares have since dropped almost 50%.
Just Eat Takeaway released a very positive trading update a couple of days back where GTV or gross transaction value, which is the total value of orders placed on the platform, including tips and taxes, grew by 31% from the year before. Management expects losses to start reducing from next year. And is focused on growing market share.
Should You Buy JET Shares?
JET shares are for long-term investors as it might ride the wave of the growing e-commerce market. The pandemic has bolstered the popularity of all food delivery apps. Some of these conversions have been permanently shifted online, increasing the prospects of the company for the long term.  Just Eat Takeaway is geographically spread out which allows it to access markets with high growth potential. It has also diversified into providing grocery deliveries, for instance, for ASDA in the UK and other supermarkets elsewhere. The company has also successfully tackled labour issues.
There are of course some risks present with JET shares. Just Eat Takeaway may struggle to make profits quickly which can test the patience of investors. With the economy open now and people starting to go out, revenue growth for the company could be slower this year. Therefore it is essential for the company to invest to capture a big enough market share at the moment, even if it sacrifices some profits. Just Eat Takeaway can seriously undermine its market position if it reined-in investments just to boost profits Thus, at this low valuation, the shares are definitely a buy for now.
Buy JET Stock at eToro from just $50 Now!