IOTA Price Up 6.75% – Time to Buy MIOTA Coin?
Please note that we are not authorised to provide any investment advice. The content on this page is for information purposes only.
The IOTA protocol, better known as the internet of things (IoT), has been up 6.75% in the last 24 hours, prompting investors to view this as an indication to buy MIOTA for the long haul. Deciding to buy the digital asset should largely be driven by its technical and fundamental analysis.
MIOTA Price Analysis: The IoT Maestro?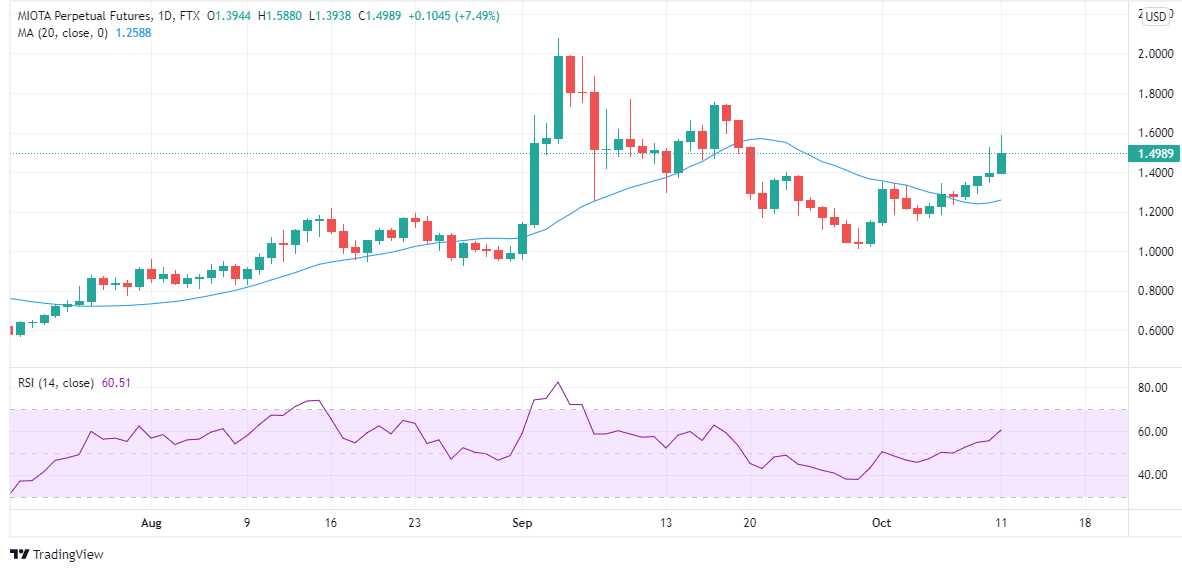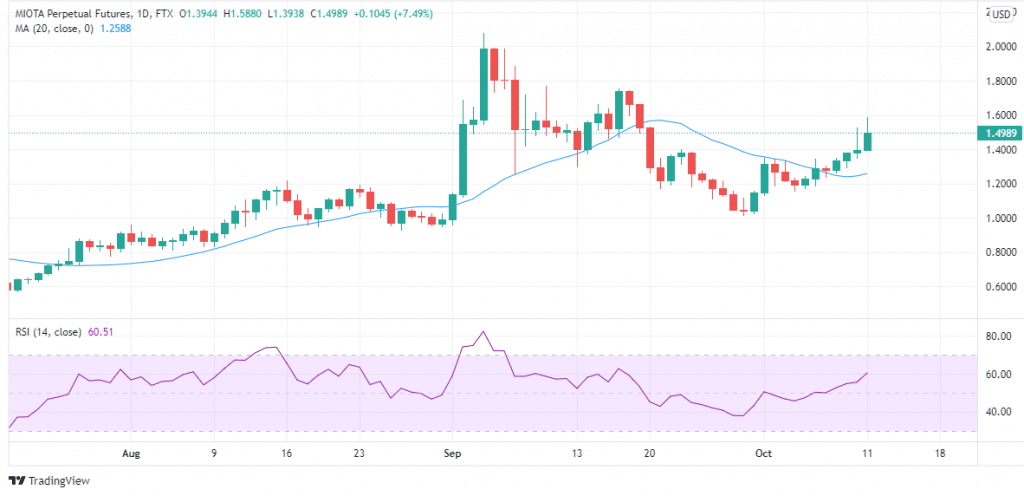 Recent positive changes in the crypto market have seen MIOTA begin an uptrend once more, with the IoT-focused asset trading north of $2 in early September. A brief price dump has seen it drop to $1.5 this month.
At press time, MIOTA is making a beeline for an uptrend, with the digital asset up 6.75% and trading at $1.4989. Weekly gains of 26.47% show that several investors now want to buy MIOTA, given the protocol's growing adoption.
The IOTA protocol is not one of the top crypto bigwigs and occupies the 43rd spot on the most valuable crypto asset ranking. However, a top 50 ranking shows a strong interest in the asset's value proposition.
MIOTA has reached a $4.1 billion fully diluted market cap following a 0.28% increase in the past 24 hours. 24-hour trading volume is also up a whopping 151.63%, with over $590 million currently changing hands.
In the past few months, IOTA had seen remarkable growth and started to gain investors' attention when its MIOTA token surged to $1.3091 on February 13 before slightly dipping. This exponential rally saw MIOTA jump more than 500% in the space of only one month. Not backing down, the digital asset retested this price action and rallied to $1.48 six days later.
Meanwhile, MIOTA became a crypto sensation after hitting an all-time high (ATH) of $2.5322 in mid-April. But, the May crypto market crash forced the digital currency to shed more than 40% of its value. In a continued bearish streak, MIOTA traded at $0.85 in the four months the crypto market was down, hitting a mid-year low of $ 0.59 on July 20.
MIOTA Technical And Fundamental Analysis
Compared to the 20-day moving average (MA) support price of $1.2673, MIOTA shows strong bullish potential within the short term. A longer-term look at the asset's 200-day MA performance shows that MIOTA is still set for major uptrends. The digital asset is trading above the indicator price at $1.3137. The relative strength index (RSI) figure of 60.58 validates this fact and points to more bullish movements in the coming days.
Looking at the moving average convergence and divergence (MACD) gives us a clearer view of the market's reaction to the asset. The green trendline is currently surging, showing renewed interest among investors to buy MIOTA.
In pointing to fundamental adoption, the IOTA protocol was recently tapped by the European Commission to support further the development of the European Blockchain Services Infrastructure (EBSI). The IOTA platform will address critical challenges surrounding Digital Product Passport (DPP) through its IOTA Identity solution and the Intellectual Property Rights Management (IPRM) via the IOTA Streams.
Much like several crypto protocols, the IOTA blockchain is looking to support smart contracts. According to its roadmap, the self-executing code lines will be currently in development and deployed on a layer-two protocol.
This will be available on its Nectar testnet and support the Ethereum Virtual Machine (EVM) and Solidity, allowing users to move digital assets and tokens trustlessly. The EU partnership and integration with The Graph Protocol shows a promising future for IOTA.
Buy IOTA at eToro from just $50 Now!