How the Bank Charter Changes the Game for SoFi
Please note that we are not authorised to provide any investment advice. The content on this page is for information purposes only.
SoFi went public last year through a SPAC reverse merger and earlier this year it finally got the bank charter. Here's how the bank charter changes the game for SoFi.
SoFi released its second quarter 2022 earnings last week. Its revenues rose 56% YoY and reached $362 million in the quarter. The metric was far ahead of the $344 million that analysts were expecting. Its adjusted EBITDA also doubled to $20 million over the period.
The other operating metrics were equally impressive, for instance, it added 450,000 members in the quarter, which was the second-highest ever, and ended June with a total of 4.3 million members. It added 702,000 new products to the platform in the quarter, which is the second highest ever. Having more products on the platform helps SoFi not only attract new members but also increases the cross-selling opportunities to existing investors.
SoFi earnings were better than expected
SoFi's earnings were much better than expected and it also raised both its revenue and EBITDA guidance for 2022. Notably, it had lowered the guidance earlier in the year amid continued extensions to the student loan moratorium. The company's student loan refinancing business is now a fraction of the pre-pandemic levels as the deadline for the resumption of repayments has been extended multiple times. The Biden administration looks set to increase the deadline yet again given the midterm elections.
Meanwhile, while SoFi's student loan business has sagged, the other businesses continue to do well. Its Lending segment posted adjusted net revenues of $250.7 million in the quarter which were 46% higher YoY. During the quarter, its personal loan originations more than doubled YoY and reached $2.5 billion.
Personal loans originations rise
While many lenders have been wary of increasing the exposure to personal loans amid the economic slowdown, SoFi continues to grab market share. It however said that it hasn't lowered the credit standards and the weighted average income of its personal loan borrowers is $160,000 with a weighted FICO score of 748.
SoFi's Financial Services revenues increased 78% YoY and reached $30 million while the Technology Platform saw an 85% increase in net revenues in the quarter.
SoFi Bank
In January, SOFI received permission to acquire Golden Pacific Bancorp and become a bank holding company. The bank charter is a key growth driver and would help it increase its profitability on a sustainable basis. At the end of March, it had $1.25 billion in deposits. However, the deposits rose to $2.7 billion at the end of June.
Commenting on the bank charter, SoFi said that it "could not have come at a better time and the economic benefits are already starting to positively impact our operating and financial results. First, the ability to offer an industry-leading APY and value prop has led to strong growth in SoFi Money members, high-quality deposits and great levels of engagement." It added, "Money members have increased nearly 92% year-over-year to 1.8 million accounts and growth in balances has accelerated significantly."
The company's banking operations turned profitable in the quarter and posted a GAAP net income of $25 million at a 13% margin. The metric looks encouraging especially as these are still early days for the business.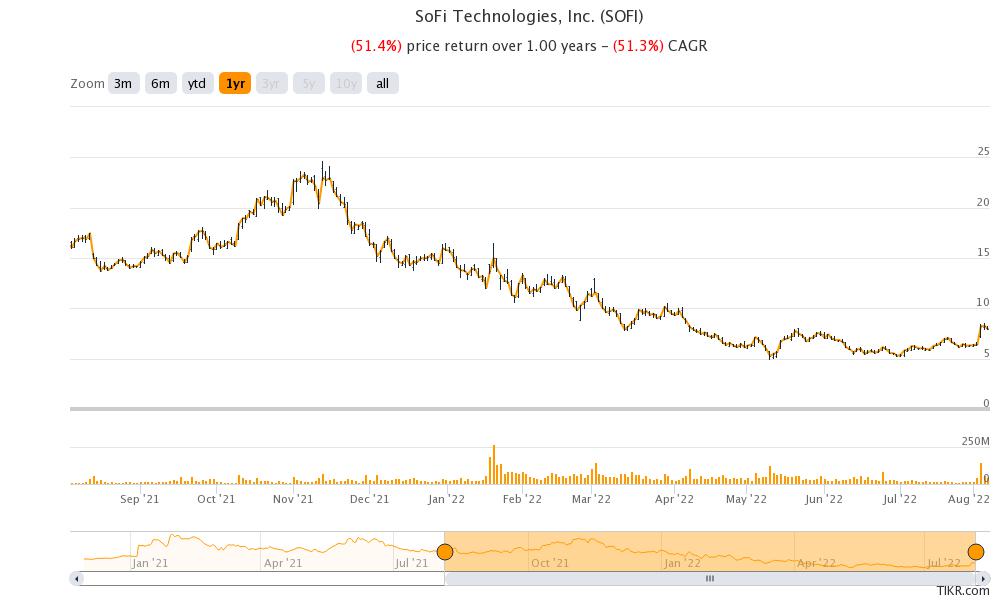 Loan delinquencies under control
While loan losses tend to rise in personal loans, especially in an economic downturn, SoFi has the slippages under control for now. During the earnings release, it said, "Our on-balance sheet delinquency rates and charge-off rates remain extremely healthy and are still approximately 50% below pre-COVID levels. Our on-balance sheet 90-day personal loan delinquency rate was 21 basis points in the quarter, while our annualized personal loan charge-off rate was 1.25%."
Mizuho raised its target price on SoFi
After the earnings release, Mizuho raised its target price on SoFi from $7 to $8. In July, Mizuho had said that SoFi can withstand a recession better than other fintech companies. Analyst Dan Dolev said, "SOFI is now more similar to a bank than a pure-play FinTech and therefore we now reach our valuation based on a sum-of-the-parts weighted average terminal margin, which we believe better reflects the long-term margin potential for SOFI's three business segments."
Dolev believes that SoFi benefits from the "best of both worlds" as "being a bank helps keep funding costs low … having the allure of a branded, next-gen FinTech creates a powerful funnel for low customer acquisition costs [and] high long-term value customers."
Fintech companies
SoFi is a well-diversified fintech company. While the topline growth for established names like PayPal as well as newly listed fintech companies has come down, SoFi's topline is growing at a fast rate. SoFi expects its revenues to increase by 43% annually between 2020 and 2025. The company expects its revenues to rise to $3.67 billion by 2025 and is forecasting EBITDA margins at 32% that year.
While a lot of companies that merged with SPACs, including Clover Health, which also merged with a Palihapitiya-backed SPAC, have lowered their projections, SoFi has been delivering on the projections.
However, it has also not been untouched by the crash in growth stocks and de-SPACs and trades below the IPO price of $10. That said, it has recovered smartly from its all-time lows of $4.82 even as it still trades at a third of its all-time high of $24.65.