Gevo Stock Down 20% in July – Time to Buy GEVO stock?
Please note that we are not authorised to provide any investment advice. The content on this page is for information purposes only.
Gevo shares are down 20% so far in July following a strong single-day uptick that took place on 7 June after the company announced that its stock will be added to the Russell 3000 index by the end of the month.
Despite the short-term bullish sentiment that this announcement seems to have instilled, the stock peaked two days after at $9.64 and has produced a 20% loss for investors since then, currently trading at $5.8 per share while getting dangerously close to a long-dated support area.
Could this be an opportunity to buy GEVO at a relatively low price or is the stock doomed to break this support area in the following sessions? The following article takes a closer look at GEVO's fundamentals to possibly answer those questions.
GEVO stock – technical analysis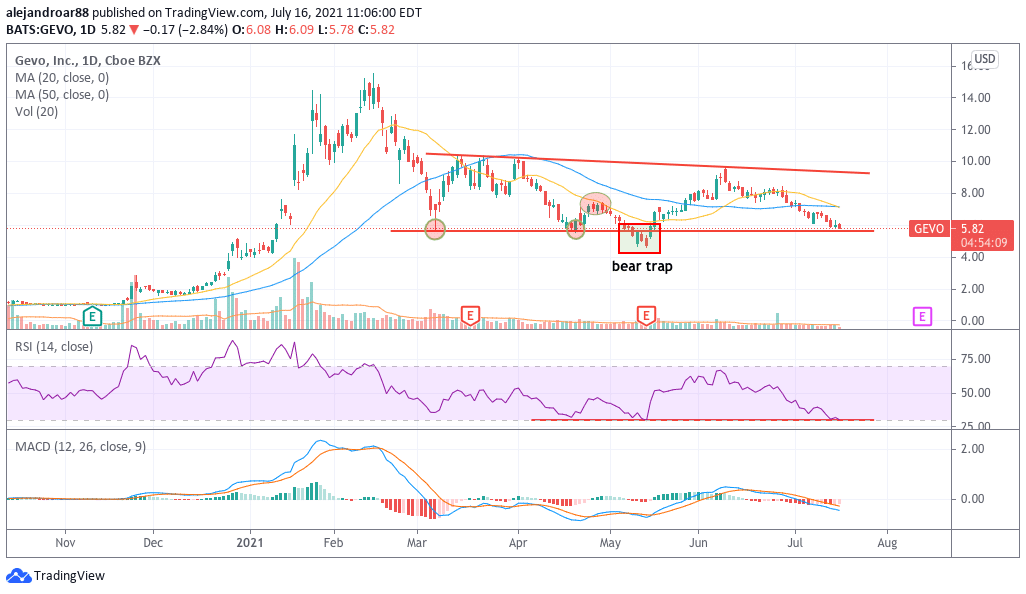 The latest price action seen by GEVO shows that the stock has rebounded off the $5.6 level at least two times in the past, with one bear trap taking place after an unsuccessful break of this threshold back in mid-May.
Trading volumes during these three instances have been above the 10-day average which emphasizes the importance of this price point for market participants. As of this morning, this support line appears to be holding the selling pressure but volumes are not yet as strong as they were back on these past occasions.
If a break takes place, chances are that the selling pressure for GEVO could accelerate to a point that the stock might be prompted to retest its mid-May lows of $4.6 per share. On the other hand, if a rebound takes place in the following sessions accompanied by elevated trading volumes, the odds will be in favor of a bullish short-term outlook for the stock with a plausible short-term target set at $9 per share based on GEVO's upper trend line.
67% of all retail investor accounts lose money when trading CFDs with this provider.
GEVO stock – fundamental analysis
GEVO sales are expected to drop this year to $1.4 million as a result of the shut down of one of its primary production facilities located in Minnesota. The company has informed investors that the site might remain idle until at least the second semester of 2021, which has resulted in a sustained drop in the stock price amid uncertainties related to the firm's ability to withstand this operational setback.
GEVO's strategic approach at the moment is to focus on developing liquid hydrocarbons, which are considered to be suitable replacements for fossil fuels for planes and vehicles.
To achieve this, the company has pivoted toward developing their so-called Net Zero facilities, aiming to build a first production site on Lake Preston, San Diego. The firm has stated that it already has 100% of the equity investment needed for developing the project while it also told investors that Citigroup has agreed to provide the external financing needed for developing the project.
The engineering phase of the project is expected to be completed by the end of this year while the financing required to fully develop the Net Zero 1 project is expected to come in during the first half of 2022.
Based on these developments, it could be years before GEVO once again generates the kind of revenues seen in the previous years when the company produced around $20 to $30 million in top-line results.
Meanwhile, the management's ability to complete these ambitious projects is perhaps the most crucial variable that will drive the value of GEVO up or down in the following months and it could be expected that the stock will remain fairly volatile for as long as this uncertainty remains.
By the end of the first quarter of 2021, GEVO had $525 million in cash that will probably be used to finance the Net Zero project and no debt. Meanwhile, the firm tangible book value by the end of this period, excluding cash, was around $70 million.
Interestingly, an announcement from the firm back in August 2020 showed that Gevo's intangible assets were valued at approximately $412 million as per an assessment from a firm called Peak Value IP LLC.
If we take for granted that this valuation of Gevo's intangible assets is accurate – which is already a gamble – the firm would still be valued at 2.4 times its "book" value. For a company that still has a lot to prove, buying the stock at its current levels would involve a sizable downside risk and could only be justified if one has an overly optimistic attitude towards the management's ability to deliver on its promises.
Based on the material evidence, GEVO stock seems heavily overvalued and the outlook is bearish unless there is a sudden change in the firm's current situation.
Buy Stocks at CedarFX, the World's #1 trading platform!