General Electric Stock Price Down 7.5% – Time to Buy GE Stock?
Please note that we are not authorised to provide any investment advice. The content on this page is for information purposes only.
General Electric (GE) Stock has fallen 7.5% over the last month and was trading lower in US premarket trading today. Should you buy the dip in GE stock?
Looking at the year-to-date price action, General Electric stock is up 25% and is outperforming the S&P 500. There has been a rally in beaten-down industrial stocks which seems to have aided the rally in GE stock. Also, the company is working on a turnaround strategy after years of underperformance.
General Electric stock technical analysis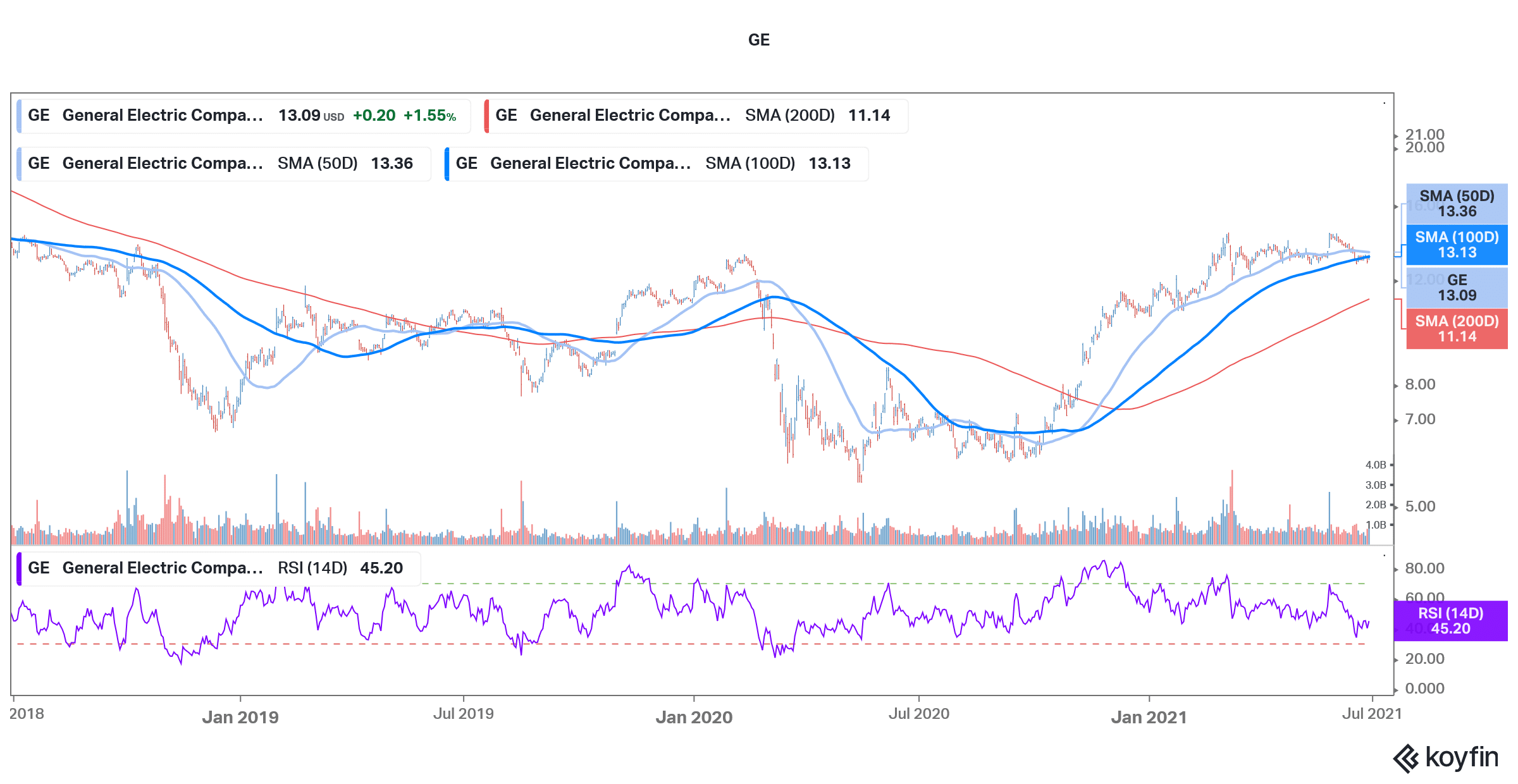 General Electric stock looks mixed on the charts. It is trading below its 50-day and 100-day SMA (simple moving average) which are currently at $13.28 and $13.13 respectively. The stock needs to break above the 50-day and 100-day SMA for bullishness to emerge. GE stock has a 14-day RSI of 45.2 which is a neutral indicator and indicates neither overbought nor oversold positions.
67% of all retail investor accounts lose money when trading CFDs with this provider.
GE stock forecast
General Electric stock has a median target price of $15 which implies an upside potential of 14.5% over the next 12 months. Its lowest target price is $5 which is a discount of 62% over current prices while its highest target price of $21 is a premium of 60% over current prices. Of the 22 analysts covering GE stock, 13 have a buy rating while the remaining nine rate them as a hold. None of the analysts have a sell rating on General Electric stock.
Goldman Sachs is bullish on General Electric stock
Yesterday, Goldman Sachs issued a bullish note on General Electric stock and analyst Joe Ritchie maintained his buy rating and $16 target price on GE stock. "This is one of the best backdrops we've seen for Industrials over the past decade. Inventories are at historically low levels, growth has been negative for two years, stimulus is on the way and moderate inflation is generally good for cyclicals," said Ritchie in his note.
The brokerage is bullish on General Electric's turnaround plan under the CEO Larry Culp. Ritchie sees GE stock rising even higher under his bullish case scenario. He said, "We view the next chapter for GE, beyond our $16 price target, as being driven by +double-digit free cash flow margins (or $1/share in free cash flow), which would imply a $20+ valuation."
Barclays on General Electric stock
Last month, Barclays had also boosted General Electric's target price from $15 to $16. Citi had reinitiated coverage on GE stock with a buy rating and $17 target price. "With evidence of improving execution across much of GE's portfolio and given our expectation of gradual but likely accelerating recovery in GE's Aviation business particularly in 2H21 and beyond, we see material upside in GE's shares as demand recovery and operational improvements support growing and more consistent/sustainable cash flow generation in '21 and beyond," said Citi analyst Andrew Kaplowitz.
Aviation turnaround to help GE stock
General Electric's aviation business has suffered greatly due to the COVID-19 pandemic. Even Warren Buffett's Berkshire Hathaway booked a $10 billion impairment on the investment in Precision Castparts which also makes parts for aircraft. The woes of the aviation industry have been visible across all the companies in the ecosystem. Incidentally, previously Berkshire Hathaway also held a position in GE stock but exited. Last year, Buffett also sold the stake in all four US airlines. The move turned out to be counterproductive and airline stocks have bounced back from the levels where Buffett sold the stock.
Coming back to General Electric, the company's aviation business should also recover which will help aid the earnings.
GE has been selling assets
General Electric has been selling several assets in order to raise cash and lower its massive cash pile. In the first quarter of 2021, it announced the sale of its aircraft leasing business. According to Culp, "we are transforming GE into a more focused, simpler and stronger industrial company." After accounting for the proceeds from the sale of the aviation leasing business, GE has lowered its debt burden by $70 billion since the beginning of 2018.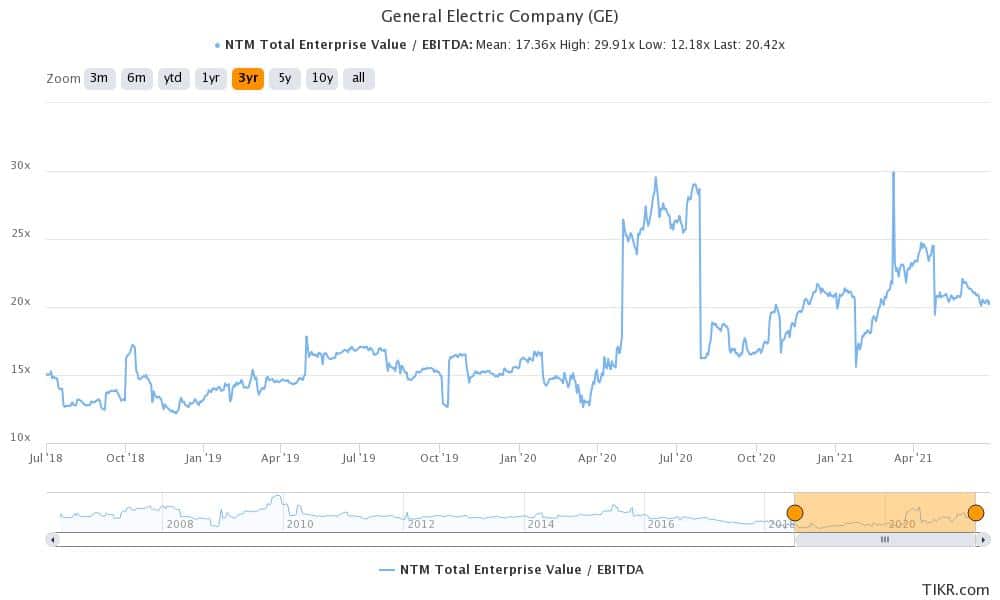 General Electric reverse stock split
General Electric is going for a reverse stock split which will happen on 30 July and the stock will trade adjusted for the split on 2 August. GE will do a one-for-eight stock split. Usually, penny stocks go a for a stock split to meet the minimum listing criterion. However, with GE's stock price way above the minimum listing requirements, the announcement came in as a surprise.
General Electric stock valuation
Currently, General Electric stock trades at an NTM (next-12 months) EV-to-EBITDA multiple of 20.4x. The multiples are similar to what they have averaged over the last year but higher than the 17.4x that they have averaged over the last three years. While GE's current valuations are higher than the historical average, they should be read in the light of the turnaround plans. The company is selling off non-core assets and using the proceeds to lower its debt.
Once these actions are completed, GE would be a much leaner and profitable company with a strong balance sheet. Also, in the medium term, it looks well placed to capitalize on the recovery in the aviation industry. The recovery in industrial stocks will also help propel GE stock higher.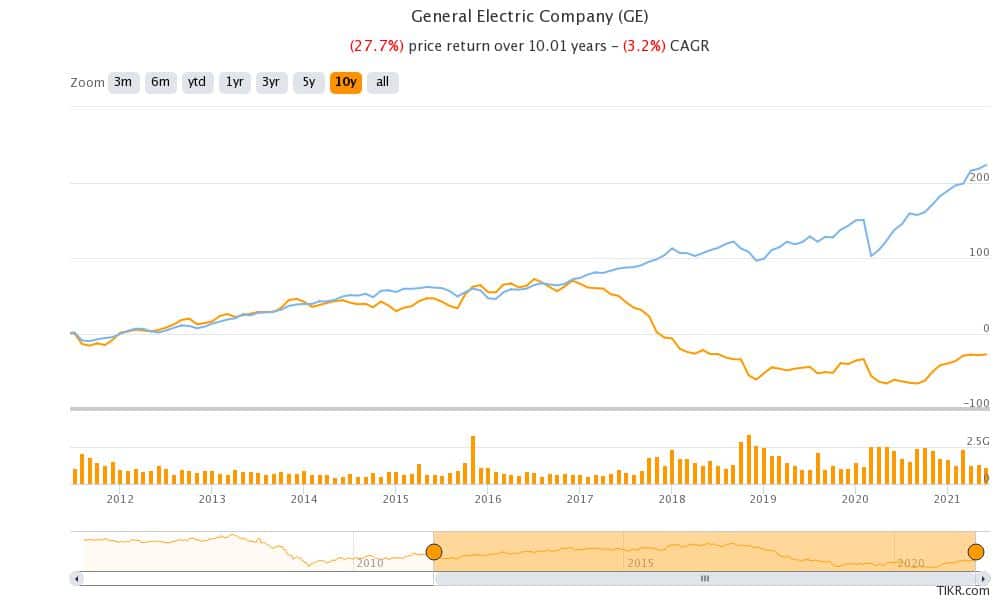 GE stock could outperform
GE stock has underperformed the markets by a wide margin and has delivered a negative CAGR of 3.2% over the last 10 years while the S&P 500 has more than tripled over the period.
However, looking at the continued turnaround and the supportive macro environment, GE stock could outperform the markets in the medium to long term. The stock could be a good way to play the industrial recovery and the Biden administration's supportive policies.
Buy Stocks at eToro, the World's #1 trading platform!