GameStop Share Price Forecast April 2022 – Time to Buy GME?
Please note that we are not authorised to provide any investment advice. The content on this page is for information purposes only.
Shares of American video game, consumer electronics, and gaming merchandise retailer GameStop (NYSE: GME) are in the red today, after closing at $153.59 as of April 5th (19:59 EDT). After the market closed last Thursday, GameStop announced a stock split. GameStop shares surged on the initial news by 10% but have since given up most of those gains. Many investors are wondering whether the stock split provides a good buying opportunity for them.
GameStop – Technical Analysis
GameStop's financial statement indicates a market cap of $11.725 billion with total assets worth $3.683 billion. Revenue for 2021 was at $6.01 billion with a profit margin of -6.34% compared to $5.09 billion in 2020.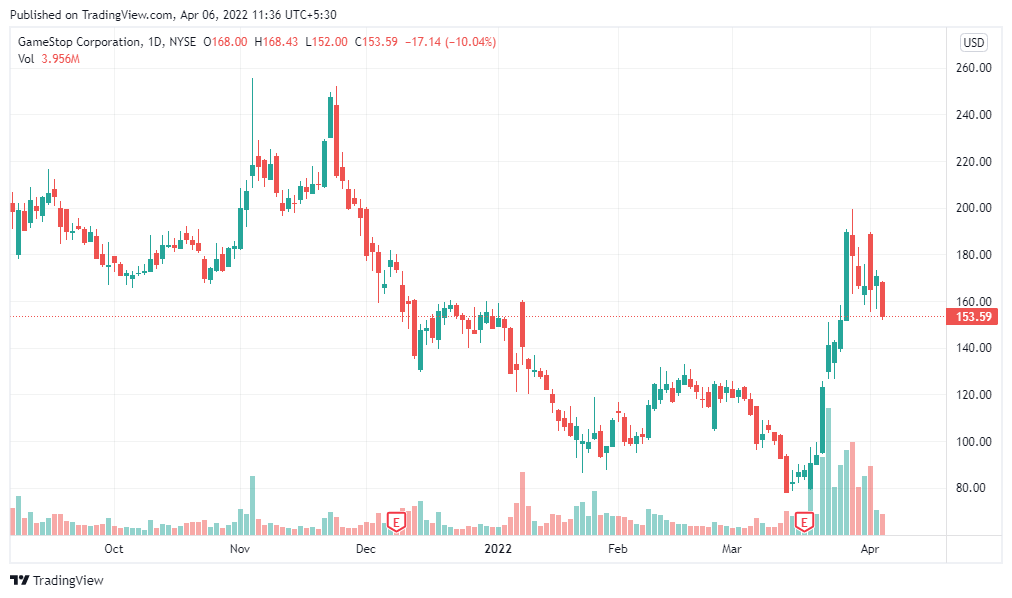 Moving averages such as Exponential Moving Average (20)(141.35), Simple Moving Average (20)( 128.47), Exponential Moving Average (30)(134.32),  Simple Moving Average (30)(124.14) and Exponential Moving Average (50)(130.95) are indicating a buy action. On the other hand, oscillators such as Relative Strength Index (14)(57.58),  Stochastic %K (14, 3, 3)(69.89),  Commodity Channel Index (20)(59.19),  Average Directional Index (14)(41.79) and Awesome Oscillator(43.93) are neutral.
67% of all retail investor accounts lose money when trading CFDs with this provider
Recent Developments
GameStop began its turnaround efforts in 2019, after it partnered with an outside design firm, R/GA, to focus on competitive gaming and retrogaming. The company also received a letter from Michael Burry's investment firm Scion Asset Management in August 2019, urging it to engage in a stock buyback worth $238 million.  The company then spent $178.6 million to buy 34.6 million shares or 34% of the shares outstanding in December 2019.
GameStop came into the limelight when a short squeeze resulted in GameStop shares increasing by 1500% in January 2021. The effect was mainly attributed to a coordinated effort by the Reddit community r/wallstreetbets.  Another surge occurred during extended hours of trading when Elon Musk made a post on Twitter that included "Gamestonk!". It started working on an NFT platform in May 2021, aimed at creating a token based on Ethereum.
On March 31st, GameStop announced that it was seeking shareholder approval for increasing the authorized share count from 300 million to one billion in a stock split. GameStop has further stated that it aims for gaining shareholder approval for an equity issuance-based new compensation plan. It remains to be seen whether the new stock issuance and split plans will be accepted by the groups of newer shareholders.
However, the stock split cannot change the fact that GameStop is loss-making. As the core of its business is buying and selling physical video games, the sudden shift towards buying games digitally has negatively affected it. It has generated a loss per share of $6.59, $5.38, $3.31, and $5.25 over its last four fiscal years.  Sales within the same period have declined from $8.3 billion to $6 billion.
Should You Buy GME Shares?
Many analysts have argued that GameStop is investing to change its business model in an effort to better align with today's gamers. However, the chances of this succeeding are slim, as the company still has thousands of brick-and-mortar stores selling physical copies of games.  Additionally, GameStop shares are only trading at current levels due to the meme stock frenzy that it experienced.  It is still selling at a higher price compared to the likes of Walmart, Target, Costco, and Lowe's. All signs point towards GameStop shares declining in the long run. Considering this, now is not the right time to buy GME shares.
Buy GME Stock at eToro from just $50 Now!