Freeport-McMoRan Stock Price Forecast July 2021 – Time to Buy FCX?
Freeport-McMoRan stock fell 2.2% yesterday and is now down almost 10% over the last month. The stock's YTD gains have now shrunk to 31.6%. While it is still outperforming the markets, it is down over 22% from the 52-week highs and is in a bear market territory.
FCX is the world's largest publicly traded copper miner and also produces gold and molybdenum. The company's mines are spread across North America, South America, and Indonesia. What's the forecast for Freeport-McMoRan stock after the sharp fall from the 52-week highs?
Freeport-McMoRan stock technical analysis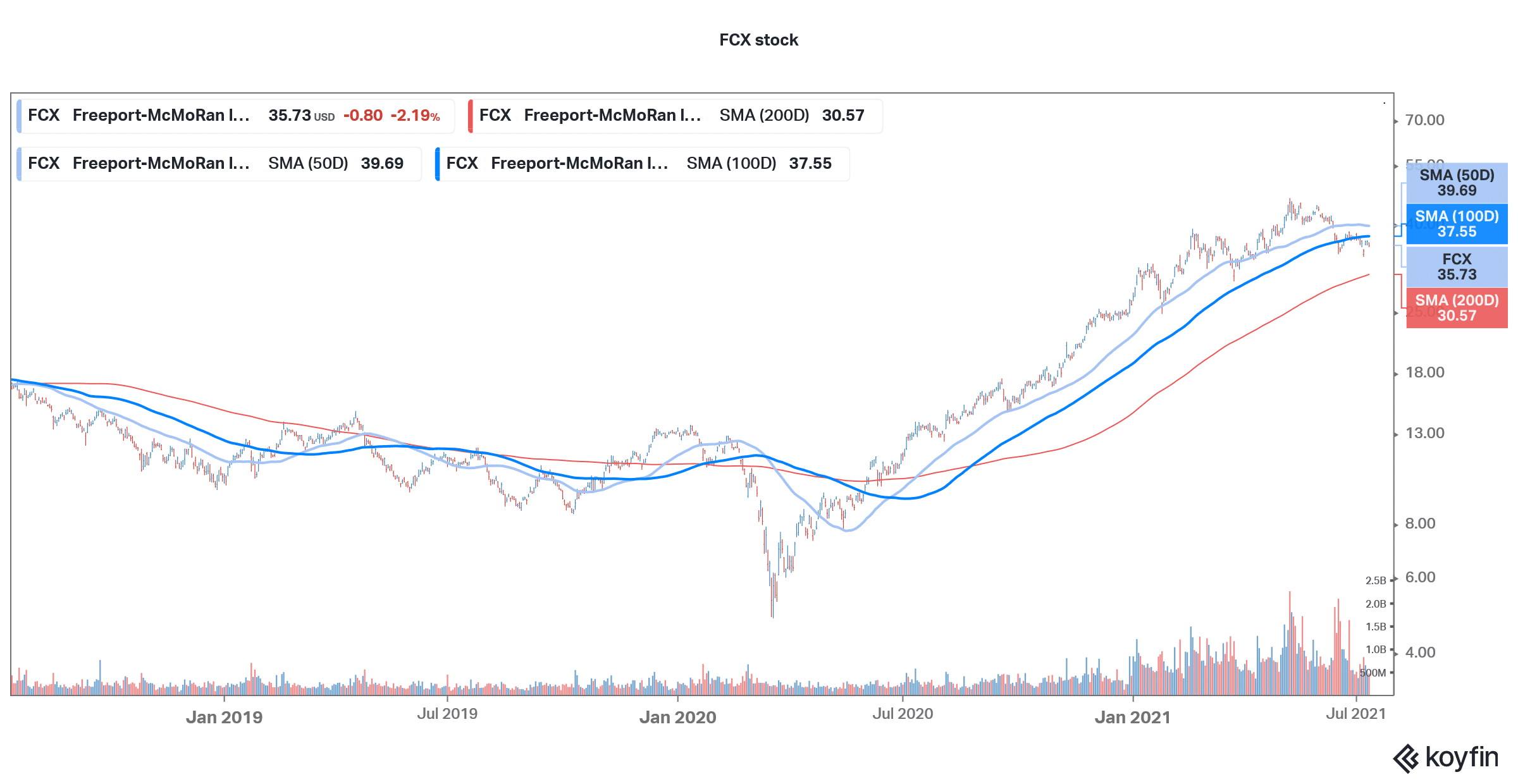 Last month Freeport-McMoRan stock fell below the 50-day SMA (simple moving average) and then subsequently fell below the 100-day SMA also. The stock hasn't been able to break above the 100-day SMA convincingly since then. It also trades below the 10-day, 20-day, and 30-day SMA which are bearish technical indicators. The stock's 12,26 MACD (moving average convergence divergence) gives a buy signal while the 14-day RSI (relative strength index) of 40.94 is a neutral indicator. Overall, FCX stock is not looking too bullish on the charts.
67% of all retail investor accounts lose money when trading CFDs with this provider.
FCX stock forecast
Meanwhile, Wall Street analysts are bullish on Freeport-McMoRan stock and its median target price of $45 implies an upside of 26.2% over current prices. Its lowest target price is $17 which is a discount of over 52% while the highest target price of $60 is a premium of 68.3% over current prices.
Of the 19 analysts polled by CNN Business, 13 rate FCX stock as a buy while five rates it as a hold. Only one analyst has a sell or equivalent rating on the stock.
Earlier this month, Barclays turned bearish on Freeport-McMoRan stock and downgraded it from equal weight to underweight and assigned a target price of $29. Analyst Matthew Murphy expects margin pressure in the near term amid cost-push inflation. Diesel is a major cost input for copper miners and prices have risen amid the steep rise in crude oil prices. He is also concerned over the valuations of copper miners and forecasts copper markets to enter a surplus by 2023. He expects prices to fall to $3 per pound by 2026.
Copper price forecast
Meanwhile, while Barclays is bearish on copper, many other brokerages are bullish on the metal. Goldman Sachs which correctly predicted prices hitting $10,000 per metric ton now sees copper prices hitting $15,000 per metric ton. Bank of America is also very bullish on copper and cites the current supply deficit and low inventories to support its bullish thesis.
"If our expectation of increased supply in secondary material, a non-transparent market, did not materialize, inventories could deplete within the next three years, giving rise to even more violent price swings that could take the red metal above $20,000/t ($9.07/lb)," said Bank of America in its note.
David Neuhauser, founder and managing director of U.S. hedge fund Livermore Partners is also bullish on copper prices. He said, "I think copper is the new oil and I think copper, for the next five to 10 years, is going to look tremendous with the potential for $20,000 per metric ton."
Freeport-McMoRan stock long term outlook
Freeport-McMoRan has high quality and low-cost portfolio of copper assets spread across stable geographies. The company is ramping up production at the Grasberg mine where the underground operations are now scaling up. The ramp-up of the mine will help Freeport-McMoRan in several ways. Firstly, its shipment profile for both copper and gold will improve. Secondly, the company's unit cash costs will also come down. Finally, its cash outflow towards capex will also taper down. The company is also setting up a smelter in Indonesia to meet the commitments it made to the government there.
Freeport-McMoRan outlook looks positive
Freeport-McMoRan stock has come off its 52-week highs amid the fall in copper prices. However, copper's long-term outlook looks very favourable. Higher investments in renewable energy and growing sales of electric cars bode well for copper prices. Both these industries have a high copper intensity. From the supply perspective, years of underinvestment in new mines will now play out as copper could enter a structural supply deficit.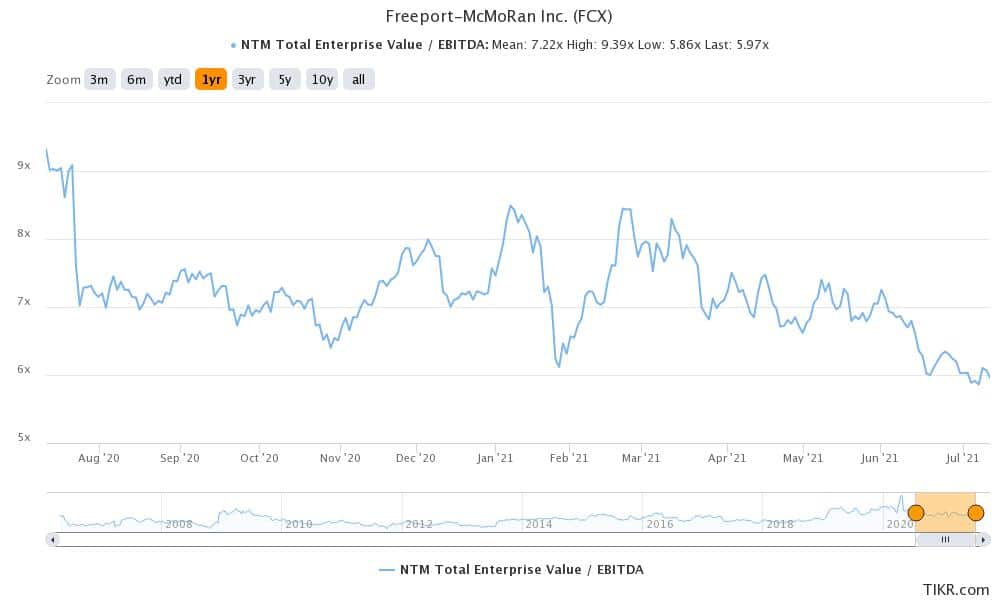 FCX stock valuation
While copper has retreated from its highs, the red metal's long-term outlook is positive which bodes well for copper miners like FCX. The stock trades at an NTM (next-12 months) EV-to-EBITDA multiple of 5.97x. The company now has a very strong balance sheet with net debt of only about $5.2 billion. Looking at the current copper price environment, the company might soon turn negative on the net debt—like it was before the acquisition of energy assets.
FCX has forecast an average annual EBITDA of $12.5 billion annually in 2022 and 2023 assuming copper prices averaging $4 per pound and gold prices averaging $1,750 per ounce over the period. The company currently has an enterprise value of around $66 billion which would mean a 2022/2023 EV-to-EBITDA of around 5.3x based on the forecasts.
Why Freeport-McMoRan is a good copper stock to buy?
In the near term, copper is a good hedge against inflation while in the long term, it is a proxy play on the green economy. Freeport-McMoRan is among the rare pure-play copper plays and has diversified and low-cost operations. It also has a rising production profile while unit cash costs are expected to fall over the next two years. The company's strong balance sheet makes it an attractive investment proposition. If you are looking at a quality play on copper prices, Freeport-McMoRan stock will fit the bill.
67% of all retail investor accounts lose money when trading CFDs with this provider.