Ford Looks to Double Hybrid Mix as It Revamps Its EV Strategy
Please note that we are not authorised to provide any investment advice. The content on this page is for information purposes only.
Automakers like Ford (NYSE: F) and General Motors (NYSE: GM) are investing billions of dollars to ramp up their electric vehicle (EV) production capacity. Ford is meanwhile also betting on hybrids even as it is slowing down its ambitious EV production plans.
Ford unveiled the 2024 F-150 pickup at the Detroit Auto Show. The model is a key driver of Ford's profitability and its internal combustion engine (ICE) version has been America's best-selling pickup for over four decades now.
Notably, the F-series vehicles are estimated to account for a big chunk of Ford's profits and Ford Vice President Andrew Frick termed them "the backbone of Ford" in an interview with FOX Business.
He said, "It's been a great year for F-Series as a whole. As we look at our year, we've sold just about 515,000 F-Series year to date, which is up 22% from this time a year ago and twice as much as what the segment has done so far." Frick added, "We have an almost 158,000-unit lead over the second-place truck, and so we're looking to extend our 46 years of leadership to 47. And we've actually expanded our leadership position this year versus a year ago by more than 72,000 units."
Last year, Ford also launched its electric version – named the F-150 Lightning – which would compete with Tesla's upcoming Cybertruck. Meanwhile, Ford is also doubling down on the hybrid version of the F-150.
Ford is looking to double the hybrid mix
Frick said, "One of the things that we've seen trends toward in F-150 is we're the only one that offers a hybrid, and we're actually looking to increase our hybrid mix from about 10% next year to about 20% of our overall mix."
He added, "And we're pricing the hybrid to be basically right on top of our [internal combustion engine] equivalent so it really gives consumers the power of choice in terms of what they're looking for."
Notably, during the Q2 2023 earnings call, Ford said that it would also focus on hybrids. Its CEO Jim Farley said, "What the customer really likes is when we take a hybrid system that's more efficient for certain duty cycles and then we add new capabilities because of the batteries."
The move surprised markets as most other automakers are focusing on EVs. Toyota is a notable exception as the company is focusing on EVs, hybrids, as well as hydrogen vehicles.
EV price war
Meanwhile, Ford expects EV adoption to be slower than what it previously envisioned and said that its annual capacity would now hit 600,000 by the end of 2024 instead of this year that it previously expected. It also said that it might not hit the 2 million production capacity by 2026 as "we maintain flexibility on where we reach when we reach two million total EV global capacity because we are balancing growth, profitability, and returns."
It blamed the EV price war and said, "While EV adoption is still growing, the paradigm has shifted. EV price premiums over internal combustion vehicles fell more than $3,000 in the second quarter and nearly $5,000 in first half. We expect the EV market to remain volatile until the winners and losers shake out."
Ford is investing massively in the EV business
Legacy automakers are ramping up production and both Ford and General Motors are investing billions of dollars to enhance their EV production. Volkswagen has also stepped up its game in the EV space and is targeting a 10% US market share by the end of this decade which is over twice the current share.
EV competition is set to intensify in the coming months which might only escalate the price war. Pricing pressure would meanwhile increase the troubles for startup EV companies that are posting losses.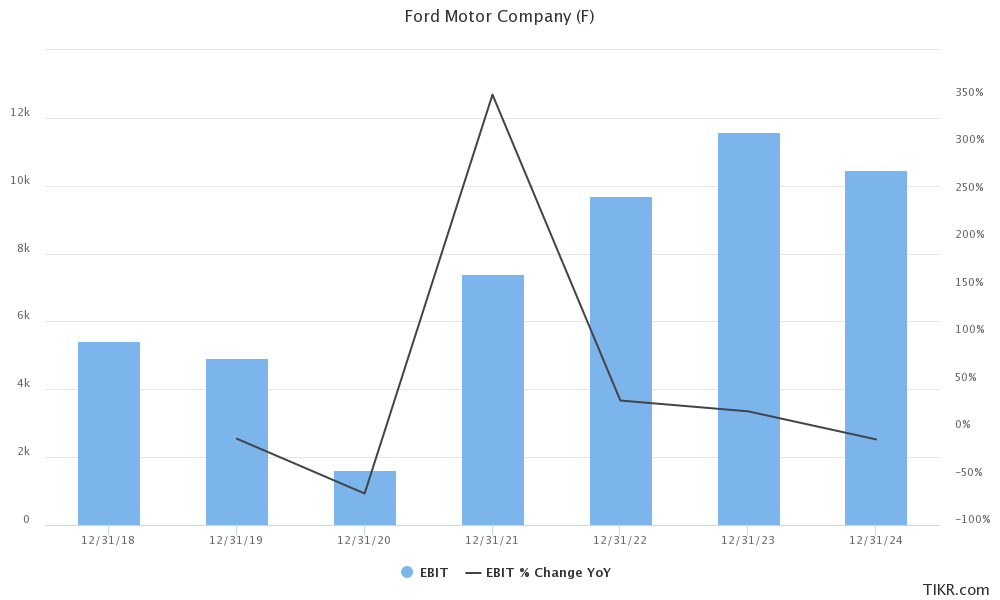 Automakers brace for UAW stroke
Meanwhile, Ford, General Motors, and Stellantis are bracing for a potential strike by the United Auto Workers (UAW) union as the talks continue to drag on. While the union is looking for a major increase in wages given the healthy profits that automakers are making – companies are wary of committing to hefty hikes given the cyclical peak in ICE profits and the soaring EV losses.
Ford's EV business which it renamed Model E lost $1.08 billion in the second quarter which took the segment's pre-tax losses in the first half of 2023 to $1.8 billion. If that was not all, Ford said that the segment's losses would expand in the second half and expects full-year pre-tax losses of $4.5 billion – which is significantly ahead of the $3 billion that it previously guided for.
Interestingly, despite higher-than-expected losses in its EV business, Ford raised its full-year pre-tax profit guidance to $11 billion to $12 billion – up from the previous guidance of $9 billion to $11 billion.
UBS assigns a buy rating to Ford
Both Ford and General Motors have underperformed the markets in 2023 even as Tesla has doubled during the period. UBS analyst Joseph Spak meanwhile started his coverage of both Ford and GM with a buy rating and his $15 target price on Ford implies an upside of over 20%.