Exxon Mobil Stock Up 8% in September – Time to Buy XOM Stock?
Please note that we are not authorised to provide any investment advice. The content on this page is for information purposes only.
The price of Exxon Mobil stock rose 8% in September and seems poised to open October with gains as well following a business update from the company that pointed to a significant jump in its bottom-line profitability amid the positive impact of rising crude and gas prices.
In a regulatory filing published yesterday, Exxon Mobil stated that it expects to see its net profits increase by as much as $600 million amid a rise in liquids prices along with up to $900 million in additional profits resulting from higher gas prices.
Moreover, the company is anticipating a jump in its downstream refining profitability as well, approximately $700 million more, and a reduction of up to $400 million in the profits of its chemicals unit due to higher raw materials costs.
Overall, the estimated impact of these favorable changes in market conditions amount to around $2.5 billion in additional profits for the oil & gas giant considering the upper bound of all its forecasted figures.
Can this announcement keep lifting the price of Exxon Mobil stock in October? In the following article, I'll take a closer look at its price action and fundamentals to possibly answer that question.
67% of all retail investor accounts lose money when trading CFDs with this provider.
Exxon Mobil Stock – Technical Analysis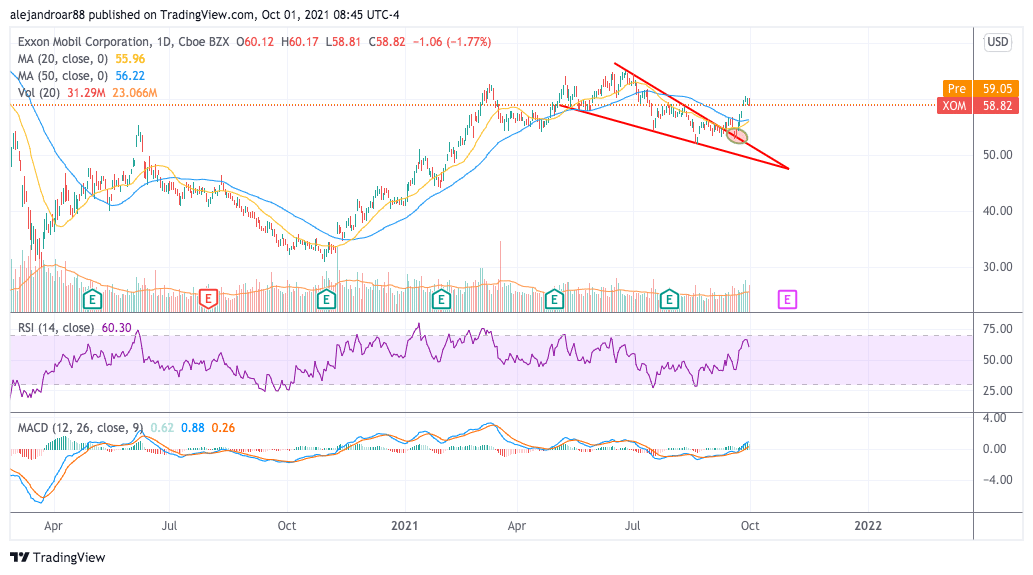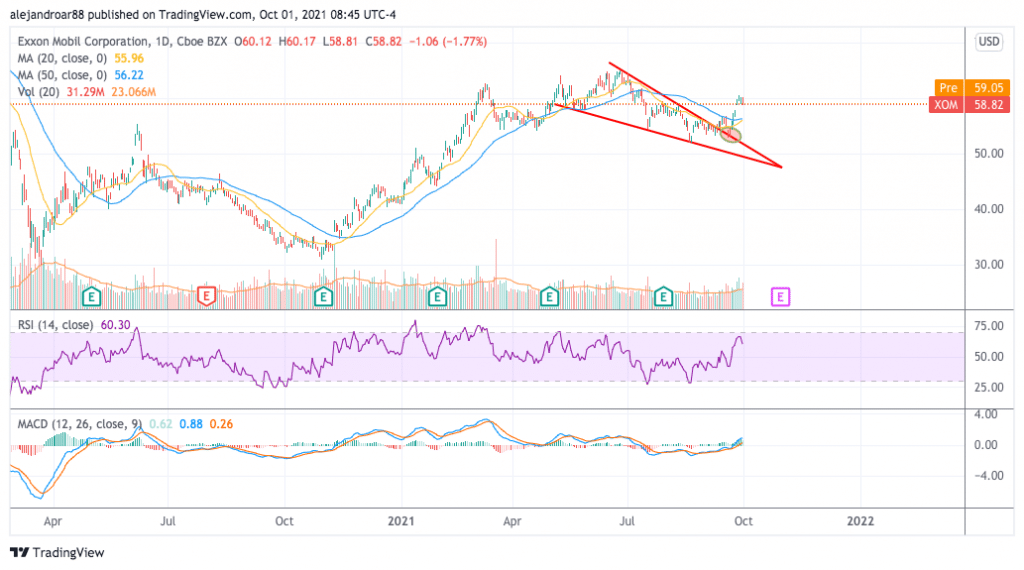 Exxon Mobil stock could be in the early stages of a short-term bullish cycle on the back of a break of a falling wedge pattern – typically considered a bullish formation. Shares of the oil giant moved above the wedge back in mid-September and bounced off the upper bound of the formation only days after to then jump rapidly to its current level of $58.8 per share.
As a result, the stock broke above its short-term moving averages – which now seem ready to post a golden cross – during multiple high-volume trading sessions.
Momentum oscillators are favoring a bullish outlook for XOM stock as well as the MACD has moved to positive territory above the signal line and this move is being accompanied by steadily rising positive histogram readings. Meanwhile, the Relative Strength Index (RSI) is rising to its highest levels since May this year.
Moving forward, technical indicators are favoring a bullish outlook and this positive development could result in the continuation of the current uptrend with a first target set at $65 per share for Exxon Mobil stock.
Exxon Mobil Stock – Fundamental Analysis
An improvement of $2.5 billion in Exxon's GAAP net profits would result in a 53% jump compared to the figure reported by the company during the previous quarter ($4.7 billion) and it should lead to GAAP earnings per share of around $1.71 or 24% higher than the consensus estimate for the upcoming third quarter.
Oil prices recently surged to $80 per barrel for the first time in three years amid supply-side disruptions caused by multiple hurricanes in the Gulf of Mexico and a rapid increase in the demand for crude as economies around the world continue to reopen.
According to industry experts, the outlook for energy prices is particularly bullish due to supplier's inability to keep up with the demand. The natural gas segment has been one of the most affected by this imbalance now that winter seasons in both Europe and North American are approaching.
This environment is bullish for energy companies like Exxon, which is favorably positioned to reap the benefits of higher crude and gas prices in the short-term, and today's report shows the extent to which the firm may see its bottom-line results jump amid this situation.
Yesterday, the media reported that China's right-hand man, Han Zheng, urged top energy executives within the country to secure supplies "at any cost", possibly anticipating the dire situation that the market will be submerged into during this last quarter of the year.
Using a simple run rate of this $1.71 EPS estimate for Exxon, the firm's forward P/E multiple for the next twelve months could be standing at around 8.6 – a highly conservative estimate for a firm in a such a favorable position.
Moreover, the company is offering an attractive 6% dividend yield that seems more stable than ever in the current environment. All things considered, Exxon Mobil stocks seems like a bullish mid-term bet based on the current situation of the energy market and its positive prospects.
Buy XOM Stock at eToro with 0% Commission Now!