Ethereum Classic up by 9.84% – Time to Buy ETC Coin?
Please note that we are not authorised to provide any investment advice. The content on this page is for information purposes only.
The global crypto market surges by 0.83% as Ethereum Classic takes off, motivating investors to buy ETC.
Ethereum Classic serves as a payment option for e-commerce firms, thereby building adoption.
Ecological development project Hebe focuses on building ETC products as the crypto asset scales in the market.
ETC is the native crypto asset of Ethereum Classic and a hardfork of the Ethereum Network. Ethereum Classic is dedicated to building more scaling solutions.
ETC ranks as the 28th most valuable crypto asset, dominating 0.26% of the entire crypto market. The digital asset has a 24-hour trading volume of $988 million, which has seen an 11.65% increase in the past 24 hours. ETC's live market cap is also up by 9.84% in the last 24 hours at a total of $3.2 billion.
With chart patterns indicating an uptrend, investors are poised to buy ETC at its current discounted price of $24.02 as it makes its way to higher price pegs. The technical indicators of the crypto asset exhibit what appears to be a major bullish run. Fundamental factors are also on the rise.
Ethereum Classic Partners with NOWPayments
Online merchants can now accept ETC as a payment option on their stores using NOWPayments. NOWPayments is a crypto payment gateway that allows entrepreneurs receive more than 50+ cryptocurrencies for their products and services. The company's recent ETC support would boost ETC adoption and further encourage more investors to buy Ethereum Classic.
NOWPayments would also offer a fiat-to-ETC feature. The feature is available to every partner of the e-commerce platform. With the feature, businesses can charge their clients in fiat currencies but receive payments in ETC.
To enable this feature, merchants need to create an account with NOWPayments and then specify their NANO public address to the preferred crypto asset in the settings section. Merchants can follow the prompts that ensue to start receiving payments in ETC.
BlockHebe Promotes Third-party Development on Ethereum Classic
Essentially, BlockHebe is a revolutionary and community-driven blockchain ecosystem that exists for the ecological development of the Ethereum Classic Network. The blockchain ecosystem demonstrates the rate of success that decentralised applications (dApps) deployed on ETC can achieve. BlockHebe was developed to create a surge of innovation in decentralised finance (DeFi), non-fungible tokens (NFTs), DAOs, and third-party developments on Ethereum Classic.
The Hebe team specialises in developing products on ETC's Ethereum Virtual Machine (EVM) while utilising its smart contract capabilities. Hebe enables the full integration of different applications on ETC and collects data from the blockchain, analyses them, and transforms them into useful information for various use cases.
Ethereum Classic Technical Analysis
Technical indicators of ETC suggest that the crypto asset has reset support prices and is on its way up to new highs. This price action opens up an opportunity for investors to invest in Ethereum Classic for future profits.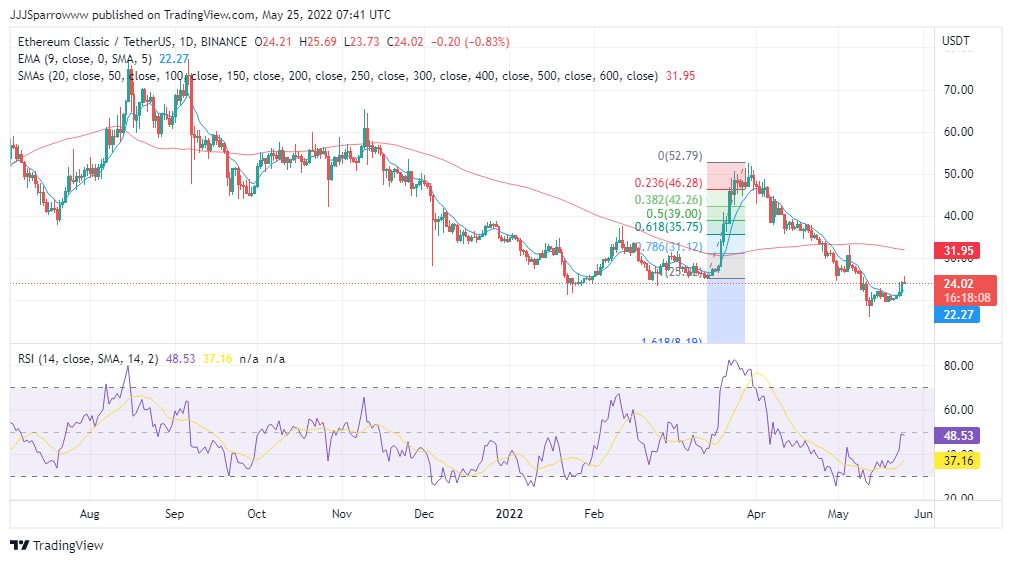 At press time, ETC is trading at $24.02, which is below the 61.8% Fibonacci Retracement value of $35.75 and the 50-hour Simple Moving Average (SMA) value of $31.95. However, ETC is above the 50-hour Exponential Moving Average (EMA) value of $22.27, which shows that the asset is already making its way up on the charts.
The Relative Strength Index (RSI) value of 48.53 indicates that ETC is trading in the underbought region with momentum building steadily. Furthermore, the RSI reveals that the asset is attracting more investors to buy ETC as it scales up in price.
Buy ETC at eToro from just $50 Now!