Ethereum Classic (ETC) Down 30% in Two Weeks – ETH Outlook Today
Please note that we are not authorised to provide any investment advice. The content on this page is for information purposes only.
Ethereum Classic (ETC) has been in the grip of the bears, losing up to 30% in the last two weeks. The price of Ethereum Classic has dropped by 30% in the previous two weeks, with ETC currently trading at $26.90 as of press time.
The market capitalization of cryptocurrencies temporarily surpassed Tuesday's trillion-dollar barrier last week. Although, the short drop rapidly erased this gain as the market continued to fall.
Ethereum Classic has fallen below $33.9, as Bitcoin, the world's largest coin, is failing to break through the crucial barrier of $19.7k.
Ethereum 

Classic 

Has

Had

a 

Bad

Week
Compared to Ethereum, the newer blockchain version Ethereum Classic is deemed secure. Ethereum Classic can address issues commonly encountered with the network's larger edition. Considering numerous advantages, Ethereum Classic has emerged as one of the most popular and well-known contract platforms. At the same time, it is also regarded as a long-term investment because of its safety.
The price of Ethereum Classic has dropped by 2.75% today to $26.90. A break below $30 could signal the start of a downward trend. However, an 8% increase could offset the negative image. Before entering a short position in the $27-$29 range, investors should wait for a price increase. The $30.54 support level could be the next target.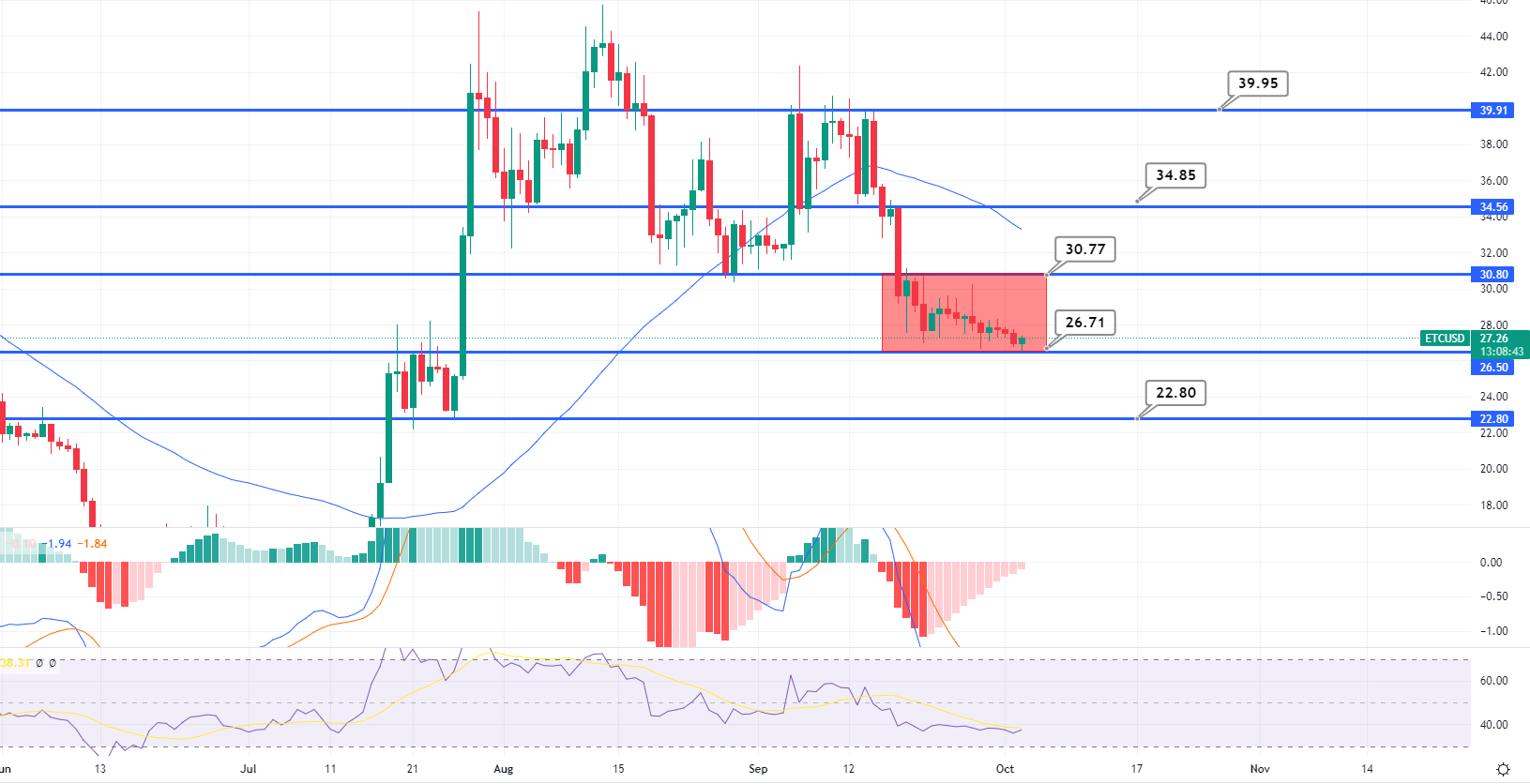 Ethereum Classic Price Chart – Source: Tradingview
Ethereum Classic is falling on the daily and weekly timeframes, confirmed by relative strength index (RSI) as it began to trend downward.
Ethereum Classic (ETC) Social Metrics Declined
Ethereum Classic experienced the most severe drops in July due to higher social metrics than in September. Whereas the company's involvement also decreased in August. In contrast, the company's development operations in August increased its social metrics. Despite the price drop, Ethereum Classic's social popularity is gradually recovering.
On the other hand, the loss of Ethereum Classic could be linked to the falling price of Bitcoin, which is now trading at a major resistance level of $19.7. After crossing the $20.7k mark, Bitcoin will need to break out of this range and move into a support zone to recover. This could open up opportunities for short-term investors.
Ethereum Price Prediction
Ethereum is currently worth $1,291.57, with a 24-hour trading volume of $8,524,066,638. Ethereum has dropped 1.76% in the last 24 hours. Ethereum is now the market's second most valuable cryptocurrency, with a live market value of $158,384,879,976. There are 122,629,383 ETH coins in circulation, with no maximum supply.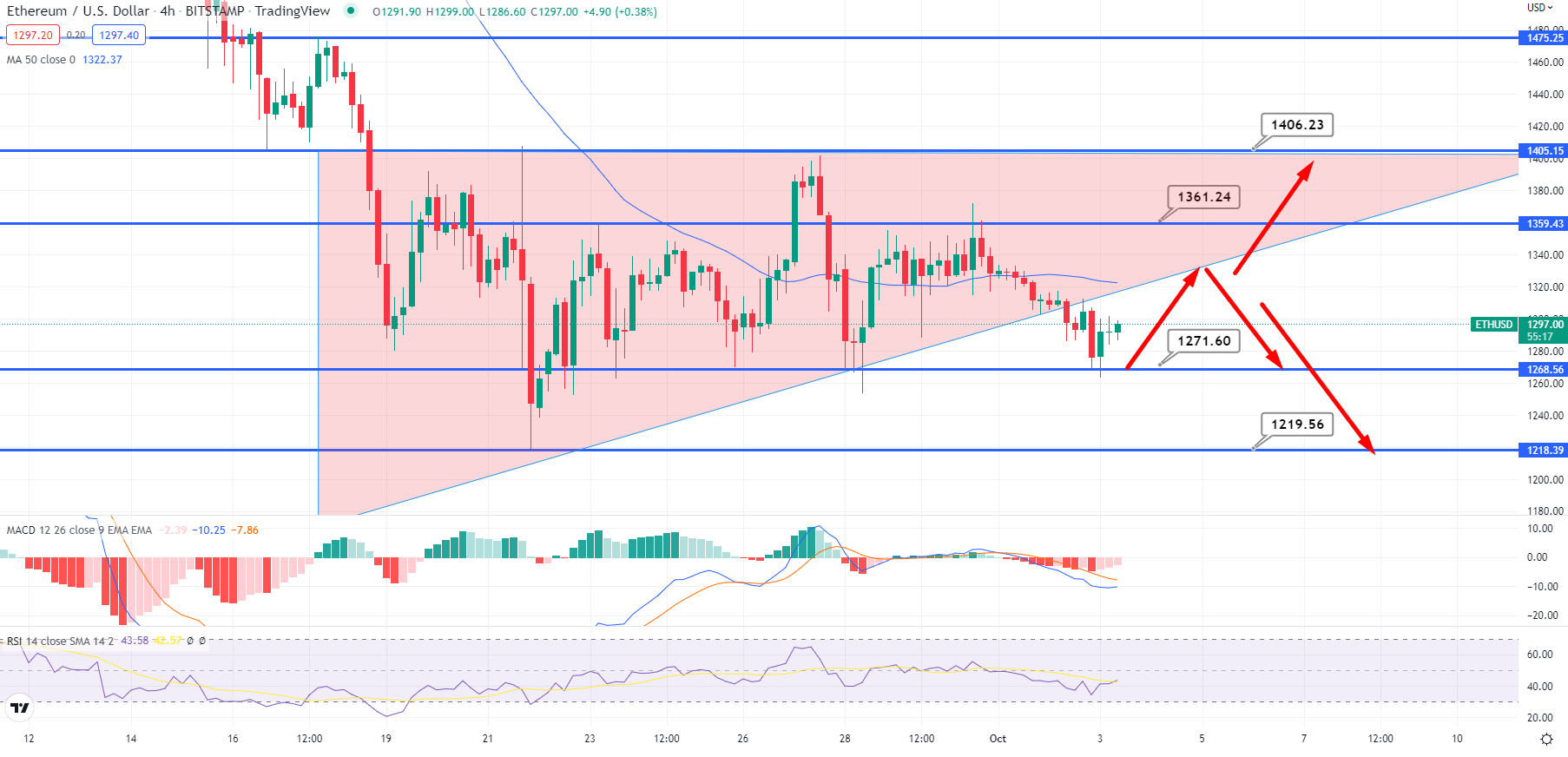 Ethereum Price Chart Price Chart – Source: Tradingview
If Ethereum falls below $1,300, it may be an excellent long-term investment. The ETH/USD exchange rate is trading in a tight range of $1,309 to $1,360. The 4-hour chart's rising triangle pattern indicates that Ethereum is forming a bullish trend. The 50-day moving average is Ethereum's current support level.
If this level is breached, the price may rise to $1,360, leaving it vulnerable to $1,404. If Ethereum's demand continues to increase, it may break through the $1,404 barrier, allowing it to trade for $1,475. However, its immediate support and resistance levels are $1,270 and $1,309.