EOS Price Up 11.89% – Time To Buy EOS Coin?
Retail investors have largely ignored the EOS blockchain, but recent price movements reveal that the popular 'Ethereum killer' is gradually becoming an investor's delight.
In the past 24 hours, the EOS token has been on a tear, rising 11.89%. This remarkable one-day rally has seen several investors want to buy EOS, given the general optimism that currently permeates the crypto market. This article looks into the EOS blockchain and whether the time is right for investors to snoop in and buy EOS.
EOS: Bridging Blockchain Tech With Future of Finance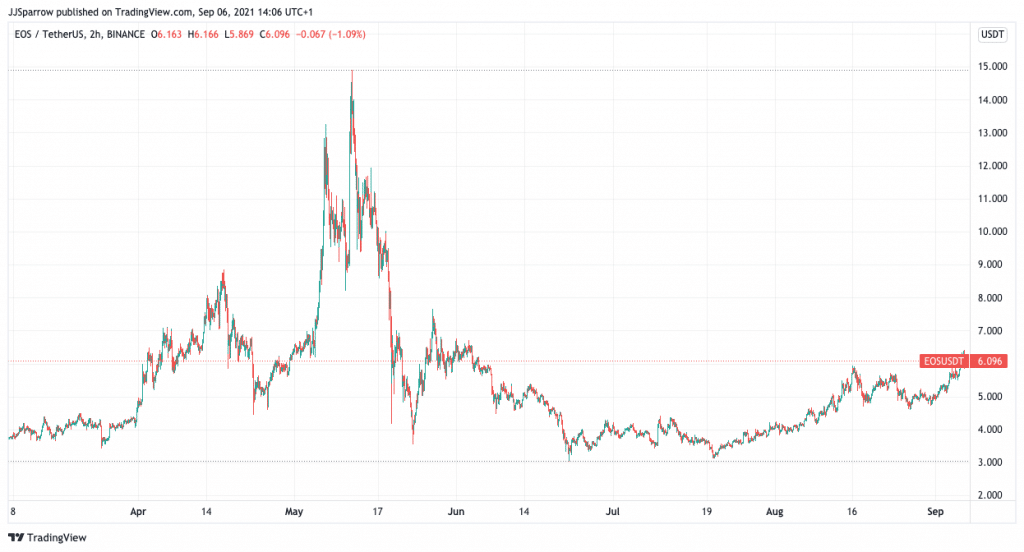 The EOS blockchain was launched in 2018 by Daniel Larimer and Brendan Blumer. The EOS platform is developed by Block.one, and the blockchain is reputed to have held the highest initial coin offering (ICO), grossing over $4 billion in 2017.
The EOS blockchain aims to foster the adoption of decentralized finance (DeFi) solutions and also plays host to non-fungible token (NFT)-enabled protocols. Facing stiff competition from mammoth DeFi facilitators like Ethereum and Cardano, EOS aims to attract development teams by creating a developer-friendly platform.
EOS was designed to make it easy for developers to build while learning everything they need to create easily on the EOS platform. EOS comes with a range of educational resources and improves the user experience for users and businesses.
Like several crypto protocols looking to topple Ethereum, EOS aims to be scalable, flexible, and interoperable than the more established crypto platform.
Aside from enabling the development of blockchain-based applications, EOS also provides secure access and authentication, data hosting, usage management, and communication between different decentralized applications (dapps) and the web.
The EOS.io serves as the network's operating system, and it uses blockchain tech for vertical and horizontal scaling of dapps. The EOS token serves as the fuel for the EOS ecosystem.
EOS Making A Recovery Following Sub-par Performance
The price history of the EOS token has been a mixed one with more challenges than successes. Breaking into the crypto limelight following its widely-acclaimed ICO, EOS surged to a record value of $21.54 on April 29, 2018, beating the previous high of $11.34 four months earlier.
However, the digital token has been on a downward spiral since, dropping to $10.38 a month later before making a rebound to $14.2 on June 5, 2018. With top premier virtual currency facing a bearish landmark for much of that year, EOS dipped in value, further slumping to a 52-week low of $1.84 in early December.
The digital asset made some efforts and recovered to $8.05 in May 2019 but could not shake off the bears. EOS traded on a $3 average for much of 2020, only making a resurgence during the April crypto boom this year.
This led EOS to rise to $14.37 on May 11, but the crypto market crash saw the digital asset fall once more to the $3 range.
Meanwhile, the recent crypto market recovery is paying huge dividends as EOS has doubled in value since July. The digital token is trading at $6.36, up 11.89% in the last 24 hours. The digital asset is on a bullish streak, given the 28.76% increase it has posted.
This rally could be a maker that the virtual asset is on course to reclaim its previous high, and you should buy EOS to rise with the market.
EOS Technical and Fundamental Analysis
Like several small-cap protocols, EOS has been tied to the price action of Bitcoin, meaning it only rallies when BTC does. Given this, EOS is showing a strong bullish streak on the daily chart. The digital asset is trading above the 20-day moving average (MA) support price of $5.344.
The relative strength index (RSI) is treading dangerously close to the overbought region at 69.26, which shows that investors are out to buy EOS.
This current interest in the token stems from its recent fundamental growth.
Per a release from the company, the popular NFT blockchain metaverse Upland has recently partnered with the EOS platform. The partnership is in accord with ClimateCare as the trio aim to promote blockchain sustainability by cutting down on carbon emissions.
Buy EOS at eToro from just $50 Now!