Enjin Coin Price Down By 7.64% – Time To Buy ENJ Coin?
The crypto market has remained in the red zone for a third consecutive day, yet many investors still see this as the best time to buy ENJ.
The market plunged into the red zone late Friday night and has remained there for days, with many large-cap crypto assets trading below their previous support prices.
The foremost cryptocurrency, Bitcoin (BTC), fell below the $50,000 support price to establish new support below $45,000, and many alternative currencies (altcoins) followed suit.
Enjin Market Position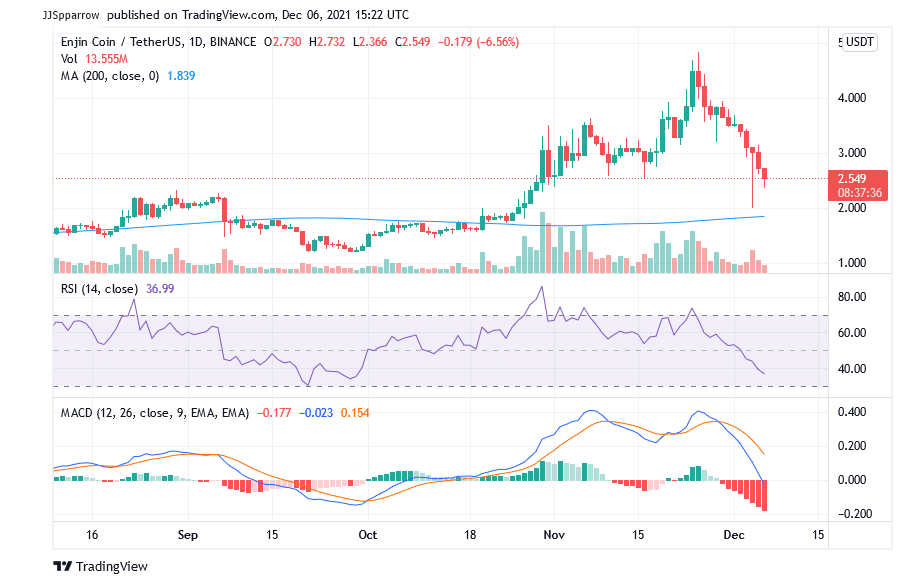 Enjin Coin (ENJ), an Ethereum token that promotes the easy use of non-fungible tokens (NFTs) has been hit by the downtrend in the crypto market.
At press time, Enjin coin is trading at $2.549, down 7.64% in the last 24 hours. Consequently, the gaming token has also lost 32.03% in price value over the last seven days.
ENJ has also shed some value on the monthly chart, losing 27.7% in value in the last 1 month. However, the blockchain-based gaming token is not all doom and gloom, as ENJ has recorded an impressive 1855% price gain year-to-date (YTD).
The ERC-1155 token is up about 1574.26% last year, showing a growing interest in gaming tokens among investors.
The Ethereum-based protocol, with 0.09% dominance of the $2.2 trillion crypto market, has a market cap of over $2 billion, down 7.64% in the last 24 hours. The 24-hour trading volume of ENJ stands at over $372 million, down 28.18% in the daily trading chart.
On November 25, the asset raced to a new all-time high (ATH) of $4.82 before hitting a strong resistance point. Even though the digital token has seen almost 50% of its previous gains shaved off, this moment presents the best opportunity to buy ENJ.
Enjin Coin Technical And Fundamental Analysis
Enjin, just like many other altcoins, is currently on a downward slope and trading below the 20-day moving average (MA) support price of $3.525, an indication of a bearish run.
However, the 200-day support price of $1.83 tells a different story, signalling a strong bullish run with a future potential to gain back lost ground.
The relative strength index (RSI) of 36.79 reveals that the Enjin coin is trading in the underbought region.
This reflects an ideal opportunity for investors to buy ENJ and rise with the market to make even more profit.
The coin's moving average convergence and divergence (MACD) has the orange trendline indicator soaring above the blue trendline, pointing to a sell order.
On fundamentals, Enjin is building a new network known as Efinity. The network's major aim is to provide a base language through which all blockchains and non-fungible tokens (NFTs) can communicate seamlessly while using a universal translator.
Efinity will bring scalability and interoperability, thereby solving the problems of congestion, high energy consumption, and exorbitant fees that is synonymous with the Ethereum network.
Also, Enjin's NFT marketplace has brought in about $20 Million from EFI token sale on CoinList. This latest sale brings the total marketplace funding to about $38.9 Million.
Enjin coin has recorded another huge success by becoming the first gaming cryptocurrency to be approved by regulators in Japan.
This is some good news for ENJ, and it shows the great work that the developers of the token have put into it. Japan has a rich history of technological inventions and a large market for digital gaming.
Without a doubt, this new development will further help push up Enjin coin price in the coming days.
Enjin Coin is also set to launch a new product, Jumpnet, a blockchain that operates at hyper speed.
Buy ENJ at eToro from just $50 Now!