EasyJet Share Forecast September 2021 – Time to Buy EZJ Stock?
Shares of the British airline group easyJet (LSE: EZJ) are in the red today at 589.2p as of September 14th (08:22 UTC+1). The airline's shares have dropped more than a quarter since it launched a £1.2 billion rights offering last Wednesday. The disclosure that states its competitor Wizz Air had launched a takeover attempt for easyJet last week has prompted worries that the carrier will remain to be the target of acquisition bids. Is EZJ worth investing in right now? Let's take a look.
easyJet – Technical Analysis
As per the financial statement of easyJet, the market cap of the budget airline company is at £3.095 billion with total assets worth £8.308 billion. Total revenue for 2020 was at £3.01 billion, compared to £6.38 billion a year ago.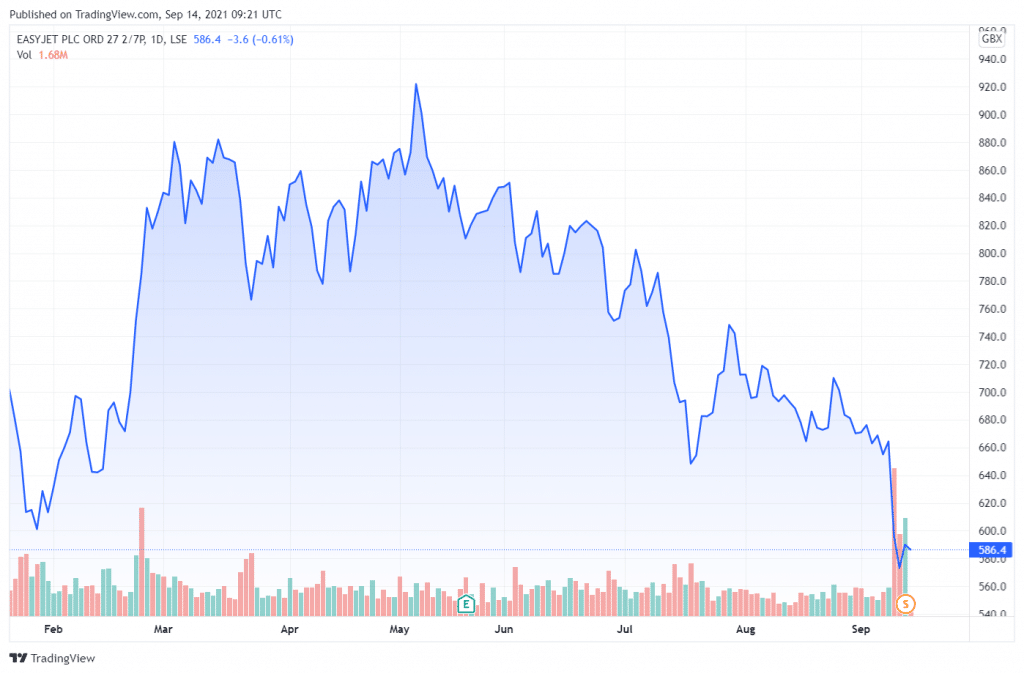 Moving averages for easyJet such as Exponential Moving Average (10)(704.7), Simple Moving Average (10)(731.3), Exponential Moving Average (20)(750.6), and Simple Moving Average (20)(770.6) are pointing towards selling. Oscillators including Relative Strength Index (14)(18.1), Stochastic %K (14, 3, 3)(7.7), Average Directional Index (14)(22.0), and Awesome Oscillator (−124.6), on the other hand, are neutral.
67% of all retail investor accounts lose money when trading CFDs with this provider.
Recent Developments
A disappointing financial announcement is usually the catalyst for a rapid drop in share prices. However, the scenario is a little unusual in the context of easyJet. For starters, its competitor Wizz Air had approached the business about a possible purchase, although, the attempt was officially rejected by the easyJet board, and the proposal was withdrawn.
After rejecting Wizz's offer, easyJet announced on Thursday that it will seek a £1.2 billion rights issue and raise US$400 million in debt to fund its airport expansion. Current shareholders will be able to purchase an extra 31 shares at a reduced price of 410p per every 47 shares they already hold. This discount represents a 50% reduction before the current collapse in the easyJet share value. That seems like an excellent bargain unless you realise that the rights offering is causing a 40% diluting impact for individuals who are hesitant to expand their share.
It's the second time it's appealed for money during the Covid-19 epidemic, with its dilutive rights offering. As a result, it is quite reasonable to see investors exit positions.
Should You Buy easyJet Shares?
It's essential to note that, as unpleasant as the diluting impact might be, it also gives easyJet with more capital for future projects. Once the impacts of the pandemic are starting to fade off, the managerial team plans to use the funds obtained to take into account different investment possibilities in the tourism industry. EasyJet intends to keep updating its fleet to the next age of aircraft, according to the report. These aircraft are expected to use 15% less fuel and be 50% quieter when taking off and landing. Apart from having a lesser environmental effect, reduced fuel usage will almost certainly result in lower operational expenses.
However, the share had already been down approximately 30% from its peak in May before last week started. And it's safe to say that the previous 18 months haven't really been fair to this company. From here, only if the price proceeds to the negative and enters an oversold condition, the share might be worth a lot of value. That outlook will hold until EZJ climbs over the 200-day moving average, which is at 892p, much above the current market valuation. Thus, for the time being, investors must remain patient and wait to observe how the easyJet share performs in the upcoming times.
Buy EZJ Stock at eToro for just $50 Now!