Dropbox Stock Price Forecast September 2021 – Time to Buy DBX Stock?
Please note that we are not authorised to provide any investment advice. The content on this page is for information purposes only.
When the stock market takes a positive turn, most investors seek fast-growing company stocks to nullify any losses that they might have suffered. Technology company stocks stand out as one of the most appropriate choices when you want something capable of producing big gains in a short period. But if not chosen correctly, these selections could also lead to one's downfall just as quickly.
There has to be a consistent growth prospect in every stock that you choose like Dropbox. This tech company seems to be in a great position to record future earnings growth. Let us find out whether it is time to buy DBX or not through careful analysis.
Dropbox Stock Price – Technical Analysis
Evenflow Inc. was renamed in October 2009 to Dropbox, a collaborative platform where individuals and organisations could stock, store, and utilise data in different formats for free using an application or website. All those who have ever used Dropbox for work purposes know that the Google Drive similar service also launched paid subscription offer to expand storage space and other premium features.
According to Dropbox, the company managed to get over 700 million registered users based in 180 countries around the globe by the end of 2020. The San Francisco-based software company has over £9.23 billion in total market capitalisation with a £9.06 billion enterprise value. Its latest income statement shows £1.37 billion in revenue within the last year with gross profit of up to £1 billion.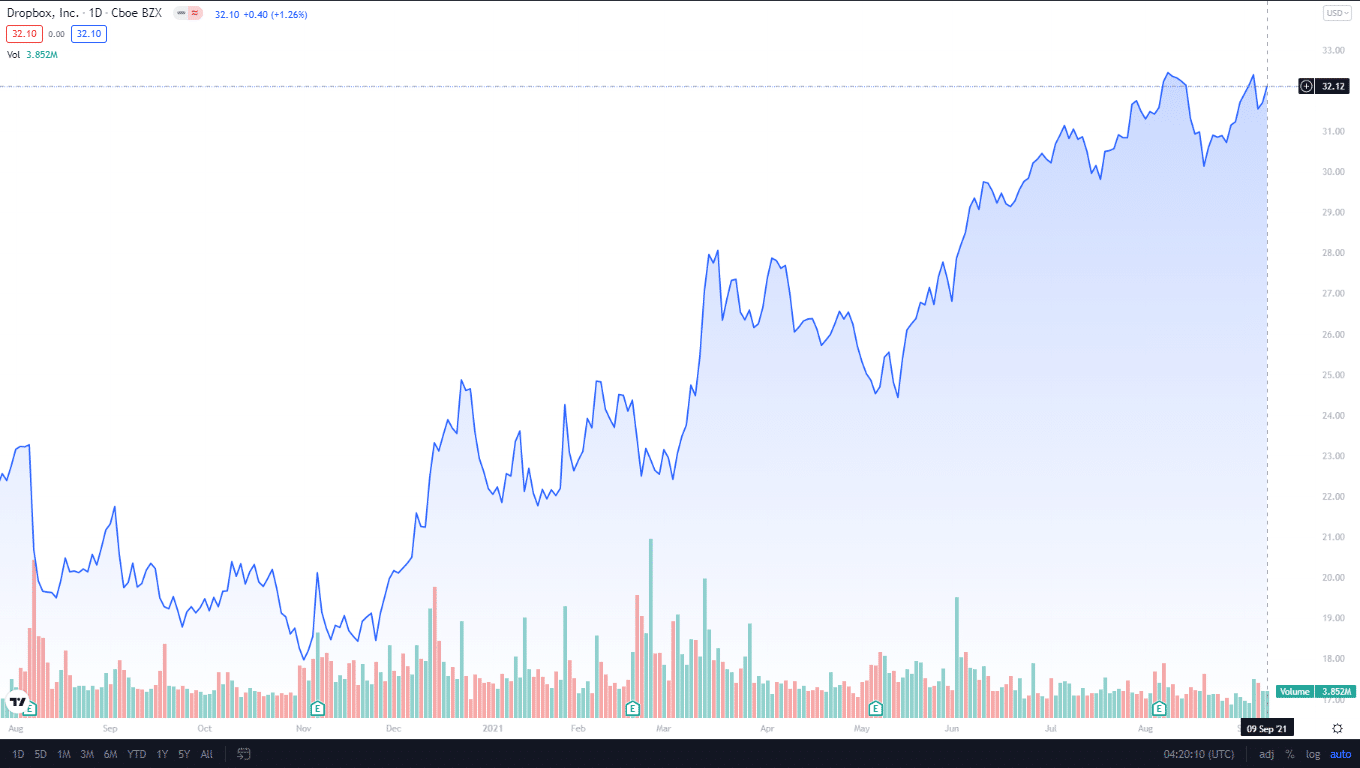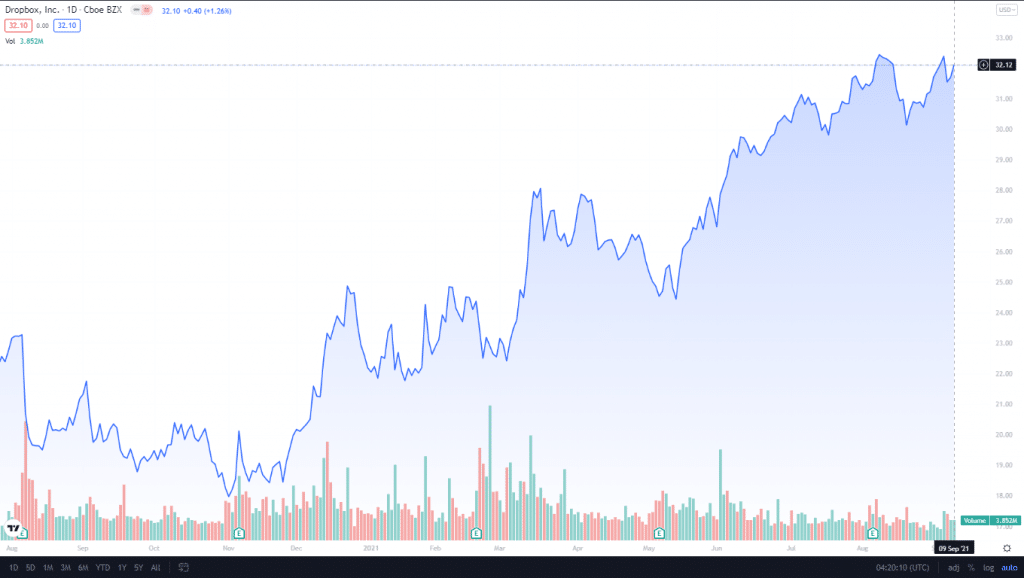 According to the technical perspective, Dropbox stocks have been in a clear buy zone for the past 24 hours for obvious reasons. Experts are seeing DBX as a proper long-term opportunity due to the steady building uptrend which could play out profitably in the days to come. The next earnings report is scheduled for November 12, so there is a lot of time to keep Dropbox on our watchlist. Total 17 technical indicators including both oscillators and moving averages like MACD (0.23), RSI (58.69), SMA (31.66), and EMA (31.71) are pointing towards a strong buy price action for DBX at the moment.
67% of all retail investor accounts lose money when trading CFDs with this provider.
Recent Developments
Dropbox offers 3 versions of its products on its platform that are known as Basic, Plus, and Professional. Each of these varieties gives users some efficient and powerful features that help finish a task easily. Dropbox also released a relatively new product called Dropbox Paper to allow a collaborative workplace for users around the world.
In the past years, Dropbox has consistently improved its position in the Google-led market and is still the only trustworthy service that offers no less than 1TB of space to its users for storing media, documents, and other important files safely over its cloud-based server.
Reasons to Buy DBX Stock
Dropbox's Q2 average revenue jumped by more than 4.5% and the CEO Drew Houston has signalled that the company is well on its way to see improvement in customer retention. The management of the company is also said to be reinvesting back into the business, restarting the hiring process, doubling trial duration for users to bring user growth as well as product development to win against competitors in a post-COVID-19 era.
Its multi-year expectations have been met with profits, CFO of Dropbox, Tim Regan stated that they are targeting up to 30% non-GAAP operating margins and by 2021 it touched 32%. That is why it seems like the best opportunity to enter Dropbox for the short/long term (preferably the latter)
Buy DBX Stock at eToro from just $50 Now!