DoorDash Stock Price Forecast January 2022 – Time to Buy DASH Stock?
Please note that we are not authorised to provide any investment advice. The information on this page should be construed for information purposes only. We may earn commissions from the products mentioned on this site.
The last few months have been terrible for growth stocks and DoorDash (NYSE: DASH) is no exception. The stock has fallen by almost 30% over the last year while the S&P 500 is up 25% over the period.
DASH stock is now down over 45% from its peak. What's the forecast for the stock and is it a good buy in January 2022?
DoorDash had a blockbuster IPO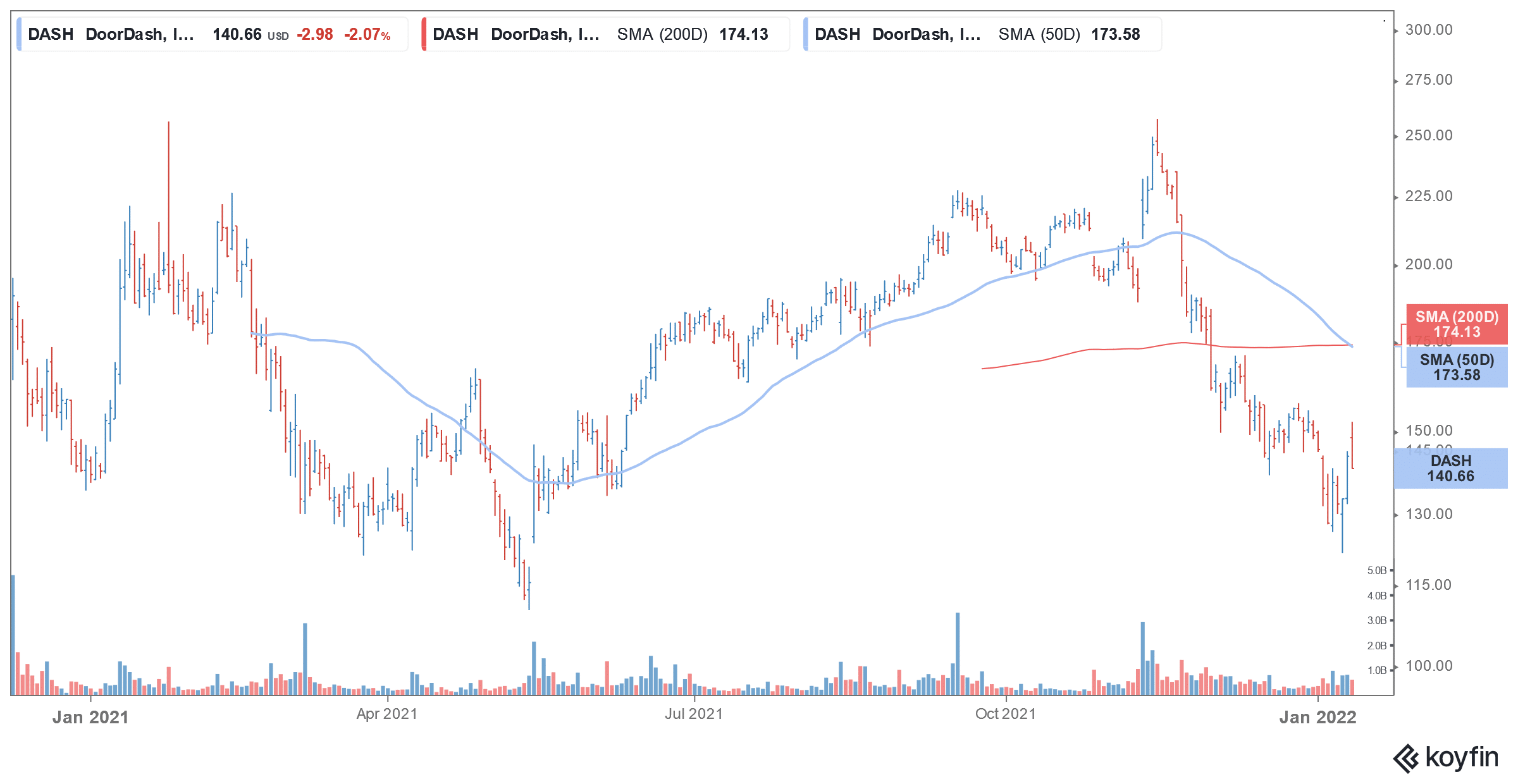 DoorDash went public in December 2020. It was an exciting year for US IPOs and many stocks doubled on the listing day. Both DASH and Airbnb went public in the same week and both the stocks soared on the listing day. DoorDash priced the IPO at $102 per share, which was way above the initial price range of $75-$85. The company had increased the IPO price range to $90-$95 during the IPO process itself.
DASH listed in 2020
DASH IPO summed up everything that was going right with IPOs. Companies were generously increasing the IPO price and even it did not deter investors. Tech IPOs, especially growth companies that were witnessing a bump in sales due to the pandemic were in hot demand. DoorDash commanded a valuation of $39 billion in the IPO, which was over twice its private market valuation at the beginning of the year.
The company was valued at only about $1.4 billion in 2018 and its valuations jumped by 25x in less than three years. To be sure, DoorDash wasn't the only company that listed at a massive premium to its private market valuation. Most IPOs of 2020 listed at massive premiums and even Berkshire Hathaway invested in Snowflake, which was among the most highly-priced IPOs of all time.
As Airbnb and DASH almost doubled on the listing, at least two companies, Affirm and Roblox delayed the IPO to 2021 so that they can increase the price and don't leave too much on the table for new investors.
68% of all retail investor accounts lose money when trading CFDs with this provider.
Growth stocks have tumbled
Meanwhile, growth stocks, especially those whose revenues had surged during the lockdowns are now witnessing a growth slowdown. Also, markets have been in general been turning bearish on richly valued tech stocks that have all their profits skewed towards the future. DoorDash has been in the penalty box for all these reasons and it's reflected in its price action as well.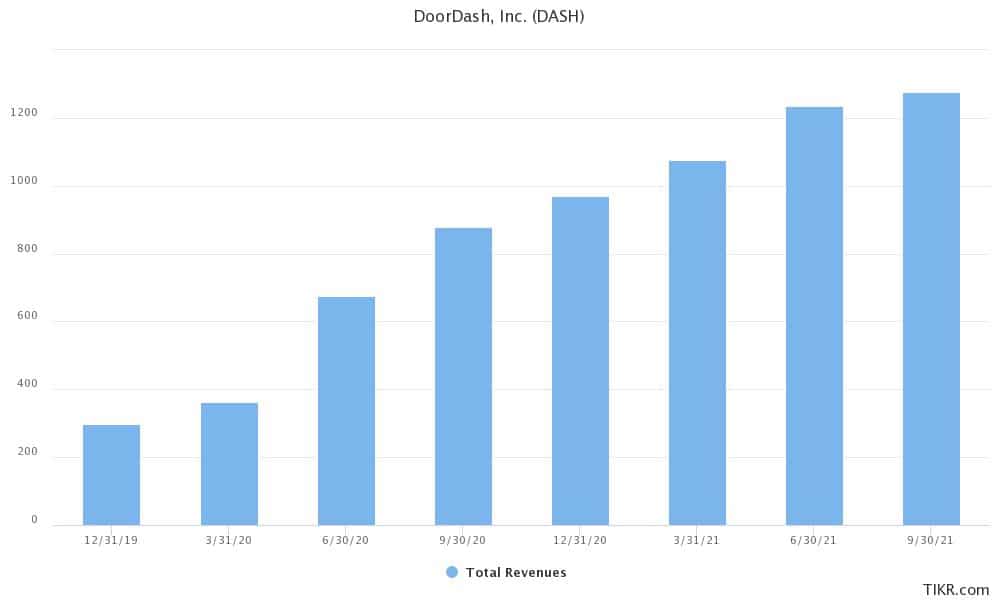 To be sure, DASH still trades above the IPO price. Ride-hailing and delivery companies have otherwise have had a terrible run as publicly-traded companies. Both Uber and Lyft, which went public in 2019 are below the IPO price. Deliveroo and Grab which went public last year are also way below the IPO price.
DoorDash stock recent developments
DoorDash has been making new partnerships to increase the business. Last year, it announced that it would enter the instant grocery delivery business in New York City. "As the largest and most reliable logistics network in the US, DoorDash is positioned to enter this emerging industry and provide consistent quality, speed and convenience that customers know and trust. Many New Yorkers already turn to DoorDash for their next meal or essentials purchases, which puts us in an exciting place to deliver on the promise of ultra-fast delivery," said Christopher Payne, DASH CEO.
In November, it has partnered with beauty retailer Ulta Beauty for same-day delivery. Demand for delivery services has been gradually rising even as the growth rates are below pandemic highs.
DoorDash stock forecast
Wall Street analysts have a split rating on DoorDash stock but it has a consensus buy rating. Of the 23 analysts covering the stock, 12 have a buy rating while 11 have a hold rating. The stock has a median target price of $225 which is a premium of almost 60% over current prices. Its street low target price is a premium of almost 25% while the street high target price of $270 is a 92% premium.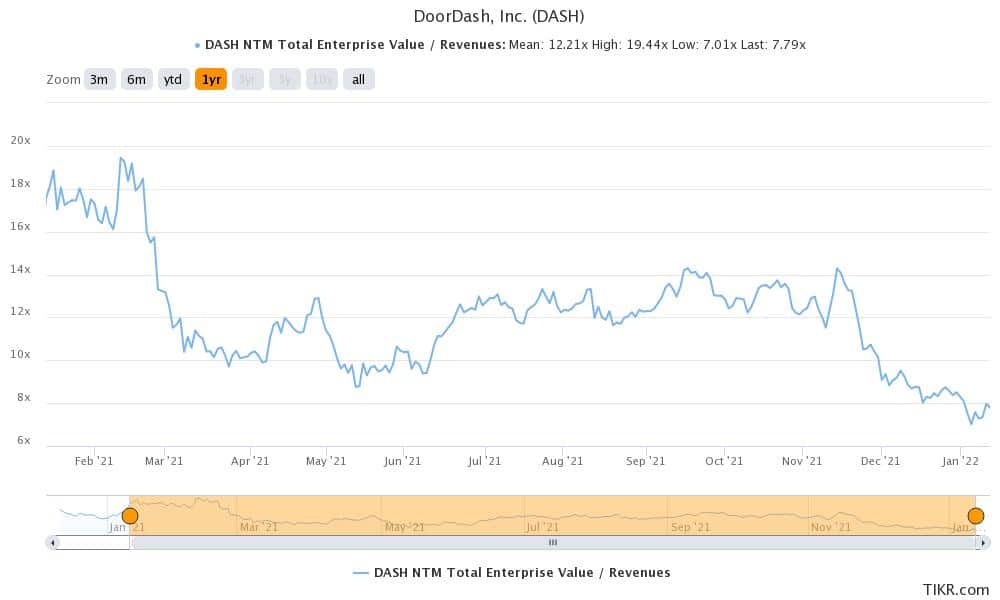 Evercore ISI raised DASH's target price
Yesterday, Evercore ISI increased DASH's target price to $256. "While most of our speculative Tech names have traded off due to interest rate scares, we are buyers of DASH given its strong growth fundamentals and reasonably impressive profitability among Online Food Delivery players," said Evercore's Mark Mahaney.
He believes that DoorDash is among the best positioned in the industry to reach profitability. "DASH is the only industry player expected to be profitable in 2022 … which we think will afford DASH more resiliency given potential interest rate hike," said Mahaney in his note.
DoorDash stock long-term forecast
According to the estimates compiled by Koyfin, DoorDash is expected to report a topline growth of 68.5% in 2021. However, its YoY sales growth is expected to taper down to nearly 23% in 2022 and 2023.
Meanwhile, analysts expect it to post an adjusted EPS of $0.32 in 2021 which is expected to rise to $0.66 in 2022 and $1.67 in 2023. The company is expected to become GAAP profitable in 2023.
Should you buy DASH stock?
DASH stock trades at an NTM (next-12 months) EV-to-sales multiple of 7.8x. Given its superior track record on profitability as compared to peers, the company can command such valuations.
Meanwhile, DoorDash stock is not looking bullish on the charts and there has been a death cross formation as its 50-day SMA has fallen below the 200-day SMA. While it is a lagging indicator it often signals a long-term bear market.
While DASH stock looks like a good buy for the long-term, Uber seems to offer better value at current prices. Uber is a play on both the food delivery and ride-hailing business and the company has been taking measures to address its perennial losses. From a relative standpoint, Uber could be a better buy as compared to DoorDash at these price levels.
Buy DASH Stock at eToro from just $50 Now!