Dogecoin Price Up By 11.63% – Time To Buy DOGE?
Please note that we are not authorised to provide any investment advice. The content on this page is for information purposes only.
Crypto market rebound sees Dogecoin rally, which presents investors with a good opportunity to buy DOGE
AMC Theatres plans to accept Dogecoin as a payment method still on course
Dogecoin community in joint efforts to secure a cleaner environment
The crypto market has rebounded in recent times, seeing an increase of 3.68% in the last 24 hours and valued at $2.08 trillion. Dogecoin is one of the crypto assets on an uptrend, and many investors will be looking to buy DOGE.
In the last day, Dogecoin has gained 11.6% and 7.58% in the last 7 days. This price rally is coming on the back of DOGE enduring several weeks in the wools. The meme token broke through the $0.22 support level, which had been sustained for a long time as the bears took over.
Dogecoin Fights off Bears as Crypto Market Rebounds
The favourite cryptocurrency of popular SpaceX and Tesla CEO Elon Musk has struggled against the bears after attaining an all-time high of $0.73 on May 8, 2021. Many analysts are optimistic that the puppy-theme token will surpass the $1 in the days to come.
Dogecoin had some impressive moments in 2021. Popular social media forum Reddit has cryptocurrency as its number one topic for 2021 with dog-theme crypto asset, Dogecoin the number one crypto topic. The meme token surpassed crypto market leader Bitcoin (BTC) to be named the most searched crypto topic on Reddit.
However, 2022 did not start on a good note for cryptocurrencies, but Doge has begun to see a price rally which could see the digital asset set new resistance.
AMC Theatres To Integrate Dogecoin As Payment Method In Q1
Meanwhile, the world's largest movie exhibition company, AMC, after announcing the company will offer support for Dogecoin back in November 2021, has made further clarification that the implementation will begin in the first quarter of 2022.
Chief Executive Officer of AMC Adam Aron made this clarification in a tweet when he stated that he had repeatedly answered questions on this subject matter. He stressed that plans are still underway, and this move will likely be finalised in March.
The prospect of this announcement being executed and many other innovations on the network blockchain will propel Dogecoin to sustain enough rally and break the $0.19 immediate resistance and be on course for a new all-time record.
Dogecoin Community Join Efforts For A Cleaner Environment
In another development, the Dogecoin community decided to take a bold step when community members formed a synergy group, raised 163428 DOGE coins and cleaned up the environment. The group successfully removed about 42,000 pounds of trash from the ocean.
This initiative is a welcome development, especially in recent times when there has been some concern about cryptocurrencies and the effect of energy consumption on the environment.
Technical Analysis Of Dogecoin – Dogecoin Maintains Bullish Run Of Form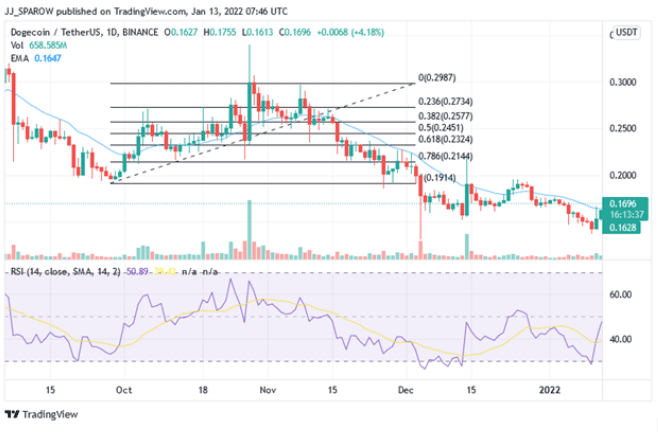 The number one meme coin, DOGE, is trading above the 20-day exponential moving average (EMA) support price of $0.1647, which shows that Dogecoin is on a bullish ride.
The relative strength index (RSI) of 50.89 indicates that the digital asset is trading in the underbought region, and more investors can still enter the market to buy DOGE and ride the market.
Investors looking to enter the market can set a buy DOGE order at $0.1415 and ride the market up until the 0.78 Fibonacci level ($0.214), which represents a 42.42% price gain opportunity. A stop-loss order can be set at $0.159.
Buy DOGE at eToro from just $50 Now!