Dogecoin Price Loses 1% – Time To Buy Dogecoin?
Dogecoin has always been in the news this year. The asset has benefited from several pumps, moving from the $0.0048 price point at the beginning of the year. Even though the market is currently in a downturn, DOGE has done incredibly well. Several investors with crypto appetite are considering whether to buy Dogecoin.
An asset that was developed as a parody coin has risen to become the sixth most valuable cryptocurrency. DOGE's price movement this year has been nothing short of impressive, with the asset gaining 6,633 percent since the beginning of the year.
With increased visibility, many will recommend that you invest in Dogecoin. The asset has an undying fan base – including Tesla CEO Elon Musk. Its price fundamentals are also relatively strong, and its relative affordability makes it less of a risky investment overall. Below, we will go into detailed analyses of the Dogecoin price to see whether it's a strong buy option:
Dogecoin's Value Proposition
To be fair, Dogecoin doesn't exactly have a value proposition. Like most other cryptocurrencies, it can be used to make payments and can be sent from one person to another. Unlike many of these assets, however, Dogecoin wasn't exactly built to serve any purpose.
Created as a meme, Dogecoin was merely a parody of how crypto fever shook the world in late 2016/early 2017. However, the asset caught on for some reason and has managed to rise through the ranks.
For 2021, the Dogecoin frenzy began after Reddit investors – fresh off the GameStop short squeeze – turned their attention to the asset. A Reddit moderator asked on Twitter whether Dogecoin had ever crossed the $1 price peg, prompting several Reddit groups and investors to buy Dogecoin and pump its price.
As a result, Dogecoin saw its first pump in 2021. The Dogecoin price jumped 800 percent in 24 hours between January 26 and 27, according to CoinMarketCap data. It jumped another 150 percent on January 28, with its price eventually landing at $0.0574.
The Elon Musk Effect
Dogecoin has also enjoyed significant benefits from the hype-driven by Elon Musk. The Tesla CEO has long been a fan of Dogecoin, and he recently became a crypto bull after witnessing last year's Bitcoin rise.
Tesla itself bought $1.5 billion worth of Bitcoin in February, prompting the leading digital asset's price to surge past the $50,000 mark for the first time. At the same time, Musk had continued to pump Dogecoin on Twitter, sharing memes and quirky tweets to his millions of followers. These included a meme about a "Doge barking to the moon," as well as another showing him propping up the asset.
Another Pump Pushes Doge
The next pump in the Dogecoin price came in April. On the 13th of the month, the asset, which was trading at $0.073, suddenly shot up in value. Over the next week, Dogecoin would hit a high of $0.4103 – a staggering 462 percent gain in 7 days.
Many had rushed to buy Dogecoin in anticipation of May's "Doge Day," but the price didn't rise. Despite this disappointment, the April pump was already sufficient. Even without Musk tweeting memes, people had rushed to invest in Dogecoin and had made significant gains.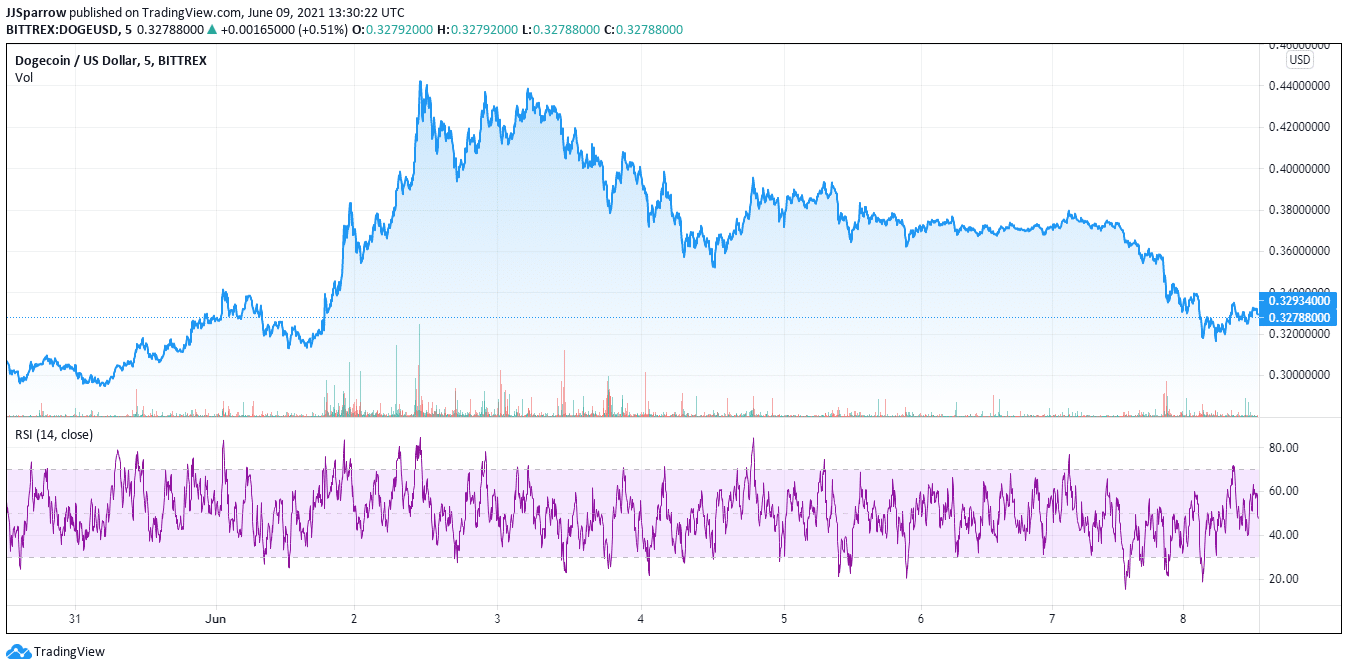 The April pump coincided with gains in several other large-cap assets. While Dogecoin was hitting a then-all-time-high of $0.41, Bitcoin was also breaking milestones. The leading cryptocurrency hit $63,000 for the first time and managed to consolidate above the $60,000 line for a few days.
Other crypto assets like Binance Coin, also hit successive all-time highs in April, marking an altogether good month for cryptocurrencies.
The Market Downturn Hits Dogecoin
With asset prices still on the rise, Dogecoin moved into May with even more momentum. Musk announced his upcoming appearance on the famous sketch comedy show Saturday Night Live (SNL), titling his segment "The Dogefather."
Per usual, the excitement was palpable. Many rushed to invest in Dogecoin – whether because they finally believed in the asset or because they were looking to capitalize on the frenzy. Either way, the buying surge pushed Dogecoin to a new all-time high of $0.745 – which the asset held on to on the day before the SNL skit.
Sadly, Musk's appearance on SNL was a dud. It failed to push DOGE, partly because many were unimpressed with the billionaire's explanation of what the asset is. Plus, Musk called DOGE a "hustle."
Soon after, DOGE was hit hard by the market downturn of May. The Dogecoin price bottomed out at $0.24 on May 23 – just days after it had consolidated above $0.40.
Only a few assets have been able to exemplify the market downturn that came last month. Dogecoin was one of them. Ever since the downturn began, DOGE has surged past $0.40 three times. Sadly, it has been unable to hold on to that value since then.
Should You Buy DOGE?
We believe that DOGE currently presents an interesting buying opportunity. The asset is still in the depths of its recent price trend, and this could mean a chance to buy the dip.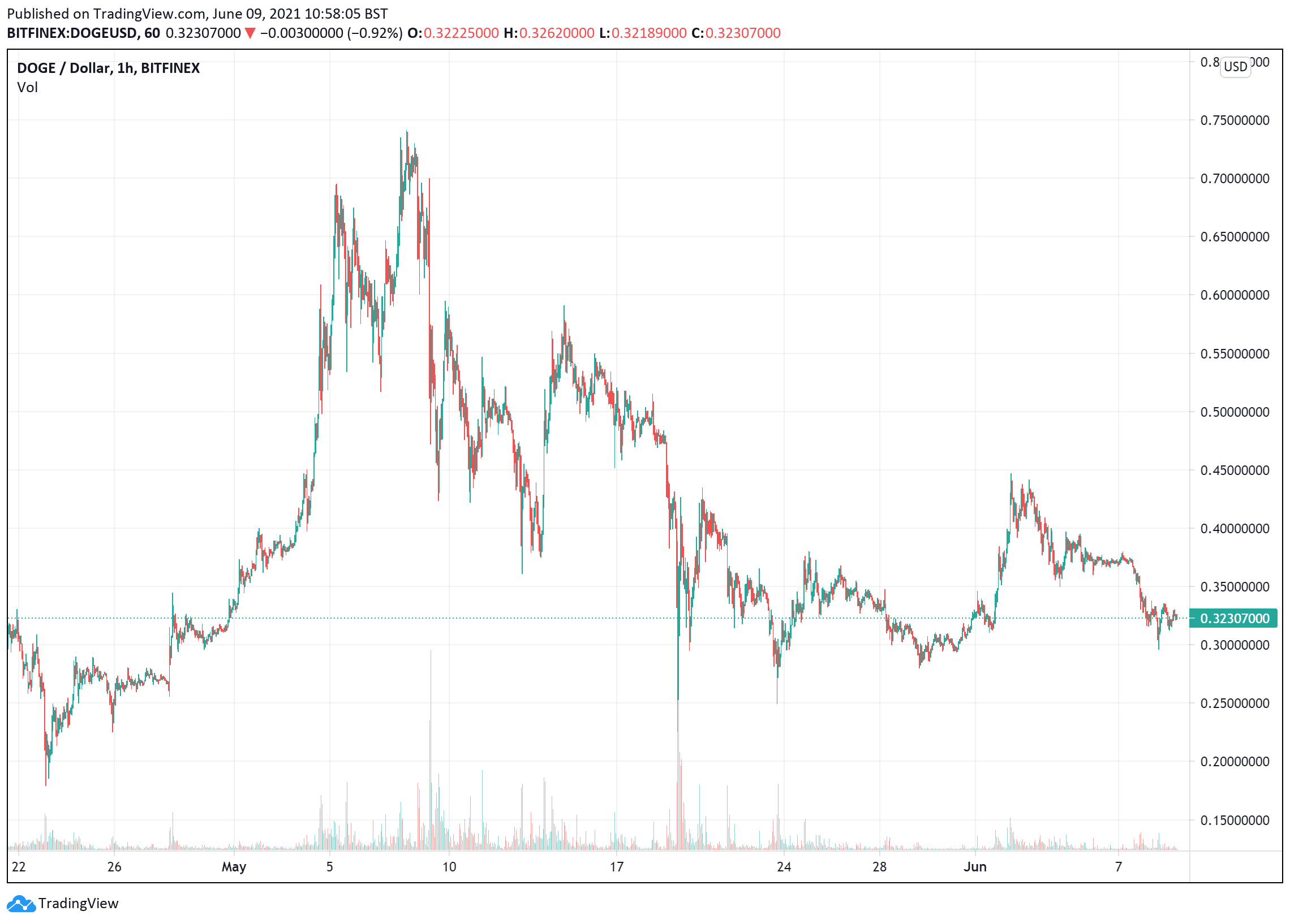 Currently, Dogecoin's price sits at $0.3225 – down 1.68 percent in the past 24 hours and 19 percent in the past week. As explained earlier, DOGE has been consolidating in small bursts since May. This is an indication that the asset is looking to move higher. However, general market sentiment has continued to affect it.
Confirmation of a new rally will come when DOGE manages to hit $0.40 again. We saw this happen last week as DOGE climbed above $0.40 again and topped out at $0.46. If DOGE manages to clear the $0.40 level again, it could signal as much as a 12 percent leg up to $0.45. Clearing this establishes new support that could see DOGE reclaim anywhere between $0.48 to $0.51.
Right now, DOGE is building momentum. The only problem is that the entire market is still experiencing a hangover from last month's downturn. Once the bulls begin to vie for control of the market, DOGE should see its price increase.
Where To Buy DOGE
We recommend buying DOGE from one of the UK's top rated brokers, eToro. Rated 10/10 by several reputable platforms, you only have to glance over their multi-asset offering and features such as CopyTrader to see why.
Open an eToro account in under 10 minutes with seamless ID verification. As soon as you've deposited funds, they'll be readily available for you to begin buying dogecoin – quick, fast and easy.
Looking to buy Dogecoin (DOGE) now? Invest at eToro!
75% of all retail investor accounts lose money when trading CFDs with this provider.