Dogecoin Price Down By 1.86% – Time To Buy DOGE?
What is Dogecoin and when is the best time to buy DOGE? In this review, we analyze the recent price movements of Dogecoin and why so many investors are interested in buying the asset.
Dogecoin: The Leading Meme Coin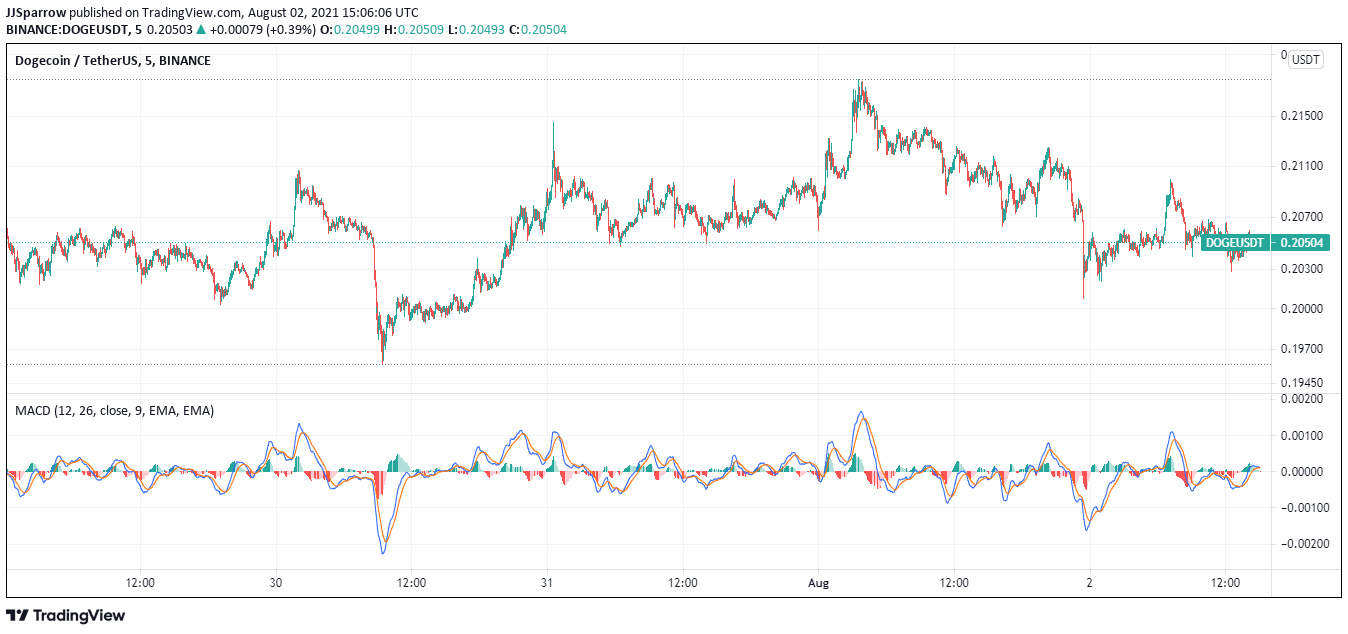 Dogecoin was created in 2013 by Jackson Palmer and Billy Markus as a joke on the rapidly evolving alternative currencies (altcoins).
Dogecoin is a decentralized, open-source, peer-to-peer network that uses a proof-of-work consensus algorithm. It is based on the popular "Doge" Internet meme and features a Shiba Inu on its logo.
Unlike other blockchains like Bitcoin and Ethereum, Dogecoin uses an underlying technology derived from Litecoin. The technology is known as the Scrypt algorithm.
The network requires miners to validate transactions and secure the network from bad actors who would seek to manipulate the blockchain's record of transactions.
There are already more than 128 billion Dogecoins in existence as the numbers do not have a maximum limit, unlike Bitcoins, whose maximum mineable coin is fixed at 21 million.
67% of all retail investor accounts lose money when trading CFDs with this provider.
DOGE Price On A Rollercoaster
Dogecoin has had its share of volatility. The coin has seen its value plummet with the broader crypto market this year.
Nevertheless, Dogecoin is still a force to reckon with in the fast-growing crypto ecosystem.
Dogecoin is popular for a few reasons. Some of them include the asset's large community.
DOGE has a community of token holders who have contributed widely to the success of the coin since inception.
Over time, Dogecoin holders have pushed the coin by using it as a currency, making memes and encouraging investors on social media to buy DOGE.
Another factor that made DOGE a force is its line up of celebrity influencers.
Dogecoin has also reached its present status with the help of celebrity influencers.
One of the notable people, known to be an avid supporter of DOGE, is the CEO of Tesla, Elon Musk.
Musk has tweeted about the asset severally and even once called the coin its favorite crypto. Another prominent individual who has supported DOGE is Mark Cuban, billionaire and founder of NBA Team, Dallas Mavericks.
DOGE started the year on a bullish note, trading at $0.011427, before hitting an all-time high of $0.7376 in May.
Even though DOGE saw its value rally briefly with the broader crypto market, the coin is currently experiencing a bearish market. The meme coin is down by 1.86% at press time and is trading at $0.205837 on the daily chart.
Although DOGE's price has tumbled from its highs, it remains one of the top cryptocurrencies with a market value of roughly $27 billion. The token ranks at the 8th spot of top cryptocurrencies and is poised for growth, a sign to buy DOGE now.
This growth is reinforced by forecast website Wallet Investor, which believes DOGE could reach $0.416 in one year and $1.252 in five years.
DOGE Technical and Fundamental Analysis
DOGE's relative strength index (RSI) currently stands at 42.34. This means that the asset is well below the overbought levels indicating a good time to buy DOGE.
DOGE's moving average prices on the trading chart signal a bearish trend. The token's current price is higher than the 20-day, and 200-day moving average (MA) pegged at $0.20538 and $0.20573, respectively.
Over the past week, DOGE hit a high of $0.2224 and a low of $0.1996. Users can snap the coin for a bargain now that it has dipped.
Dogecoin influencer Musk recently revealed his personal Dogecoin stash while speaking at the B-Word Conference. He also said that he was bullish on Bitcoin and Ethereum.
DOGE is now available on more cryptocurrency exchanges compared to the start of the year. Earlier this year, Huobi Futures, FTX, and WazirX all added support for DOGE. Last month, the popular US exchange Coinbase became the latest platform to add Dogecoin to its Pro trading platform.